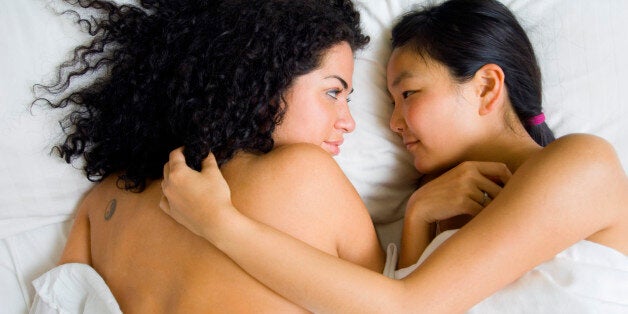 For those of you out there who have dipped into the disturbingly dire world of girl-on-girl porn, I'm sure you've noticed that we're not well represented. It's obvious... The porn industry is completely male dominated, and here are eight lies they're telling us about how lesbians have sex.
The image of on-screen lesbians is always the same. Basically, what a man would draw if asked what two women should look like if they want to start frolicking with one another. There are no short haired, choppy fringed lesbians in these movies, no realistic examples of the gay community. It's essentially the pornography equivalent of magazines using only skinny models in advertising, which is women pouting in perfect lip gloss, like they've been sitting in rollers for 5 hours pre-shoot.
Or massage clients. Or tennis partners. Or math tutors. I mean, seriously, is the idea of two women having sex not intriguing enough as it is? We have to be whoring around with our most inappropriate acquaintances, or shoving our tongues down the throats of our besties as we struggle to come to terms with our lesbian identity?
It's highly incorrect and not realistic at all. We're more likely to have had our first encounter with an equally closeted cohort. Not by aggressively seducing our neighbour's daughter.
3. We All Have Long Nails
Don't make me explain this one. We all know why lesbians can't have long nails. Yet every woman in porn appears to have perfectly manicured, long nails in every shot. Unrealistic, impractical and just downright painful. Hands off.
4. It All Ends With A Penis
So many videos out there start off promising, but within a few minutes the Flesbians (fake lesbians) on screen will pull out a terrifyingly intrusive dildo or similar instrument, and proceed to poke at each other with it. This usually means putting it in each other's mouth. I mean, seriously, this is clearly an ideology aimed at men wanting to enjoy woman-on-woman action. But not something that really happens.
If someone asked me to put a dildo in my mouth, I'd be mortified. Stop giving lesbians terrible ideas, porn! Because somewhere out there, young and inexperienced lesbians are watching these videos and thinking that prodding your partner's face with a phallic object is what gets us going. Not OK. I'm frowning over my keyboard at you as we speak. Please stop.
5. Our Pretty Heels Remain On Throughout Sex
Most lesbians don't own a pair of heels in the first place, especially not patent red stripper heels. So the image being shoved down the throats (figuratively speaking) of the porn-watching community that lesbians sport sultry footwear during sex is insane. We don't do it, especially considering the dangerous implications of getting a sharp heel stuck in an unfortunate place. No thank you.
6. We're Always Spitting On Each Others Vaginas
I was really trying to avoid saying the word vagina in this article, as my writing this coincides with my mother finding and following me on Twitter. (She had no idea I wrote about lesbians online, but managed to stalk me down somehow. Hi, Mum!)
Too many images in porn involve women spitting in and around each other's vaginas. Doesn't that make you cringe?! Unless you're into some form of S&M humiliation style foreplay, then gobbing on each other's privates has no place in lesbian sex. Not particularly inspiring. And highly unsanitary.
7. A Third Player Is Essential
Multiple flesbian porn videos contain a third player, which is fine in theory, but is almost always "Three Friends Hooking Up," which just doesn't happen.
The most likely scenario for real-life lady-loving-ladies to engage in three way sex would mean a couple inviting an additional partner into the bedroom. And no, we're not going to tell you how it was. No matter how much tequila you buy us. Although, yes, do keep trying. #FreeShots
Fictional. Doesn't happen. Not really. And if any of you out there have managed to make this a mutually satisfying experience, then I'm highly impressed. I consider that akin to sorcery.
Now tribbing is slightly different, but as this is a very complicated distinction you can Google that. (Not you, Mum.)
So, please stop it! I implore the powers-that-be to rethink their strategy and include more realistic images of women. That's enough of the modern-day, empowered lesbian having to put up with crotch-spittingly, nail-tearingly cringe-worthy examples of STRAIGHT women pretending to enjoy having sex with each other.
Current lesbian porn is designed for men to enjoy, not women. And we're sick of it. Stop ruining porn for me! (Again, Hi Mum!) *Mortified Face*
About the Author: E J Rosetta is an LGBT Columnist, Commentator and Commitmentphobe. More ramblings can be found on Facebook or via Twitter @EJRosetta