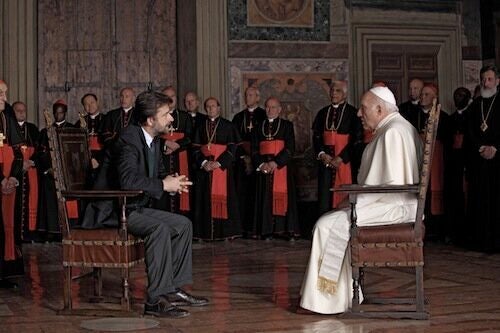 "I remember the shirts that said 'Thank God I'm an atheist'. Funny. But I do not think so. I'm not a believer and I'm sorry." Nanni Moretti, 2011
I watched Nanni Moretti's latest film, We Have a Pope (Habemus Papam), at the Abu Dhabi Film Festival back in October. What a weird place, the Middle East, to watch a film about a reluctant Catholic leader who just cannot bring himself to accept the great responsibility laid on his shoulders, one would think... And yet, I now cannot imagine a better place to watch such an inspiring, strong, thought-provoking film delving deeply into the dogmas of blind faith and the acceptance of power by a true leader.
Unadulterated by the savvy smirks of my fellow Italians (had I watched the film in, say, Rome) and the inappropriate laughter of the typical American audiences, which would have grabbed onto Moretti's more humorous takes and as a result, completely missed the depth of his message, my geographical location allowed me to be completely hypnotized by this deeply spiritual movie. Surrounded by a multinational audience swaying concurrently to each emotion dished out by Moretti and his cast, ADFF turned out to be the ideal setting for a most perfect film.
For some screenings, I find myself constantly scribbling newfound wisdoms in the notebook I keep on my lap. For We Have a Pope, I was so spellbound, from the first images of the cardinals walking up the incline of the Vatican chanting their sing-song ora pro nobis, to the last shot, which is guaranteed to surprise, I forgot to write a single word in my Moleskine. That's because We Have a Pope is thoughtful, deep and insightful. A thoroughly mystical film by modern-day philosopher Moretti who masterfully creates a beautifully shot environment of closeups and true to life emotions. It is a film that still lives deeply in my heart, more than a month later.
"Habemus Papam!" is the phrase used by the Vatican to announce to the world their new choice for a pontiff, after a long, intricate and very secret process culminating in a puff of white smoke that can be seen in Saint Peter Square. No one other than the cardinals who are in charge of this decision has or ever will be allowed inside the sacred Conclave and the film is Moretti's own fantastical interpretation of this undertaking. The Vatican, complete with a Sistine Chapel, was recreated in Cinecittà and a giant shout-out must go to Paola Bizzarri, the film's production designer, for this amazing artistic accomplishment.
After having been selected unanimously by his peers, Cardinal Melville, played to absolute soft-spoken perfection by Michel Piccoli, has a panic attack and refuses to face his Flock. An atheistic psychoanalyst, played with restrained elegance and sharp wit by Nanni Moretti, is called in to help sort out this "inconvenience" for the Catholic Church. But Melville escapes to finally experience Rome (the outside world) as a regular person, while the therapist finds himself imprisoned in the Vatican, with a group of eccentric cardinals, kept there to avoid a scandal of scriptural proportions.
We Have a Pope screened in competition at this year's Cannes, where it received such a lengthy standing ovation that Moretti found it impossible to hold back tears, and was featured in the BFI London Film Festival, yet it was initially criticized by religious experts because they felt the film was irreverent to the figure of the Pope. There were also those who dismissed the film, pointing out that non-Catholics would not be able to connect to the themes or be interested in the story. Ridiculous, of course, as I can attest to quite the contrary from my experience in Abu Dhabi.
But those who simply view Moretti's latest cinematic feat as a religious commentary, or as a comedy, are missing the full picture. Piccoli's Melville is a vulnerable stand-in for all world leaders of today, religious or otherwise. The reason we find ourselves in such dire socio-economic times is exactly because those who would make the best heads of state or leaders of institutions experience the same self doubt Moretti's Pope-elect is faced with. To be at the top in this day and age means to bear the brunt for all inhumanity, inequality, lack of unity and discontent that exists in the world and who in their right mind would want to take that on? So, at times of elections, all we are left with are wanna-be chiefs with a hint of sociopathy and egos so inflated they can be seen floating above their campaign promises.
Finally, did Moretti, a self-described doubtful atheist, intend to poke fun at the Catholic Church? Perhaps, but as he said "in my movies I have made fun of the Left, of my generation (when I was twenty, and then thirty, and then forty...), I have made fun of the relations between parents and children, of my social milieu, of school, of the movie world, in Caro Diario I even made fun of a cancer I had twenty years ago" so he's definitely not singling out the institution.
We Have a Pope is a film that has allowed me to reconnect to the genius of Nanni Moretti, one of a handful of filmmakers from my birth country who are carrying on the legacy of our great Italian masters with a vision all his own, told in a rhythm all his own. And speaking of rhythm, in the tradition of allowing his audience to rediscover great songs through his films, We Have a Pope does for "Todo Cambia" by Mercedes Sosa, what Caro Diario did for "Didi" by Khaled.
We Have a Pope (Habemus Papam) begins playing on limited release in London on the 2nd of December.
Top image courtesy of the Abu Dhabi Film Festival, used with permission