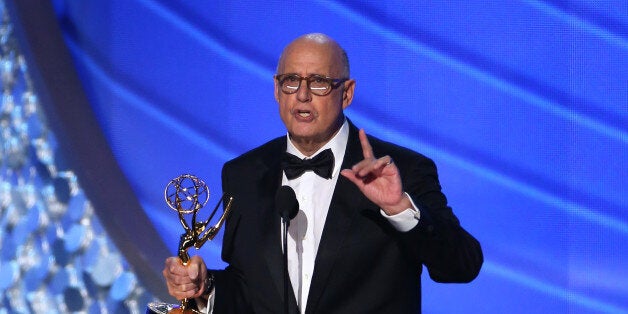 On Sunday, at the age of 72, Jeffrey Tambor won his second consecutive Emmy for Outstanding Lead Actor in a Comedy Series. With the third season of Amazon's masterly Transparent released this Friday, now feels like a decent time to look back on the career of a unique performer who has stolen the most inventive comedies of three consecutive decades: The Larry Sanders Show in the 1990s, Arrested Development in the 2000s, and now Transparent, the most progressive twist yet on the family sitcom.
Tambor's emotional repertoire is a burning tangle of contrasts, gentle and tempestuous, blood-raw and reassuring, a sparkling armada of ocean-deep under-truths. Comedy and tragedy are permanently entwined beneath the infinite subtleties of his face and that lush, lubricious voice. After supporting roles on stage (opposite the likes of George C. Scott and Al Pacino) and screen (including Kojak, M*A*S*H and Hill Street Blues), the year he turned fifty Tambor landed the part of chatshow sidekick Hank Kingsley in The Larry Sanders Show, the most darkly intelligent American sitcom ever (about which I've raved on here before).
A former cruise ship entertainer, Hank's monstrous ego is perforated with childlike insecurities, a hunger for endorsements (like the notorious Hankerciser workout machine) and a horrible temper, yet you can't help but feel sorry for him. His (televised) marriage to a much younger woman is a disaster, he is the failsafe butt of every joke both on and off the air, and he is swimming against the tide of the zeitgeist (his attempt to make small talk with the Wu-Tang Clan is particularly emblematic). He's also extremely loyal to host Larry, bails him out of numerous on-air pickles, and is very sweet when Larry's estranged dad comes to visit (which also reveals something of Hank's rather sad upbringing).
Tambor plays Hank exquisitely: the greasy waft of desperation, the desert ferocity, a self-constructed tower of jealousy cranking rusty abuse at superiors. The favourite episode of the show's creator-star Garry Shandling, who so sadly died in March, was 'Hank's Time In The Sun', where Hank (for so long the bridesmaid) gets his chance to host the show in Larry's absence. His triumphant first night goes to his head, he loses his clumsy charm, and the second night is a disaster. At the Emmys on Sunday, Tambor led a tribute to Garry Shandling, praising "a great, real late-night host, a great fake late-night host... He was happy with his poor vision because he said he could date anybody."
His next iconic part was lighter, though just as impressive: the double role of twins George and Oscar Bluth in Arrested Development, the fallen patriarch and his louche brother. Somehow his bearlike charm makes them both more insidious than Hank: the velvety voice gives his prison-prophesies a strange gravitas and always enrich a catchphrase (from Hank's "Hey now!" to George Sr's "No touching!" and "I approve this message"), a deadpan anchor to the madness.
A CV with these two shows would be admirable enough, but Tambor reinvigorated sitcom parenthood and found the role of his career as Maura Pfefferman (formerly Mort Pfefferman) in Transparent. It is the sort of performance that comes around once every ten years, soul-naked, eyes like wet jewels, his voice a ripple of canyon wind. He handles Maura's self-consciousness so sensitively, and her transformation so unshowily, that some of the finest tragicomic moments are the smallest, like covering her mouth while she picks something out of her teeth.
Shared traits pop up across the three: the split personalities, a need to please, the delicate farce, disguises, the loosened patriarchies, the deconstruction of male vulnerability. In life and art alike, it's really heartening to see someone find their breakthrough role in their fifties and the defining role of their life in their seventies, but Tambor is no ordinary actor. Those decades of life experience have hung, built and erupted like hollows of thunder and his social awareness is as enlightened as his taste in comedy: he has been an impeccable champion of the trans community and used his Emmys speech on Sunday to call for more parts for trans performers.
When Garry Shandling died, Jeffrey Tambor said that his dear friend "redesigned the wheel of comedy and was the kindest and funniest of geniuses". The same could be said of Tambor himself, who has recalibrated the possibilities of sitcom performance. A classical forward-thinker who runs his own acting workshops and a selfless virtuoso as gracious as Hank isn't, his scenes are hot-petalled peach-boughs in an elegant future tense. There are even more treats to come (including Armando Iannucci's The Death of Stalin), but until then and as of this Friday, we can laugh and learn as the most joyously humane role model in modern comedy savours their time in the sun.