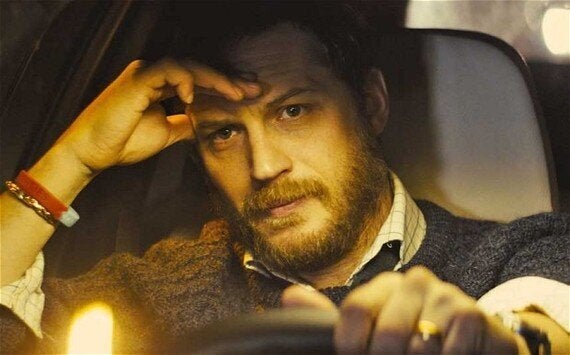 Since you ask, my favourite film of the year so far is Locke. It's Tom Hardy on the phone in a car on the M6 for ninety minutes, but it's a writer's delight, a freshwater spring of restrained eloquence, a palanquin of psycho-suspense. Hardy's performance as construction foreman Ivan Locke is incantatory; it soaks into the memory and tenses a tragic nerve. The Welsh accent lends a sort of Richard Burton gravitas, but it also clips and sustains the humour with a soft pedal. At one point, a character called Bethan (voiced by Olivia Colman) likens her hospital ordeal to Waiting for Godot, a new production of which opened at the Arcola last week. Fancy that!
(Oh, I see. You saw Locke weeks after it came out and, now it's too late to write a straight review of it and as you had tickets for a new version of Godot for the following day, you've cobbled together a piece about both. You wily bastard).
Ah, Waiting For Godot, that plumed, heaving masterpiece. A heaven-storming welter of ambiguity and dislocation, it scissors a pair of unlovely vagrants from a startled sky into the condemned arcade of a landscaped, windless chaos. Towing the exacting tastes of the Samuel Beckett estate, it has been readapted as a local response to social turmoil all over the world (Sarajevo, South Africa, New Orleans...) and reconditioned over the years for spirit-of-the-age double-acts (Robin Williams and Steve Martin; Rik Mayall and Adrian Edmondson; Sirs Patrick Stewart and Ian McKellen; now Totally Tom). It was voted the most important play of the twentieth century by the National Theatre and has even been spoofed, flawlessly, on Sesame Street.
In its latest incarnation, director Simon Dormandy transposes Vladimir and Estragon to their twenties and to East London. Time drips and twitches, sleeps and dances, mocks and falls on the watch of esteemed art designer Patrick Kinmonth, whose rubble-puddled anti-set is a dystopian reverse of his work on Valentino's high-society swansong to Rome. Though baseball caps replace the bowlers, it's a deceptively retro production, swathed with music hall japes and sad-clowning, and a quirky addition to the canon.
Beyond his own writing, Beckett's ghost lives on and it reared again earlier this year in True Detective, especially during Matthew McConaughey's virtuo-soliloquy at the end of episode three, where he describes death as an unmistakable relief and life as a dream inside a locked room. There's the same play of light and dark, famine and feasting, a solitary man drowned in dreams and burning to be gone.
(Oh get on with it, for God's sake).
But back to Locke. There are echoes, bones of echoes, between Locke and Beckett: the almost algebraic rhythms, the bible-black humour, the careering claustrophobia. Locke owes most, perhaps, to Krapp's Last Tape, where distant voices represent the different fragments of a life. Locke's language is mostly pragmatic ("Check all the pumps yourself"; "Ring the council"; "What does it say on the whiteboard, Donal?"), but he flaunts a rugged poeticism for the art of construction (concrete is as "delicate as blood").
Many contemporary thrillers have a smallness of soul, a cavity of vision, all sound and surface. But Locke is a thoughtful exception. There are still cracks and hollows, but of the creative, deliberate kind and, as with Godot, you can pour the cement of your own interpretations into the ambiguities. For instance, Ivan Locke's car might represent his conscience, especially when he rages at the memory of his father. Or, the construction project Locke oversees from behind the wheel - with its meddling foreign investors and closed streets, the allure of posterity twinned with the potential for disaster - could be a metaphor for film-making. Locke's construction, we are told, is the largest of its kind in Europe ("excluding military and nuclear") and the same qualified horizon-breaking could be said of the film's epic minimalism.
It's a thriller that magpies from opposite genres, Marion and Geoff in a Hitchcockian key, and the mix is oddly purifying. My other favourite film of the half-year, Asghar Farhadi's The Past, did the reverse. Like A Separation, Farhadi's masterly breakthrough, The Past is an existential family drama as emotional mystery, staggered with clues, motives and red herrings. It is as exhilarating as any thriller.
It is, of course, possible to get drunk on ideas and overdo it (the new Johnny Depp film Transcendence, for example, seems to have flown too near the sun). It is also possible to combine philosophical heft with visual grandeur without losing a sense of humour (The Great Beauty did this splendidly). But less, even for a thriller, can be so much more. Films like Locke, or The Past, have a misplaced modesty and, above the cacophony of capes and franchises, I want to trumpet them from the treetops.
Locke isn't perfect. There's an overbaked football analogy, and the briefest of nervy character-expositions that gild a black tulip already in bloom (we can see he's good at his job), and the final fifteen minutes are almost too subtle. But overall writer-director Steven Knight's script is a wit-lathed, plot-pared model of stillness and speed. Beckett once said: "James Joyce was a synthesiser, trying to bring in as much as he could: I am an analyser, trying to leave out as much as I can." If only more writers followed suit.
(You could start with your adjectives, you florid prick).