When you hear the words 'Let's get a curry!', the things that normally come to mind are beer, the lads and football... not exactly the romantic setting for a date is it?! Well, that's what I thought... until I went to Benares!
It's always difficult thinking of new and innovative date ideas but sometimes, dinner and a movie or a drink after work just don't cut it so it's a great idea to try something new. That's when I thought... 'Why not try a curry?'
This week, I went to renowned Indian restaurant Benares. As the restaurant of twice Michelin starred chef Atul Kochhar, my expectations were high. And I have to say, it didn't disappoint. Here's how it went: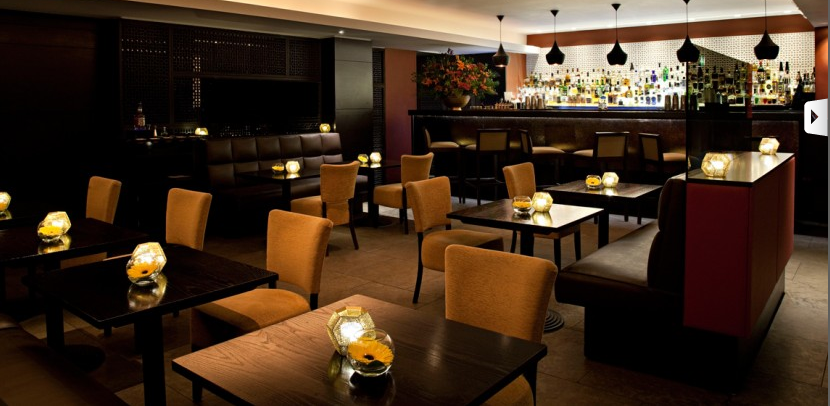 Atmosphere/ Conversation ****
Most girls wouldn't usually consider a curry as a typical choice for a third date. However, by taking the initiative and surprising her, not only do you show that you can take control and be exciting but you also put the date off to a positive start.
Going for a curry was a great way to break the ice with my date. It brought both of us out of our usual 'dating comfort zones, and opened up new topics of discussion that wouldn't usually come up on a third date. Plus, share the wide selection of food along with the relaxed atmosphere really broke the ice and made us both feel really comfortable with each other. This is so important for a date, especially one of the first ones as, if you're nervous or uncomfortable, it can be difficult to relax and be yourself.
Food *****
Benares specialises in modern Indian cuisine with a British contemporary twist and I have to say, there's no doubt that it deserves its high reputation.
Starter: We chose Jal Tarang (pan seared scallops with a grape chutney) and the Karara Kekda Aur Lagosta (soft shell crab with a signature peri-peri). And boy did we choose right. The scallops were delicious, soft but not too fleshy, and the chutney added that little extra kick that scallops often need so as to not be underwhelming. I tucked into the crab and loved each crunch - a really light and subtle tang from the peri-peri had me going in for more.
Main Course: We decided to share a selection of dishes including Kali Aur Hari Mirch Ka Murgh (described as a 'curry fry' style chicken dish), a Tandoori Macchi (baked monkfish), Gobbu Aloo (stir fried potato and cauliflower) and 2 rice dishes (steamed and vegetable). The dishes arrived just a few moments after ordering and on seeing them we didn't know whether to eat, frame, or photograph them, the presentation and tastes were amazing.
Dessert: If like me you love desserts, when you read a menu of Chocolate Peanut Butter Tube, Jaggery Cake, Cumin Marshmallow and Sugar Cane Ice-Cream, and Rose and Raspberry Bhapa Doi with Pistachio Burfi, it's going to be hard to say no.
We ordered a selection and, as anticipated, both of the desserts were simply incredible, The butter tube looked like something Willy Wonka had created and tasted as delicious as it read. The sugars and flavours sent your taste buds into overdrive but there was better to come. The Rose and Raspberry Bhapa Doi was a mix of a raspberry jus and thick cream that when mixed together with the Rose and Raspberry took my dessert bar to another level. It was SO good I think I could have eaten it again back to back.
Service *****
Throughout the evening, we were received warm and welcoming service. The waiters were helpful but not overbearing and this made us feel extremely comfortable throughout the date.
As a date ****
My date loved Benares. From it's tasty dishes to it's rich opulently coloured décor and gorgeous low lit lighting, Benares as the venue for a date is surprisingly romantic.
Top tip: I would save Benares for 3rd, 4th or 5th date option as, if you start of with such an extravagant date, it will be difficult to keep the standard up. It could also be a little intimidating as a first date so I would recommend going for a coffee or something similarly casual to begin with and, as you get to know each other better, then try out Benares. You won't be disappointed!
For more information, visit: http://http://www.benaresrestaurant.com