Britain's high streets are becoming more and more bland. The same chain stores dominate shopping parades across the country. With this in mind, here's a list of ten independent shops in London that don't fit the mould.
1) The Mirror Shop, Charlton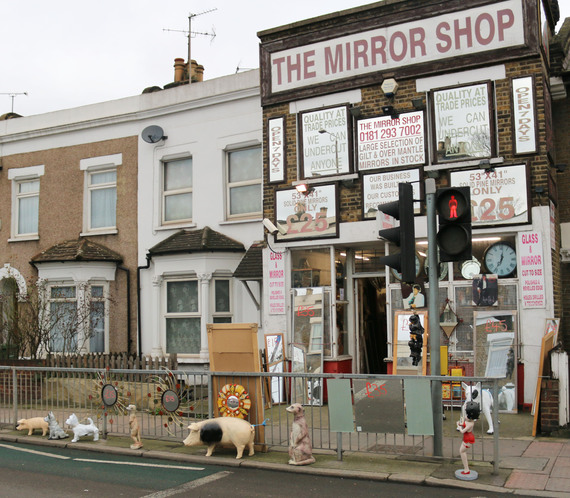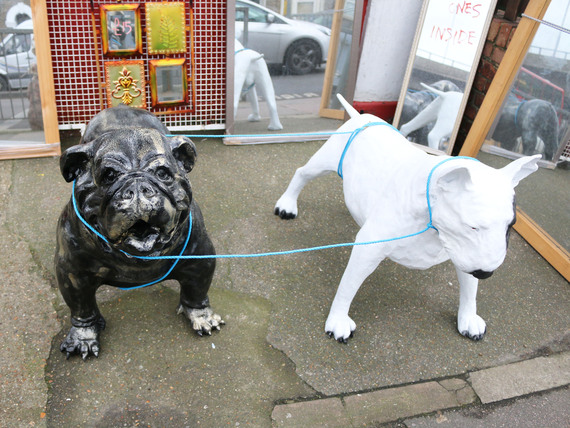 Looking to buy a larger than life-size ornamental Pit Bull? The Mirror Shop in Charlton is the place for you.
(249 Woolwich Road, SE10 0RN. https://plus.google.com/115102659340312561182/about?hl=en)
2) People's Sounds Record Shop, Notting Hill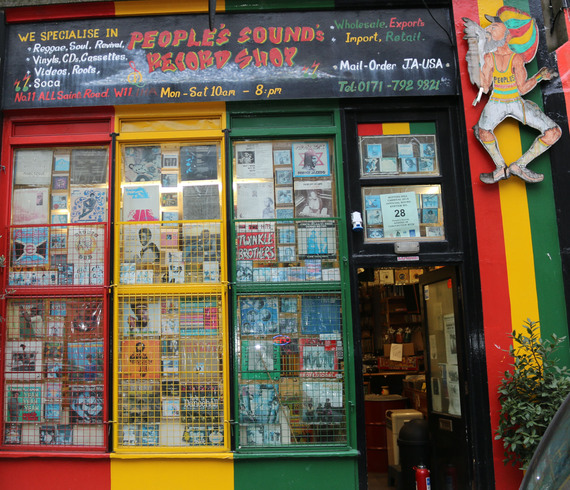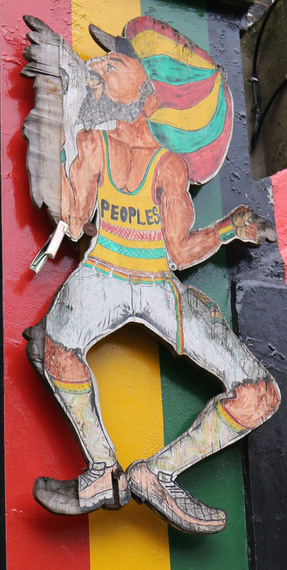 'People's Sounds' is an independent record store selling reggae, R&B, soul, soca and dancehall records. Its owner, Daddy Vgo, has been promoting Jamaican music and culture in London since he moved to Notting Hill in the 1950s.
(1 All Saints Road, London, Notting Hill, W11 1HA. peoplessound.blogspot.co.uk)
3) The Brazilian Centre, Stamford Hill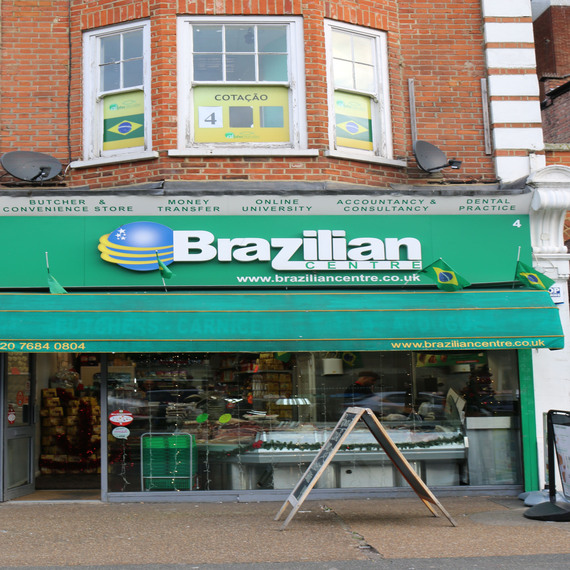 You could walk past this shop without noticing it. But a closer look at its signage reveals how strange 'The Brazilian Centre' really is. Surely this must be the only store in London where you can buy sausages at the same time as earning a degree and getting your teeth fixed?
(4 Amhurst Parade, Stamford Hill, N16 5AA. braziliancentre.co.uk)
4) Get Stuffed, Essex Road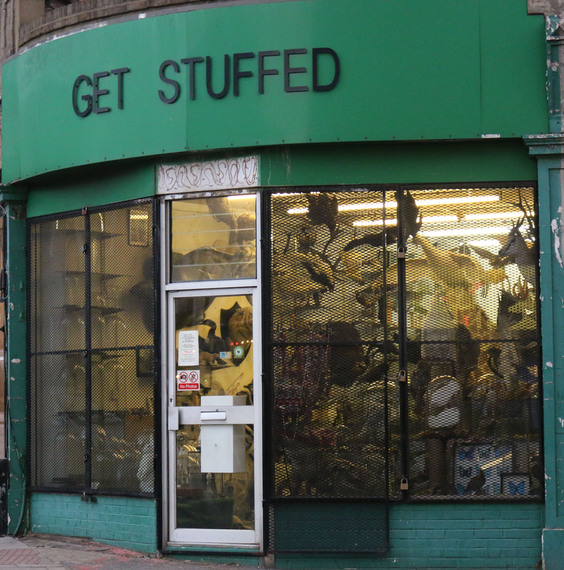 Everything about this shop is aggressive, from its name to the prison-like bars covering its windows. Visitors to the 'Get Stuffed' taxidermist studio can buy one of the hundreds of preserved animals on display, or pay for their own deceased pets to be mounted.
(105 Essex Road, Islington, N1 2SL. thegetstuffed.co.uk)
5) Dark Angel and Luciola, Camden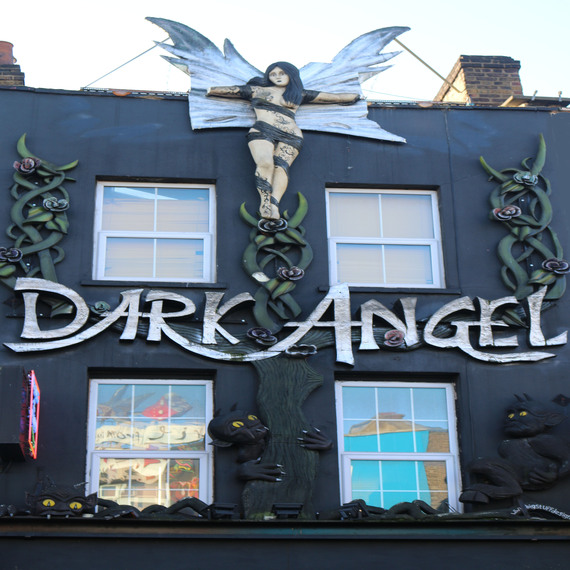 Nailed to the front of number 271 Camden High Street is a model of a semi-naked tattooed angel without any arms. This figurine tells you pretty much all you need to know about the store: it's freaky and a little bit sinister. On the ground floor there's a shop named 'Luciola' that sells human hair extensions and tinted contact lenses. Below it there's a tattoo parlour specialising in gothic designs.
(271 Camden High Street, London NW1 7BX. facebook.com/darkangeltattoocamden. luciola.co.uk)
6) The Last Tuesday Society, Hackney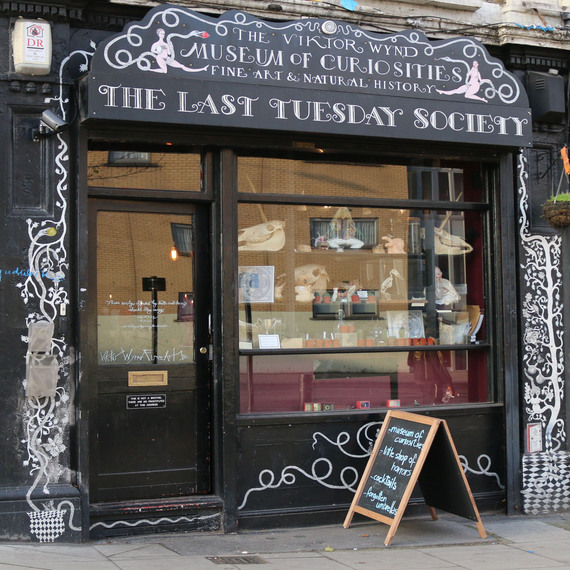 'The Last Tuesday Society' used to be a proper old curiosity shop, now it's predominantly a bar/event space with a museum in the basement. The store has an ambitious founding aim to: "subvert life, the universe and everything."
(11 Mare Street, Hackney, E8 4RP. thelasttuesdaysociety.org)
7) Los Hijos De Puta, the canals of London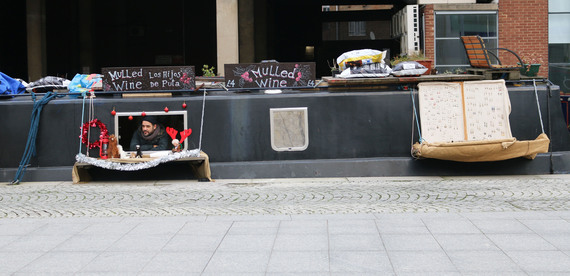 'Los Hijos De Puta' translated into English means 'sons of bitches'. This riverboat shop takes its name from an Argentinian bar known locally for being rude to its customers. However, Mr Perramus, who runs the barge, is relaxed and chatty with his shoppers. The boat sells jewellery, clothes and mulled wine in the winter. It can be found touring east London's floating markets during the summer.
(The photo above was taken outside Paddington tube station, but the boat has no fixed address.)
8) Professional Music Technology (PMT), Romford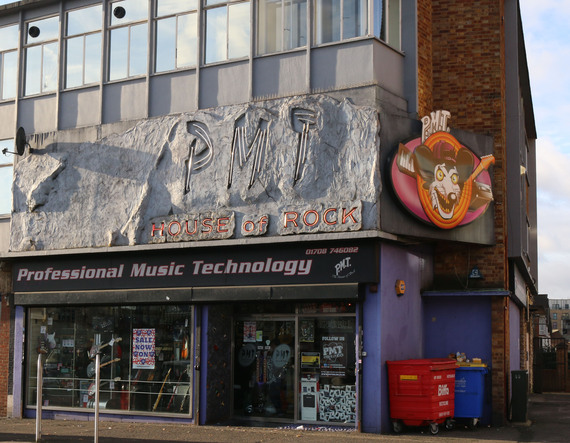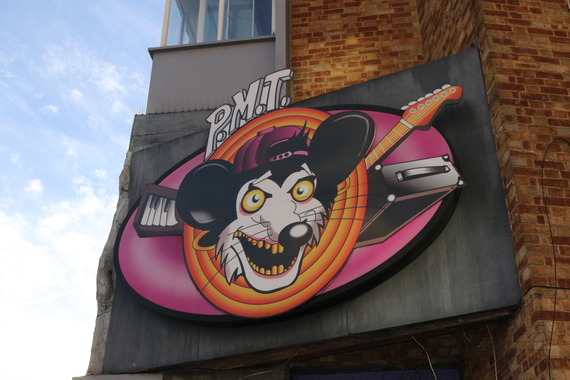 The subliminal marketing message behind PMT's logo - a rat with yellow teeth, yellow eyes and a back-to-front pink baseball cap - is unclear. This aside, PMT is worth making the trip out to Romford for as it sells an impressive range of instruments and recording equipment.
(168-70 South St, Romford, Essex RM1 1SX. pmtonline.co.uk/romford)
9) Alfies Antique Market, Marylebone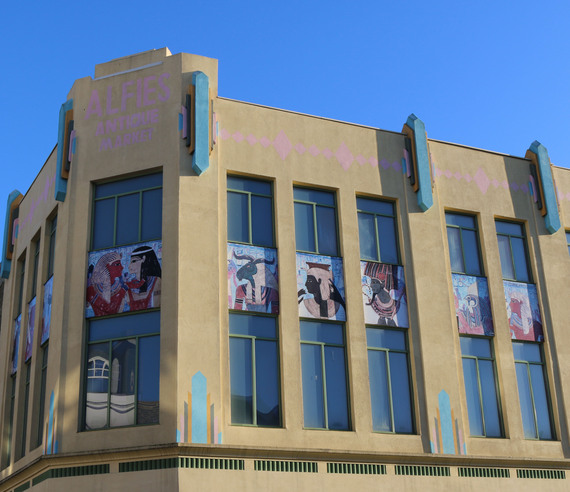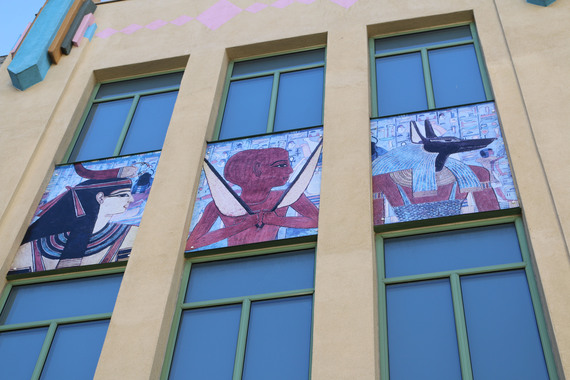 'Alfies Antique Market', like all good antiques shops should, pays homage to the past. Its storefront is an Art Deco triumph inspired by ancient Egyptian design. Inside are small vintage shops selling specialist objects.
(13-25 Church Street, Marylebone, NW8 8DT. alfiesantiques.com)
10) James Smith & Sons Umbrellas Ltd, Oxford Street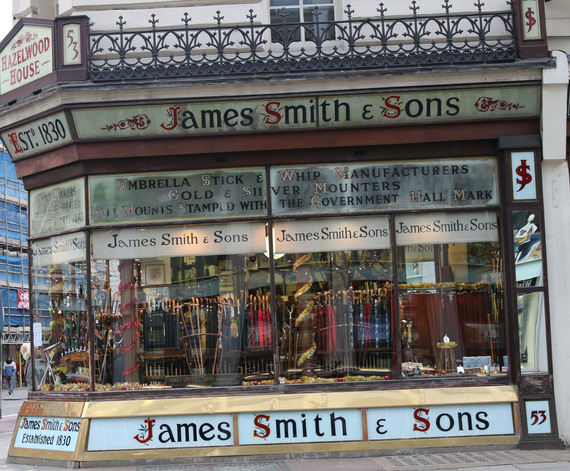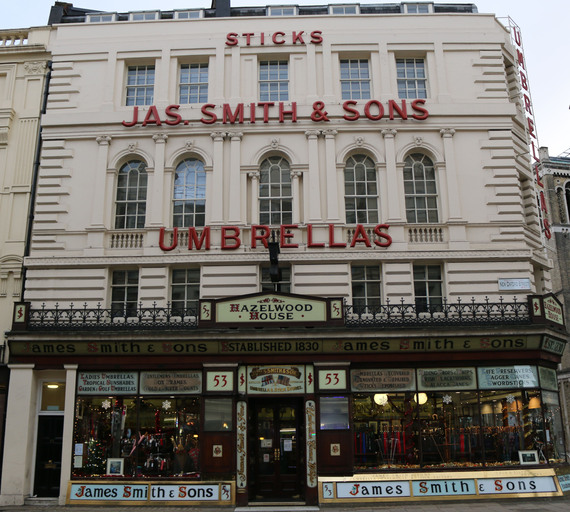 'James Smith & Sons Umbrellas Ltd' is Europe's oldest umbrella shop. It remains a family-run business 174 years after it was founded in 1830.
(Hazelwood House, 53 New Oxford Street, WC1A 1BL. james-smith.co.uk)
11) Donovan Bros Ltd, Spitalfields Market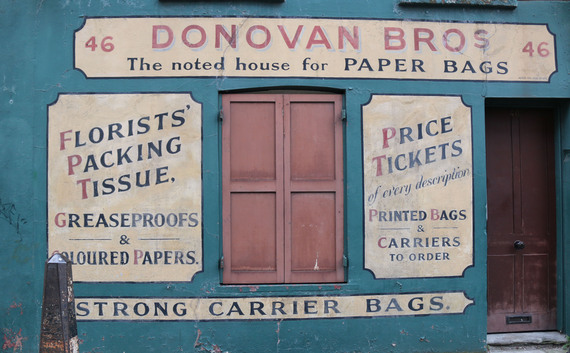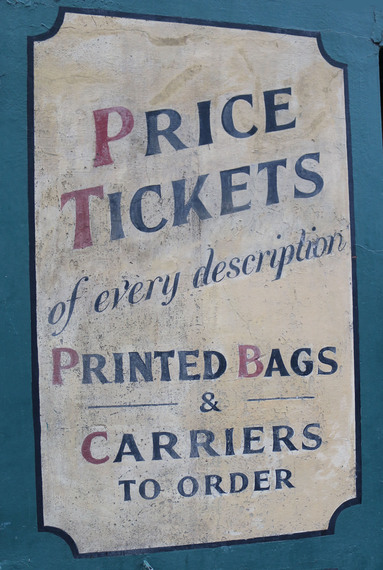 'The noted house for PAPER BAGS' is no longer a working shop, which is why it doesn't feature as one of the top ten entrees in this list. However, the building is still in good condition -its hand-painted signs capture the spirit of London shops from a hundred years back. 'Donovan Bros' is still an active company selling paper bags (among other things) but it's no longer based in Spitalfields.
(46 Crispin Street, Old Spitalfields Market, E1 6HQ. donovanbros.com)