It seems odd mid-show season to write about anything with a meditative eye. After all, Milan and Paris are yet to come; London is on its way out and only New York is over. And there's a very real danger that what you're seeing on the runways right now, is what you'll actually want in your wardrobe. It can be rather sick-making.
But there are honourable mentions, especially from those whose pre-emptive collections really are exactly what you're after, right now. Especially with the bitter wind we've been having. Brrr.
On Friday the CFDA announced the next generation of designers for its Fashion Incubator class, a programme that provides support to up and coming designers in New York. The programme runs for two years, allowing the chosen few businesses to flourish under expert guidance. It's quite a coup.
The size of New York's schedule means that picking up a new designer favourite or two is inevitable, it just depends on which way the pendulum swings. It happened that, catching my eye half way through New York's long season was Kaelen Haworth, one of the ten new designers selected by the CFDA for the programme 2014-2016. A Canadian living and working in New York, Kaelen attended Parsons School of Design and interned for Stella McCartney during her degree, launching her label during New York fashion week in 2010.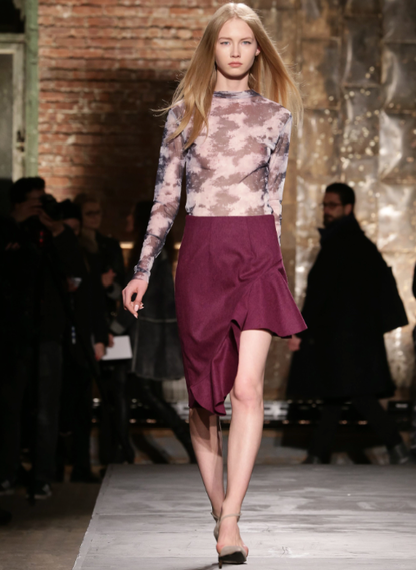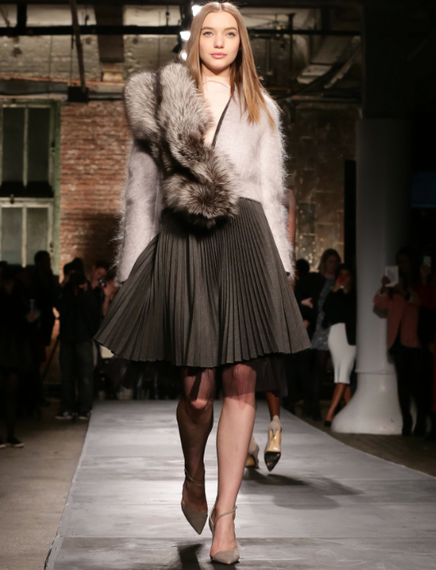 Looking at Kaelen's collection for spring/summer 2014, soon to hit stores, and its predecessor for autumn/winter 2013, the work almost smacks of a different designer. The palettes are darker, full of moody purples and for spring, traditional menswear elements - dogtooth, herringbone checks and sporty separates. But the collection just shown for autumn/winter 2014, the one that debuted a week before the CDFA announcement is girlish and light. Put simply, she sent down her runway a version of traditional feminine beauty.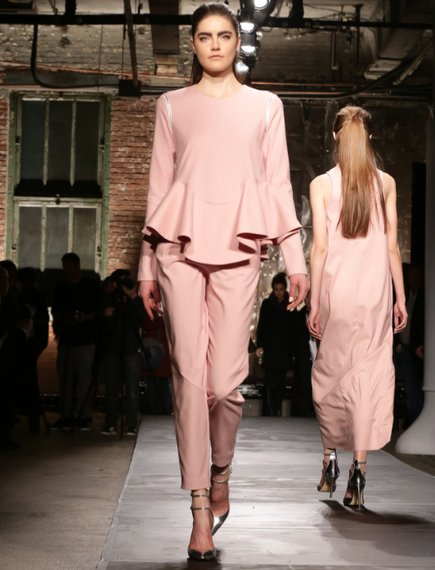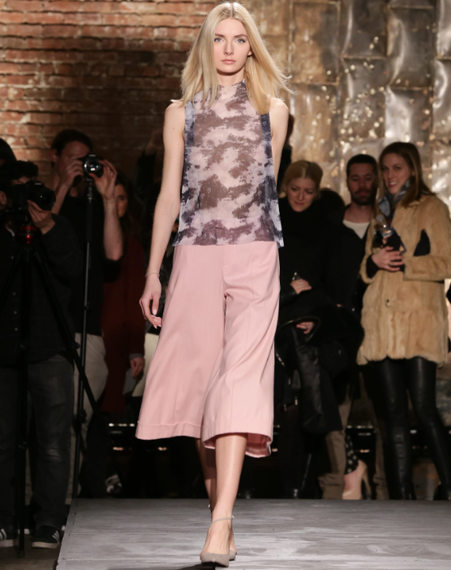 Pink is the predominant theme for ten looks until the palette merges into rich burgundies and dusky furs, with deep gravelly greys and sheer panelling. It is a riot of wintery sophistication, the uptown New York woman primed for power meetings though all the while remembering that she does, deep down, love to remember her youth. A pair of culottes even make an appearance, those the great player of the new season; they're suddenly chic, the new way to wear trousers. Kaelen's are pink and irresistible, paired with a high neck for balance. Some looks are preppy; a fresh-faced girl walks in a gently pleated skirt and fur stole, head-to-toe pink and coral looks are altogether beguiling and rather arresting. These women are pretty but pack a punch. They are Kaelen's women, and they suit a little girlish charm.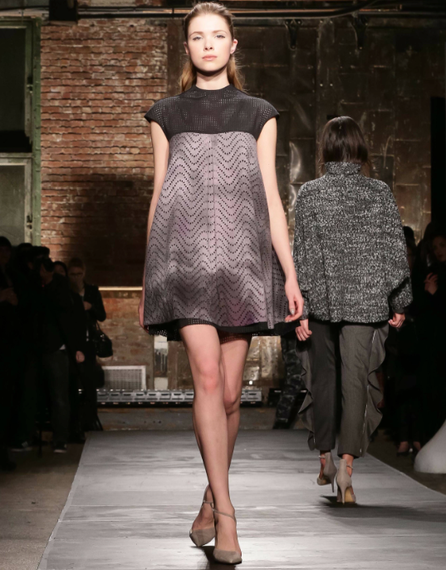 Unfortunately there's a good six months before Kaelen's endearing collection comes into stores internationally. But as I look out of my window at London's rainy skyline, I will remember those pinks and furs and sheer panels for when the time is right. For it is not only on Wednesdays, à la Mean Girls that we wear pink. It can be every day.