I am not, and will never be, bohemian. The easy demeanor so boldly coveted worldwide is something that I just cannot achieve. It requires a genuine nonchalance, a kind of strut, perhaps a daily meditative state that I just do not possess. But I bet you do. So, I am staging an intervention. Put away your early perceptions of Spring 2013 and open your eyes to a fresh group of designers. Luckily for you, they're creating pieces you didn't know you wanted. But you definitely do.
While the possibilities to wax lyrical about Hedi Slimane's seventies bohemia striking the back catalog of Yves Saint Laurent's greatest hits in the face are endless, let's not. I challenge you to embrace something new. You really won't regret it.
Introducing the middle generation. They're younger than Muiccia Prada, but older and wiser than The New Guard, the golden 20-somethings that have taken up residence in fashion's front garden. The Mid-Gen aren't showing their collections in NPC car parks like Henry Holland, riding checkered escalators a la Marc Jacobs, or erecting wind turbines engineered by Chanel. They are creating for the street, and for women like you.
The ultimate Parisienne Isabel Marant presents an antidote to the prim and proper suppositions of French prêt-a-porter. With a gap-yah vibe that you can't help but covet, this season via Hawaii, the Isabel girl is more relaxed than ever. The spring collection mixed bohemian paisley with low-slung shorts and a relaxation that served as effortless reminders of Glastonbury 1999. Be still my inner-Isabel. Marant surpasses our black blazed lined expectations of French fashion with collections of effortless bohemia, displaying a palpable relaxation that is oh-so transferrable to the street. And to your wardrobes. The F-ROW was positively trending with her autumn collection, a scene that will inevitably repeat in September.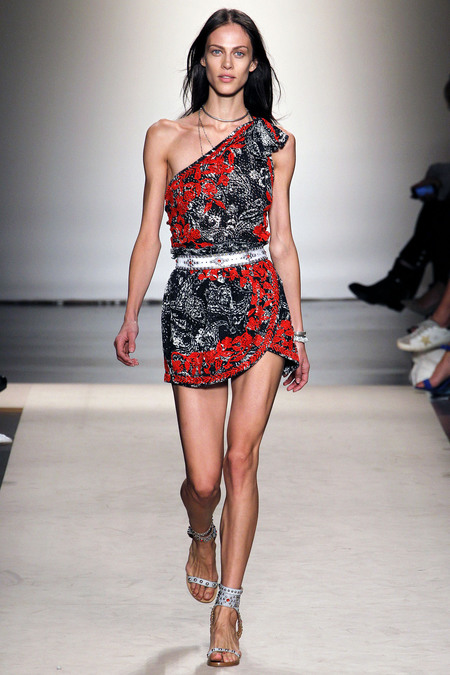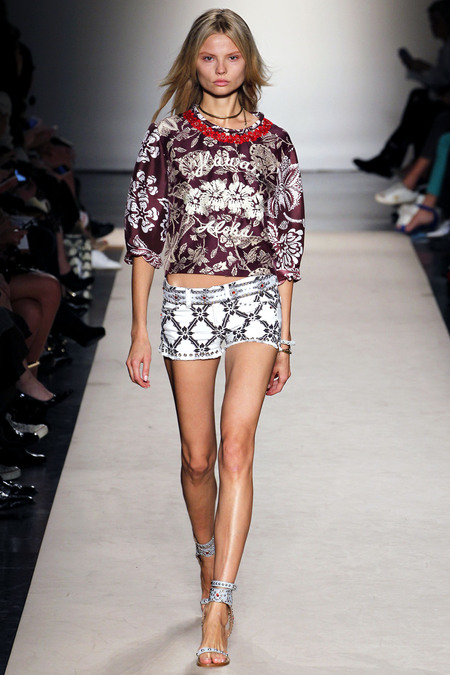 Isabel Marant SS13
She wasn't the only blithe Mademoiselle in the house. Vanessa Bruno upped her bohemian game with gently androgynous tailored jackets, a petite hint of le masculin blended into a French resort ultra-feminine collection that was all charm. Her spring was an elegant cocktail of St Tropez nonchalance, kick-ass cool and more than a dash of Parisian attitude, served over ice.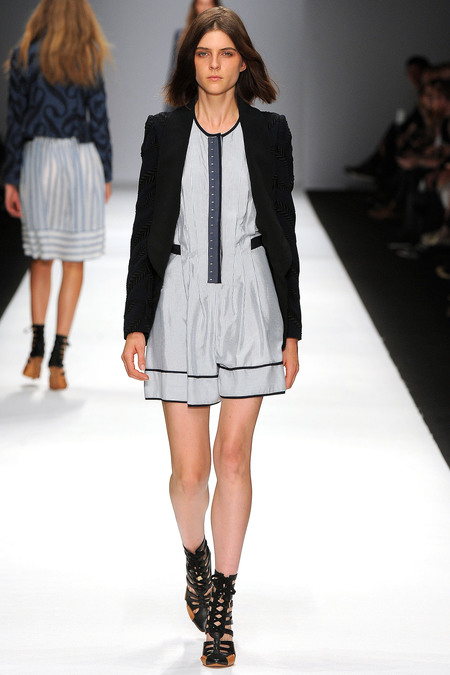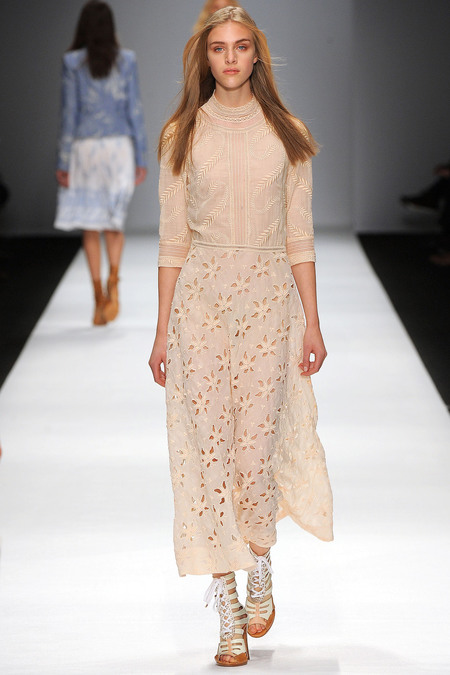 Vanessa Bruno SS13
And then there was Dries. Dries van Noten is sparingly separate from the confines of Northern European minimalism, a concept that has grown to become a globally configured aesthetic. Displaying the definitive boy-girl mash up, a cunning intertwining of genres, fabrics and taste, Dries' soft textiles met a structured end in a fairytale of plaid meets floral. The collection was seductively Cobain-chic without the hassle, the perfect manifestation of grunge couture; sheer luxe tartan partnered dark and twisty gothic florals that fully embodied the pioneering spirit of the brand. If bohemianism is an unconventional movement outside a bourgeois structure, then Dries epitomises it.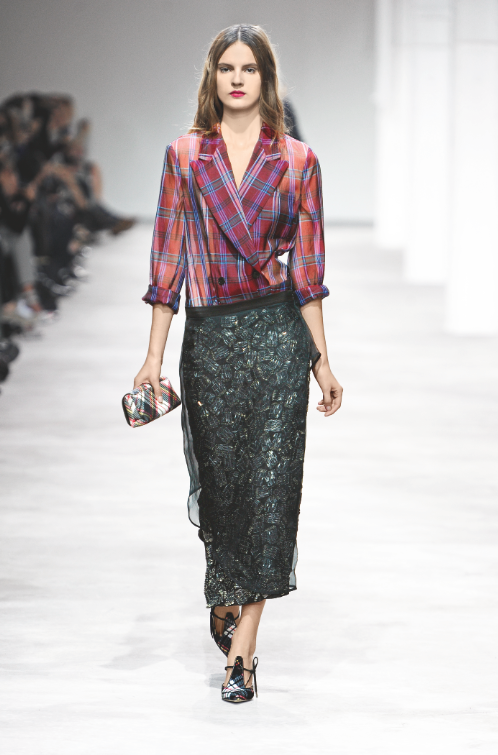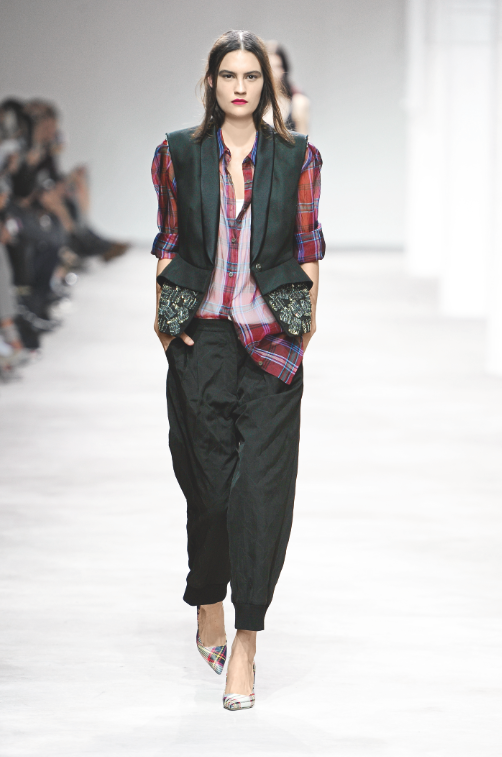 Dries van Noten SS13
Back in London, while there was Saturday afternoon excitement in SW3 about Anna Wintour's appearance at Rag & Bone, a certain duo attracted my attention a little earlier in the day. Clements Ribeiro. Suzanne Clements and Inacio Ribeiro took over French brand Cacharel for a modern update back in 2000, before decamping to relaunch their own line in 2007. The couple's studio is home to another kind of prêt-a-porter, self-described 'clumsy couture'. That's my kind of couture.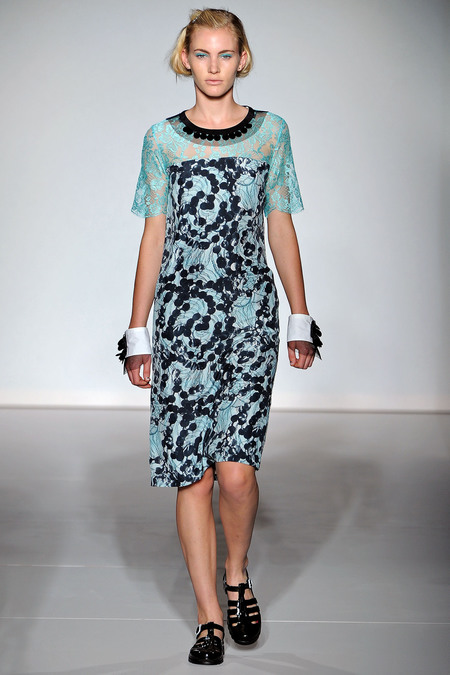 The best way to embrace the spirit of Clements Ribeiro's spring 2013 collection is to listen to the dulcet tones of Francoise Hardy. Prepare to fall in love, and hard. Their 'Moonrise Kingdom' inspired show, hosted at the ornate Goldsmith's Hall on a sunny September Saturday, was dosed with French insouciant sparkle. Merci, Mademoiselle Hardy. The girls strode down the runway to Le Temps de L'Amour, carrying with them an agreeable nonchalance, a fundamental accessory to the awkward prettiness of the brand. Now that's covetable. The Clements Ribeiro style is magical and eye-catching yet maturely subtle in all the right places. The couple's knack of mismatching prints with a casual detachment from the industry stretches far beyond the realms of that coveted Parisian attitude. Not-too-polite mock-gothic florals were fused with the duo's signature knits in a way that shouldn't work, but does. Black moiré and delicate lace contrasts were merely quintessential of the brand's anti-fashion status that finds itself at home in bohemia. I cannot help but be undeniably romanced by it.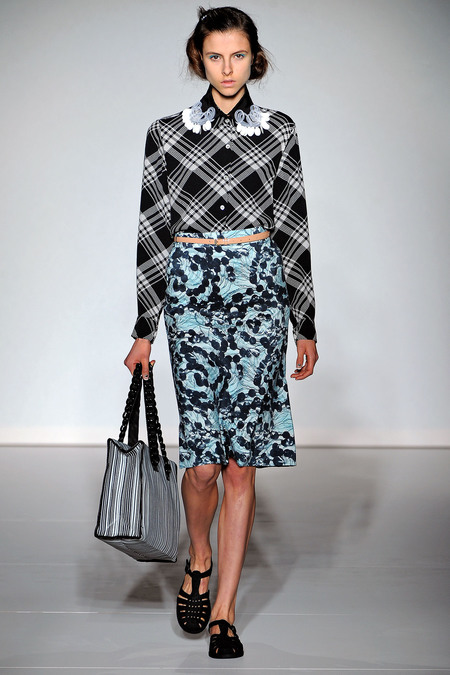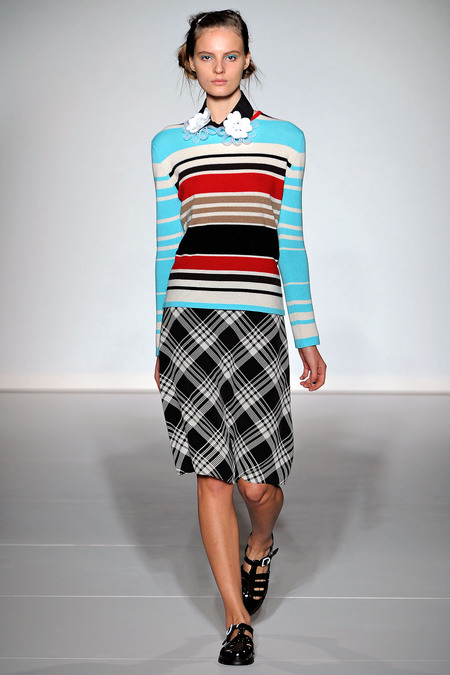 Clements Ribeiro SS13
And now it's your turn. Get exploring. Take a day trip to gay-Paree, enjoy your own adventures through French music in the spirit of Suzy Bishop and find your own inner-Isabel. I know you have one. Indulge in something a little different; mix it up in respect to The Mid-Gen. I dare you. It's all very devil-may-care, and it suits you. Promise.