Sunday morning and the three-stop southbound journey from London Victoria to Stockwell is largely unremarkable. Those present, engrossed in their daily newspapers or quietly nattering to neighbours, are dulled to the journey south of the river.
Step out from the black of the busy Northern line interchange to colourful murals across a historic air raid shelter and a block of colour commemorating the life of the tragically killed Jean Charles de Menezes. Ten minutes on foot arrives you at Clapham Common where a myriad of 20-something runners, those participating in gruelling army fitness bootcamps, and Sunday caffeine addicts make up the Where's Wally puzzle of people. Oddly, though, it's not crowded, a happy optimism fills the air, there's no rushing, no pushing and shoving. The streets are lined with coffee houses, independent and chain, mock tudor facades house bank branches and typical metropolis off licenses that sell just about everything.
The whole scene is typically quaint. It's Sunday, and while it's not warm, it's the perfect running weather.  It bears similarity to every other peaceful Sunday I have spent in Clapham since I temporarily dispatched myself there during the summer (barring August's SW4 festival weekend). My current residence, in close proximity to the Royal London Hospital, is part of an unhappy relocation back East. A safe, gated community solidly fraught and bombarded with emergency noise: choppers, ambulances and police sirens make up an all-too-frequent dischord of obnoxious sound that echoes through my windows.  Lying on Clapham Common after my regular run South-Westwards in the sharp winter air, the only symphony that strikes me is one of silence.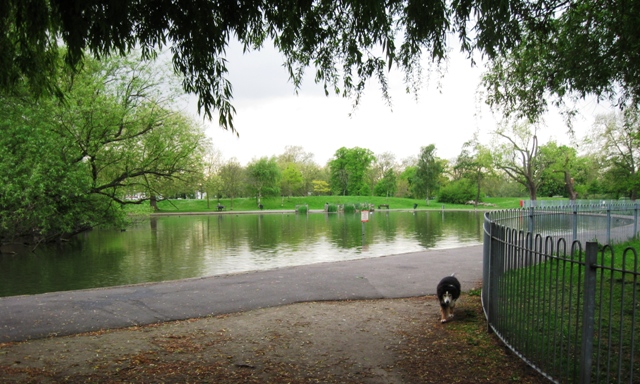 Clapham Common
The steady rumble of buses, the motivational shouts of runners, and the giggles of children playing in the fountains replace East London's urgent racket.  A ten minute walk down the edge of the Common, past Wandsworth Demons Aussie Rules football club (worth watching on a sunny day, ladies), various Sunday league footballers and another hundred or so runners, and you arrive at Clapham Junction.  Unbelievably one site of 2011's summer riots, the gently humming high street is awash with yummy Mummies and their buggies, men in a standard Sunday casual chino-jumper-deck-shoes uniform, and yes, you guessed it, more urbanite runners.  
Passing Clapham Junction station, 'Britain's busiest rail station', and Northcote Road opens out, Battersea's very own Harrogate.  Alongside Waterstone's, Waitrose and Fat Face, there's a Haribo Starmix of magic gems. Gastronomic favourites include Philglas & Swiggot wine merchants and Northcote Fisheries, with independent florists The Stem & Petal Company and the famous Bolingbroke Bookshop, with its loyal customer following serving as neighbouring businesses.  It is the pinnacle of the aspirational middle class.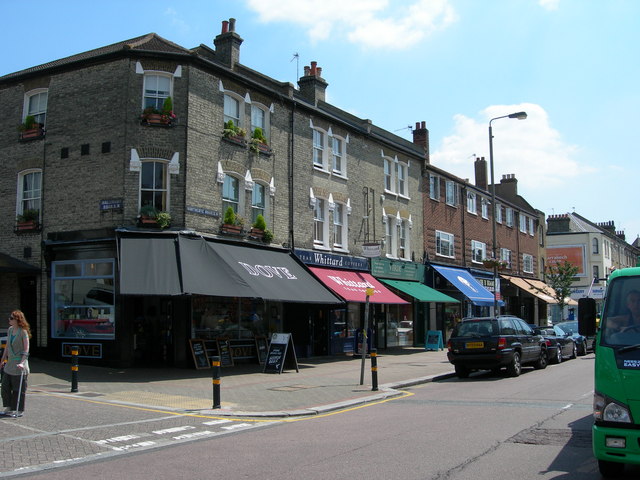 Northcote Road
All areas have their stereotypes: Shoreditch is apparently very trendy, Camden is grimy, Crouch End is, actually, the back end of nowhere, so far up North I'm not sure it has a postcode.  Perceptions of South London are often unfavourable, the North-South divide can be somewhat crudely based along coloured lines.  But I'm a proper convert.  My temporary flat on Clapham Common is a twenty minute run to Sloane Square, a half an hour run to Hyde Park.  That makes Clapham very much in town, according to my logic.  Never mind the over-eager exercise, SW11's bus links are superb, the 11 running all the way from Fulham to Liverpool Street, the 137 running twenty four hours from Streatham to Oxford Circus.  Frankly, it's the non-commuter-commuter's paradise.  Once at Vauxhall, site of MI6 and New Covent Garden Market, it's a leisurely walk up Albert Embankment, across Waterloo Bridge and Albert Embankment and ta-dah, you're in the city.  Clapham is its own village of disaffected busy-ness.  With a suddenly-trendy-Wholefoods, and more than an incredible selection of cute-as-you-like delis, never mind the minefields of Spitalfield's Market, you're sorted down sarf.
I declare that the sun really does shine brighter on this side of the Thames.  And after all, it's dead nice to be able to give out a SW postcode.
Contacts:
Philglas & Swiggot: 21 Northcote Road, SW11 1NG (0207 924 4494)
Northcote Fisheries: 14 Northcote Road, SW11 1NX (0207 978 4428)
The Stem & Petal Company: 132 Northcote Road, SW11 6QZ (0207 924 3238)
Bolingbroke Bookshop: 147 Northcote Road, SW11 6QB (0207 223 9344)