In March 2009, Belarusian model Maryna Linchuk opened John Galliano's autumn 2009 show. She was the embodiment of the eastern peasant top to toe; from the headwear to the pointed almost primitive shoes she wore. Two and a half years on, and elements of a similar aesthetic have crept their way back onto runways worldwide, both in Autumn and Resort collections, 2012 and 2013 respectively.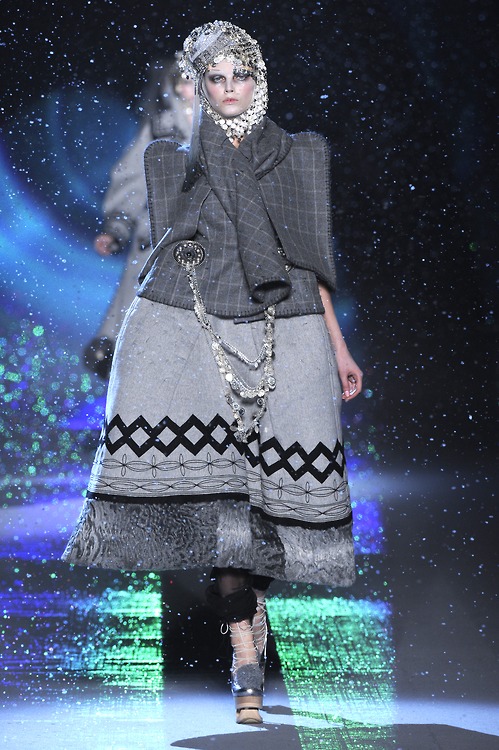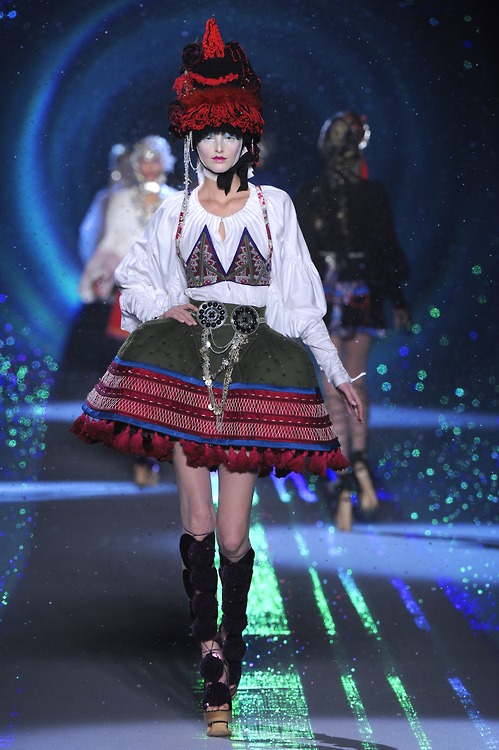 Galliano's 2009 take on folklore was hardly the bohemian kind we may have come to recognise; sombre colours diluted any ounce of joy, and while the designer's characteristic theatricality remained, this was less apparent than usual. It was deep and dark, as if it were wallowing in the Communist depths of central Russia, pining for a more prosperous and golden era. A curious prophecy for Galliano's later career direction, perhaps.
While this year's 'summer' has exceeded even our cynical expectations, the ever colourful Resort collections shone brightly. The vibrant divider collection did not fail to disappoint in its presentation of patterns, colours and prints that dazzled the eye, and whetted our appetites for Spring 2013.
Over at Altuzarra, they went to town with vaguely psychedelic geometric prints slightly suggestive of old Missoni, but with less knitting. The collection was awash with detailed brocades and fine embroidery sitting just either side of the knee, demure yet elegant. Peacock print tapered trousers were paired with the tiniest peplum, moving folk from boho to boardroom in an instant, upping the game of native prints and transforming them into palatable concept. Gladiator style sandals blended seamlessly into the international array of design that was manifested in Altuzarra Resort.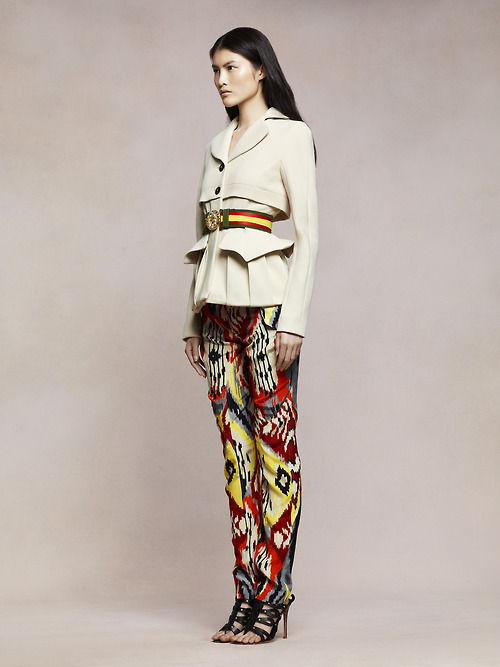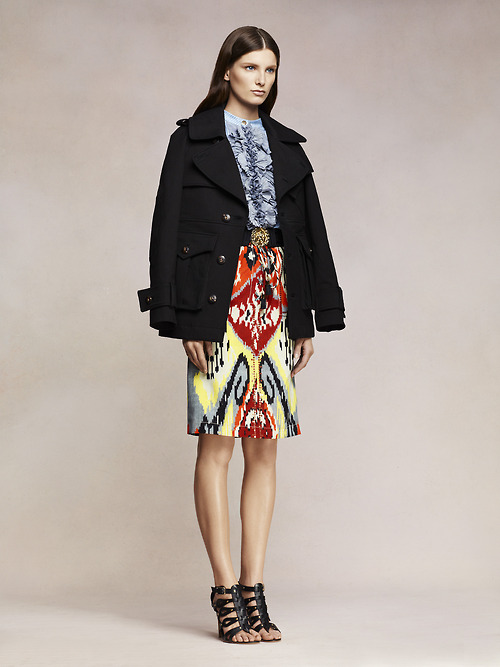 Characteristically, Alexander McQueen took a different approach to Resort folklore, combining sheer materials with black and gold velvet and cinched in waists. While not all looks embraced the clothes of the people, instead taking on David Bowie, the futuristic space age and oversized shoulders in a notably off the cuff way, the folk influence did not allow itself to be overshadowed. The tribal drum still bangs in the background, that of style tribes and real tribes, going hand in hand with a blend of cultures in pursuit of something gritty.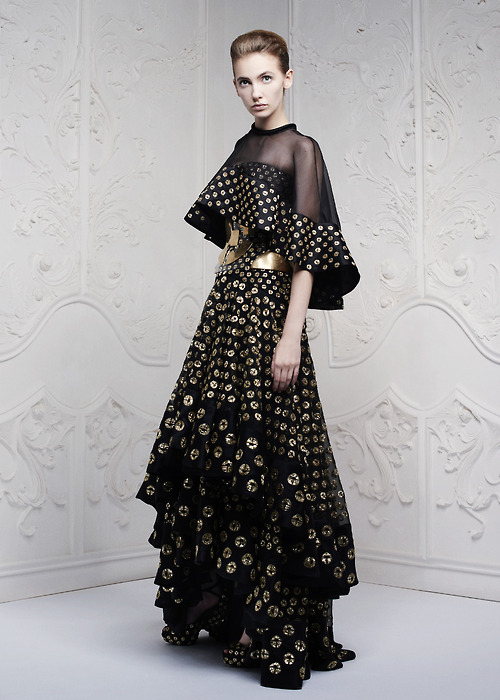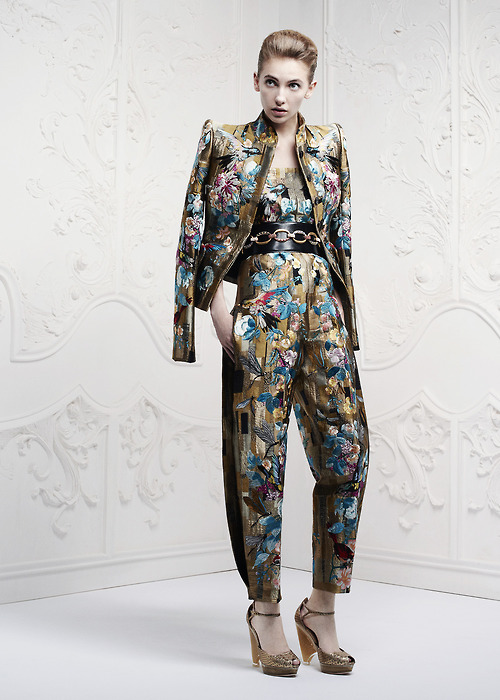 Resort was not the only season in which folk stuck its hand up and cried, "pick me!" Far from its modest associations, Valentino brought home the gold medal again with woody patterns enthused with black leather panels for a tough country girl. Still the Valentino to ever cherish, there was a distinct sense of something else lurking beneath the surface, something dark; reminiscent of Galliano seasons previously. From the long lengths distributed to the almost choker like neck, Valentino took folklore to a very feminine yet delicately satisfying place.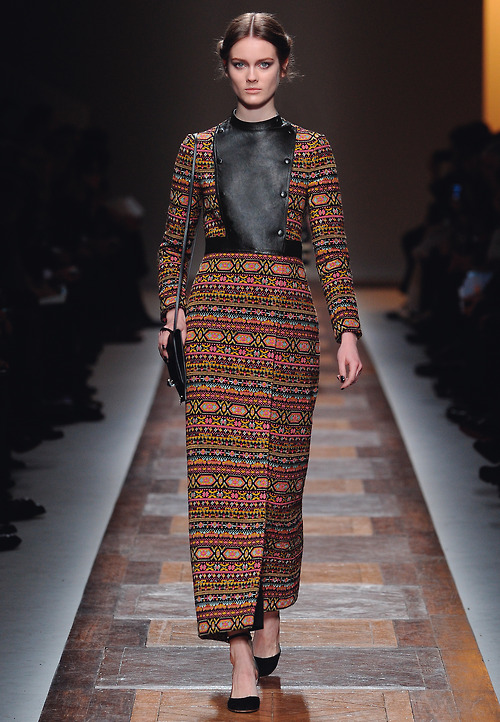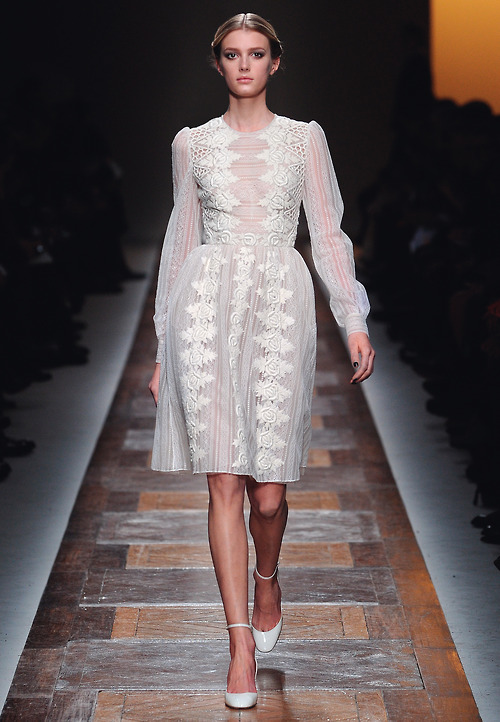 More prominent than the folklore patterns were the whimsical textures of Clare Waight Keller's Chloe Resort collection, displaying a selection of loose fabrics, levelling out the boho field. The effortlessness that defines Chloe's vocabulary was not lost in Resort, from long lengthy skirts to relaxed cut off shorts and gypsy style skirts adorned with ruched arms, the folk influence focused less on patterns, more on concepts. Practical folklore perhaps, in that oh-so-delectable way that you only see at Chloe.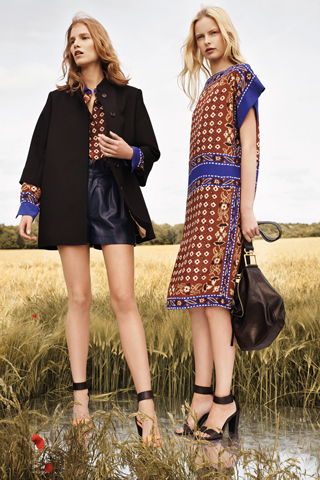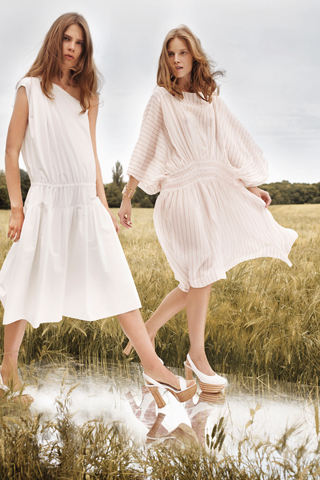 In further contrast sat Tory Burch's Resort drop, distanced from Chloe's stellar simplicity and truly the embodiment of traditional Resort patterns and textures. Mixed florals blended with gentleman's pyjama stripes and knee length skirts with long clean lines to pull together the collection. The thirty-piece presentation felt old before its years, modest and calming with sleeves intermingled with cream detailing that would set off any Cote D'Azure tan. Moments of lace put a more delicate edge to the collection, displaying the versatility yet vulnerability of each and every piece. A collection of the people, for the people no doubt, but a fifth, and final different group of people.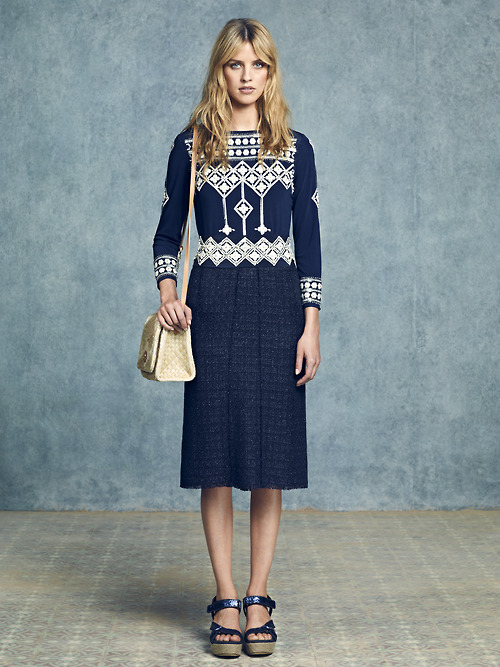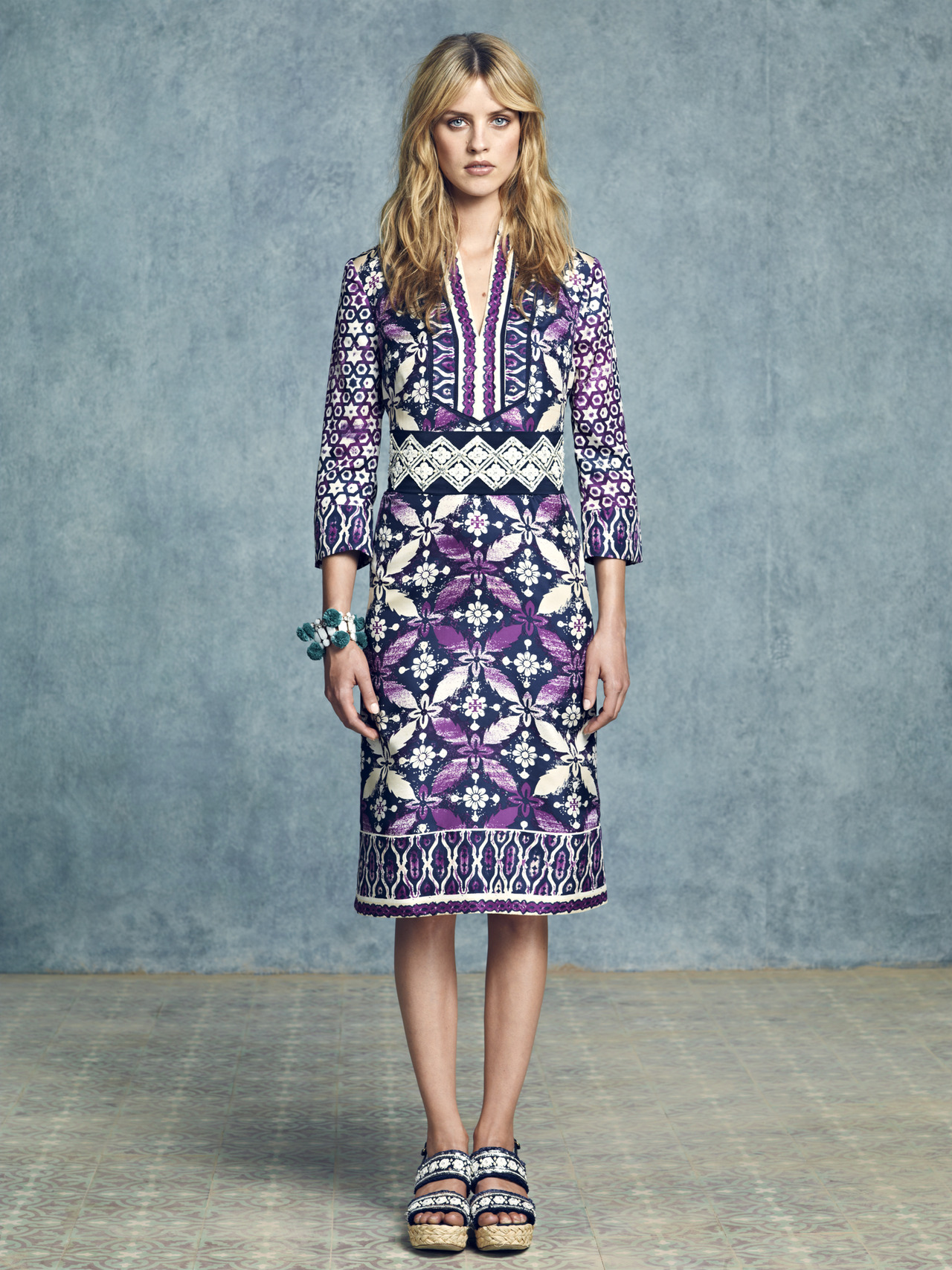 From the stereotypical to the outlandish, to the calming and relaxed, folklore has seemingly moulded itself into a modern concept. Much like its roots, folklore fashion has had to fight to be heard, and this year, it's won the battle.
Images courtesy of John Galliano, Altuzarra at Zoe Communications, Alexander McQueen, Valentino at Karla Otto, Chloe, Tory Burch