There are moments in fashion when you recognise something that will change the landscape of our fair industry. It happened at Jil Sander in September 2010 when Raf Simons transformed neon colours into a palatable concept with that skirt. But now, the new 'it' item has arrived, storming catwalks and constructed by the real who's who in fashion. If you are looking for the defining autumn addition then this is it. Seriously. Introducing, the trouser suit.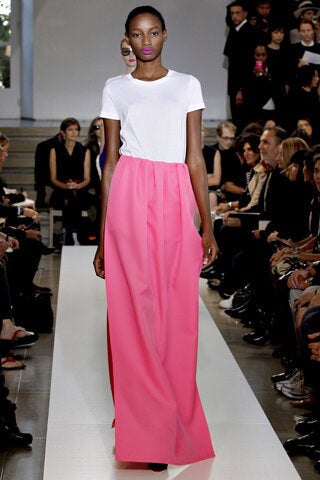 It sidelined for years before being exalted once more, hidden in a midday shadow by asymmetric skirts and outdated preconceptions of what a trouser suit should look like. Upon the entrance of Vanessa Axente, walking in Prada's AW12 show, the revolution re-began. A black trouser suit adorned with jewels at the ankle and lapel broke us in gently to the print extravaganza that followed.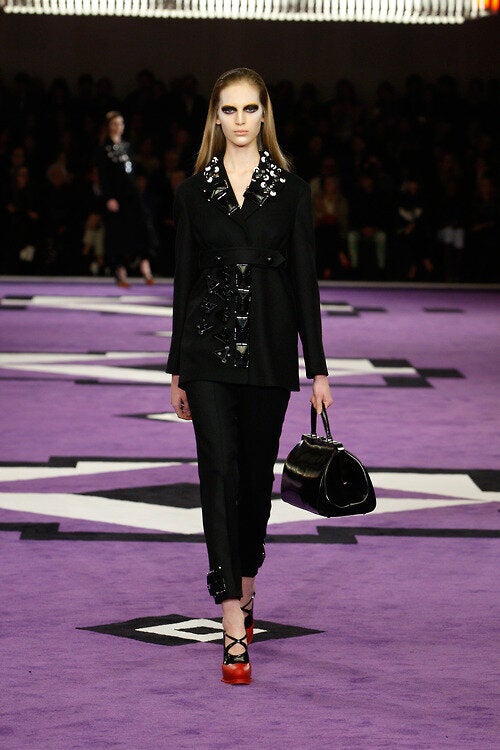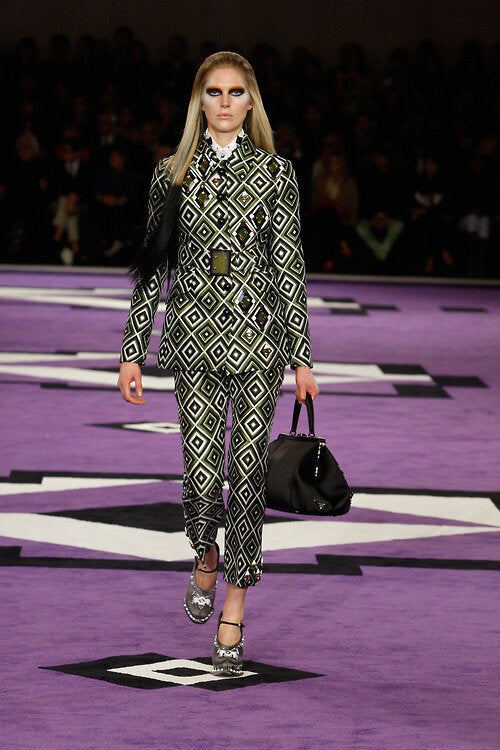 Muiccia Prada's collection read like the spoof school uniform rulebook, a guide of how not to dress. Breaking all the rules your mother ever taught you about getting dressed (unless your name's Allegra Versace), it defiantly stepped out in the midst of our braver, pattern clad bodies. Described by some as genius, others as so-bad-it's-good, there is no doubt that, as standard, Prada delivered a show stopping collection. Thank goodness the show didn't stop, the two-tone wedges weren't slowing down.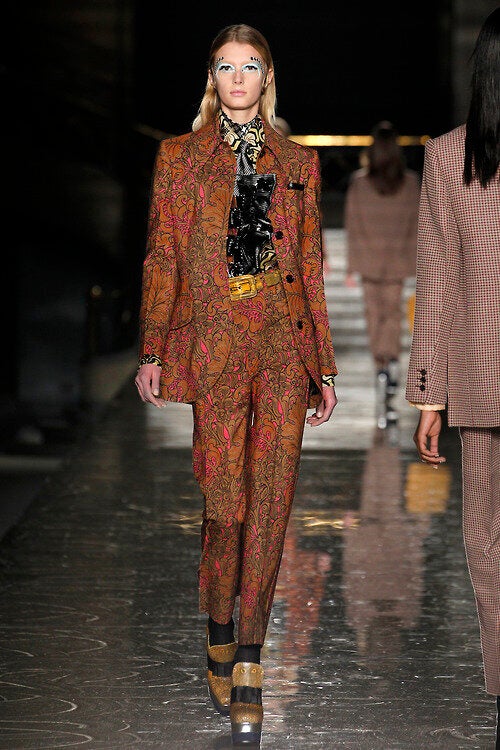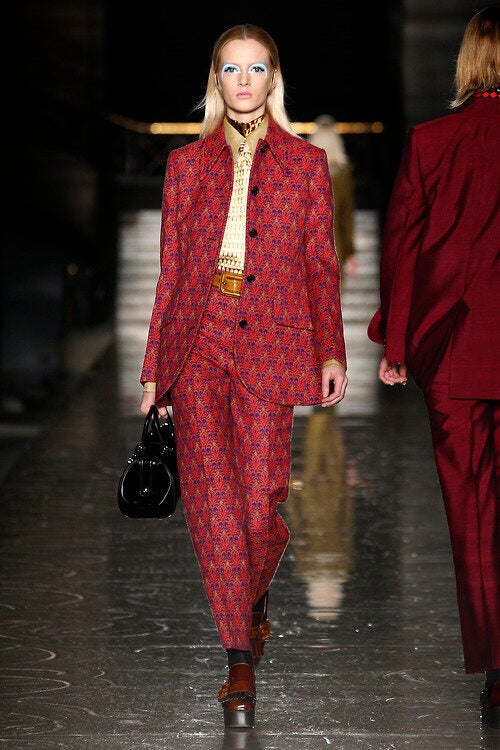 This autumn, the trouser suit isn't just about coordinating prints. It's a lesson from Italy about how and why to wear trousers; the collections are instructive and precise. In a distinctly less 1999 Ally McBeal mode, trousers are now eye-catching, powerful yet feminine. And really, what more could you want from your new sartorial best friend?
Like many fashionable themes, this trend would not have emerged without a great pinnacle of style. All hail Yves Saint Laurent. Changing womenswear from the moment his 1966 summer show opened, the tragic genius revolved the perspective of women in trousers. Yves' 'Le Smoking' changed the world; the masculine black tie uniform was transformed into a palatable piece of high fashion. Yves produced the sexiest form of masculin/féminin; it will never be seen again. Original hipster Francoise Hardy had a set ordered specifically, a testament to the chicness of 'Le Smoking'. Only Saint Laurent himself might have known just how much impact that suit would have.
Blame the recession, if you will, for 'useful' fashion's renaissance. Queen Phoebe [Philo, of Celine] designs for real women in mind, making clothes that present solutions, not make us wonder 'where can I actually wear that?' The trouser suit ticks that box, the ultimate sexy-in-your-boyfriend's-clothes glamour combined with an oh-so practical edge, practically tipping the cap to high fashion. And it was everywhere.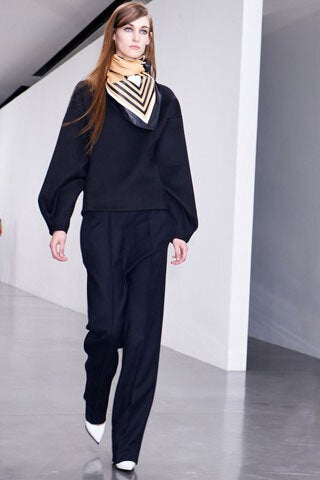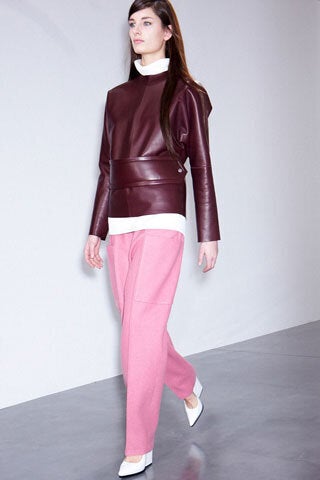 Celine pulled out jumbo oversized coats that juxtaposed tapered trousers, all characteristically architectural, ranging across the colour spectrum. In contrast, standing proud amongst an array of well-established houses is a K-Mid favourite in Emilia Wickstead. Not edgy like Acne, or the cool, streamlined Celine solution, the New Zealander's endlessly chic display was effortlessly all there, light and breezy but sensible. Sensible is truly the word. Her simple yet effective, soon-to-be classic additions to the every day woman's closet don't pull the power card out of the pack, but just subtly lie there. An understated collection, like the designer herself perhaps, but the one and only pair of trousers in there showed what pastels for autumn are all about.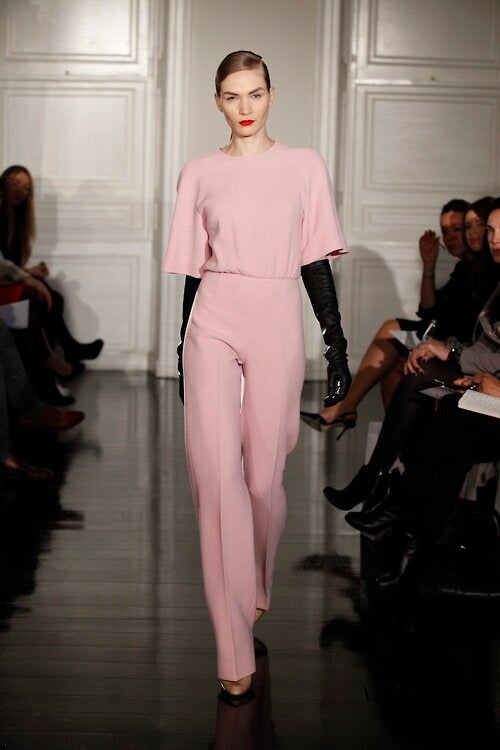 Stella McCartney intertwined a casual rock baroque mode with everyday clothes of the working woman. Introducing the pantsuit as an accessible addition, Stella's are much less 90s grey pinstripe and so, so much more elegant yet undeniably cool. But do we expect any less from the Queen of British luxury? I think not. Trousers have regained dignity as something to be desired and cherished. Merci, Mrs Prada.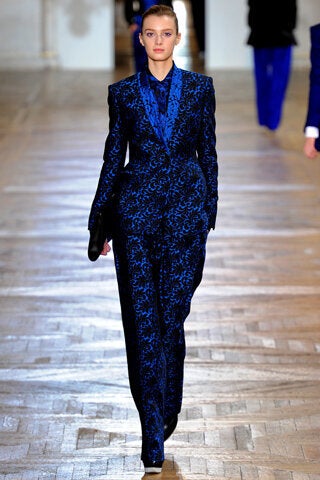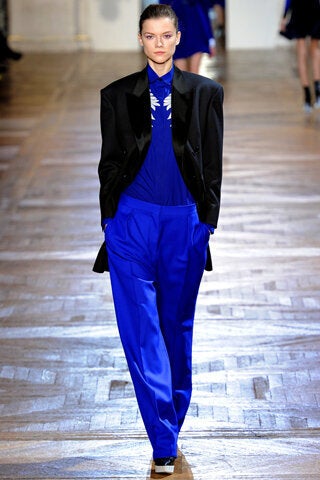 Some trends do not lend themselves to maximum appeal, but like almost no other, you can rely on the trouser suit to work for you. Yes, you. From wide legs that do flatter, to uber-chic ankle-grazers, there's plenty happening. If you're in any doubt, ask yourself what would Yves want. He'd want you to go for it. So do. It suits you.
Images courtesy of Jil Sander, Prada, Miu Miu, Celine, Emilia Wickstead, Stella McCartney.
Related