There's no feeling quite like loving what you have chosen to wear that day. Equally, there's no other feeling quite like hating it and spending all day dreading seeing anyone you know in the lift. This fear is made worse in the elevators of our busy office where not only is everyone dressed impeccably, but half the space is a mirror. It's like the building is attempting to embarrass you further. Spiteful thing.
Recently I took some steps to address this issue at the Charlotte Olympia sample sale. Aside from being the hottest ticket in town this July, it provided me with the perfect opportunity to solve my problem. An excuse for a shopping trip you might think, but no, a genuine solution to a myriad of early morning crises. I abruptly came to this conclusion whilst sliding my feet into a divine pair of bobble wedges, increasing my height by 6.5 inches, now taller than the doctor in training, legs imitating Bambi's wobble. There is no doubt that the variety of shoes boxes I came away from The Connaught with will provide me with easy-to-pair looks for every day of the week. A fabulous pair of shoes can transform even an everyday outfit; if you've ever seen any episode of Sex and the City you will know this by now. Ms Bradshaw always paired her sensational Manolos with; yes admittedly, a colourful selection of outfits that would even challenge modern day Meadham Kirchhoff, but she most definitely transformed even her plainer outfits with something absolutely fabulous.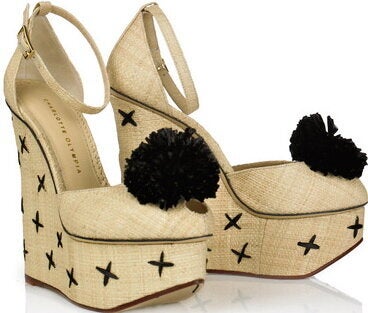 While my plans to save up for a pair of Charlotte Olympias are scuppered (no point now), I would still have bought the shoes I bought at full price...okay maybe half. They are so worth the money for the perfect statement to an otherwise standard ensemble. Would I care more about them if they had cost £600? Probably not, the quality is still the same, and they'd still be as comfy.
Walking down Old Bond Street, the smell of exquisite leather is intoxicatingly sweet; for an accessories fan like me, it's a trip to the candy store. The concept of the worth of my purchases resonated in my mind in the middle of Anya Hindmarch yesterday. Surrounded by a sea of glitter, studs and tassels all bearing the famous bow, I picked up a small leather pouch with 'coffee coins' monogrammed on the front. Holding it against my handbag, I tried for the tenth time to decide whether to take the plunge. From both the beady eyed shop assistant and my bad influence friend who was, for the record, carrying no less than six medium to large Selfridges bags, it was a resounding yes. So of course, it just had to come home with me. Upon leaving with my new miniature purchase (sadly not of miniature financial proportions), I considered just how worth it the experience had been.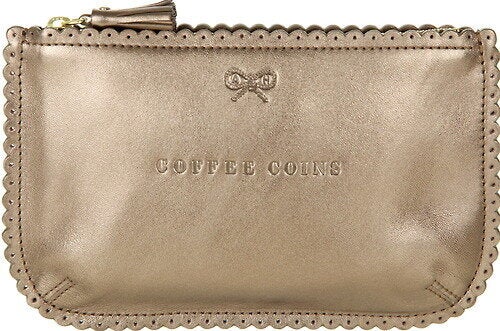 Swiftly concluding very, I was reminded of a second incident late one Sunday afternoon with my mother in my home town Topshop. It was, without a doubt, the smallest chain store I'd been in for about a year, such that I could circumnavigate it in five minutes with short breaks for observation. A shocker compared to London. I had been tipped off about a rogue Mary Katrantzou collaboration lantern dress that was still lurking in store. I tried it on, blaming Sunday fever, and, to my horror, discovered that it was the perfect shape for me. Thinking how well it would go with my Charlotte Olympias, I nearly took it to the till, but at £350, it just wasn't worth enough to me. Yes, it looks fantastic, yes it's good quality for a high street piece (albeit a designer collaboration), but I cannot justify it.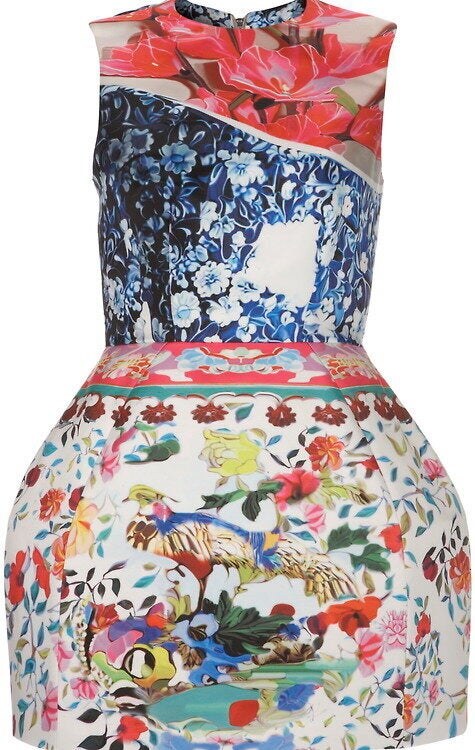 Mary Katrantzou is not office wear, as much as I'd love to argue otherwise, and while you might wrinkle your nose at the thought of wearing the sky high Olympia wedges at work, I'll be able to. Their price tag was worth it; but MK for Topshop, no. The beautiful thing would sit in my closet crying itself to sleep- it's not suitable for black tie, and I don't go to enough film premieres to wear it. Oh wait, or any. And even if I did, I could only wear it once as it's that dress that everyone knows about. So Philip Green, even with my student discount, I apologise that yet another of your collaborations will be lost on me. It might have been the last MK in the Midlands, but I just couldn't do it.
Images courtesy of Charlotte Olympia @ Relative MO, Anya Hindmarch & Topshop