Last week I wore trainers. For those lucky people that have experienced my incredible running prowess or seen me post-workout, this won't necessarily be surprising. To those in a professional context, I'd hazard this as unheard of. I 'don't do' trainers. I have been indoctrinated by the notion that a sporting environment is the only place where a pair of lace up runners should exist. As such, a consistent shunning of a variety of canvas shoes - bar the token Converses I own but have always rubbed my feet - has occurred.
I wish that Converse and I could have got along, but my feet never caught on. Years of on-off bloodied heels and blistered toes taught me to steer clear of awkward lace ups, and lean towards smarter footwear with a lowered blister-risk assessment.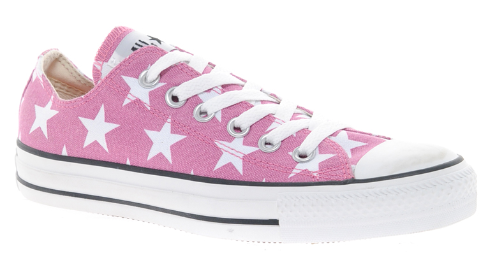 Converse via ASOS, £47
For me to complete a working day sans brogue, ankle boot or demi-heel - instead in something that resembles a Converse, but not quite - is something of a miracle. There has been only been one prior successful episode involving bare legs, a sundress and last year's July heat wave. Such an event was shelved with no intention of being exposed again - I felt like a sideways alteration of myself.
Despite my protestations at middlebrow leisure footwear, I am comfortable. I am confident in my ability to run up the stairs, down escalators and onto the sliding Circle line doors. If someone stands on my foot then, discomfort aside, the world doesn't end. I can walk at speed past slow-moving tourists while on appointments, swiftly avoiding yummy-Chelsea-Mummys with buggies and smokers, the ultimate nemesis. And with the footwear conversion comes a distinct relaxation. The suede leather jacket -much nicer than it sounds - has been donned, the relaxed Zara jumper in olive (my favourite) is teamed with classic Topshop jeans and frilly ankle socks. From the knee down I look a little Meadham Kirchhoff, but I'm okay with that.
It tempts me to wear my hair cheerleader pony tail style, and don a bright lipstick. And really, when is that ever a problem? Some words for the wise - mostly to me - trainers are for sport, but they're also for fun. And if fun is sometimes an extension of laziness, that's okay. If they make getting dressed and relaxing your life threshold a little easier, then I see no reason for complaint. I'm still astride the fence, but I'm slowly sliding off it. But one thing's for sure - my New Balances? For running only.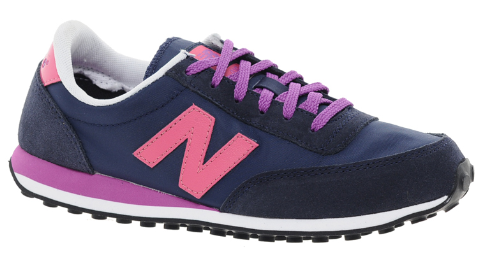 New Balance via ASOS, £50