As regular readers will know, I am not a rock chick. The closest thing to biker-babe I own is a vintage caramel suede jacket with a distressed - now-holey - lining that my mum bought me years ago, and that I had to be persuaded into loving.
The only black leather boots I own are jodhpur boots, for riding horses and I have never even tried a pair of Dr Martens. Maybe I am the only nineties kid that hasn't. The closest contributor to my infrequent French-teenager-come-pretend-rockish-girl-swag look comes in the form of a scruffy - and permanently borrowed from a boy - plaid shirt. It's not so much scruffy as needs-to-never-see-the-light-of-day-again, but on a rare occasion, some comfort can be found inside its tattered sleeves.
Following the unveiling of Hedi Slimane's second collection for Saint Laurent - the day of reckoning - I found myself ambivalent at the array of mucky floral dresses and cardigans that I will not oppress with a 'bad Topshop' label. Through the hearty moans of anti-aspirationality, and complaints surrounding the apparent disappearance of Yves Saint Laurent's honour, it occurred to me that, rock chick or not, there was something to be sought from Slimane's corrupt anarchic vision. There's a moody French teenager staring back in Saint Laurent's styling exercise with her impossibly kohl-lined eyes, embellished Docs and idea of Gallic attitude sewn tightly into her head. She might not be high fashion's national treasure, but in a climate that manifests change, she has something.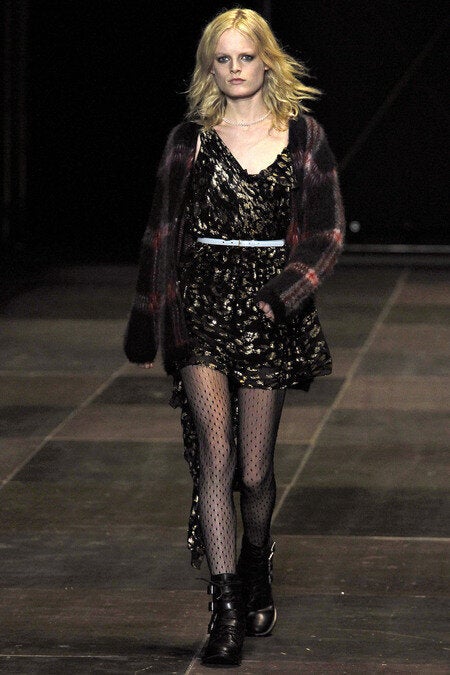 ShowStudio's associate editor Lou Stoppard proclaimed on the platform's Paris Fashion Week round-up that all girls want to dress like that. Well no they don't, Tallulah Harlech returned, sitting on the panel defending Celine's honour. Not at twenty-five, they don't. The collection doesn't necessarily represent those with the funds to wear it, but the thirteen-year-old self of my peers - if she could afford it - is right on the bandwagon. And granted, that isn't how high fashion is 'supposed' to be, but aren't we tired of convention and conformation? Yves was sacked from Christian Dior for sending a leather jacket down the runway in a spell of youthful intelligence as he worked his market - the young Sixties girls, icons-to-be, who craved a kicking change.
So while plaid shirts might not be making ripples down Bond Street or even in my wardrobe most of the year, they're entitled to their limelight. Who needs pretty all the time, anyway?