The sartorial cupid's arrow is a hard hitter. A couple of weeks ago, I fell head-over-demi-heels in love with a neatly wrapped parcel under the Christmas tree. A transparent indigo clutch in the ideal day to night size made up my first piece of the perspex puzzle. It actually generates instant happiness at a glance, no kidding. I can't help that I'm a sucker for novelty pieces; this micro-trend is just made for me.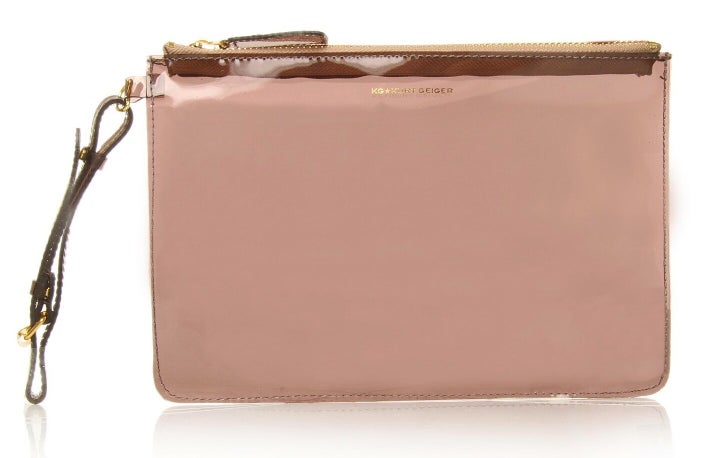 My perspex love affair predates the Yuletide-food-anticipational-glow, relating back to Mrs Prada's all monochrome, de-constructed clear heels for SS10. Debuted by Kaiser Karl in late 2008, clean yet awkward shapes look firmly to the future. And then there were those jelly pencil inspired clutches that bad-taste-gone-good Christopher Kane delivered for AW11. Those clutches that wiped out the sample sales, lining street style albums and blog rolls.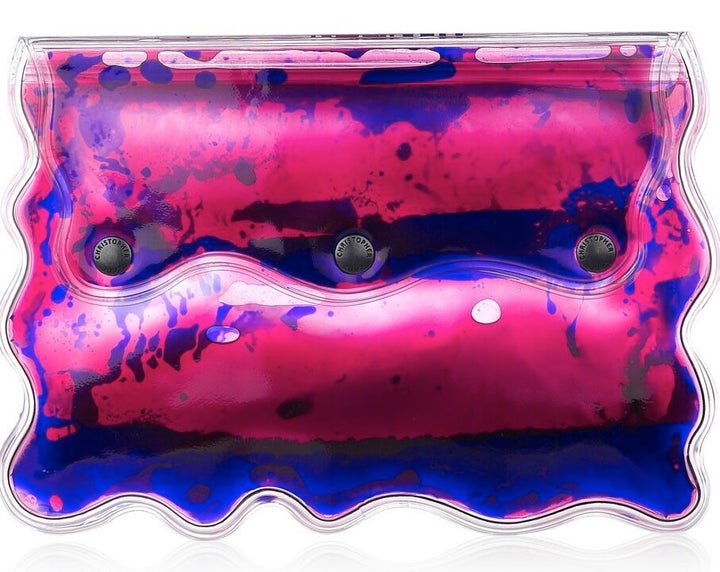 Your very own piece of perspex buys you exclusive entry to fashion's front garden, its the shining star on the spring 2013 style tree. Perspex is poppy, and fun. And we all need a bit of fun, don't we? Insistently serious deliberations over 'the season's colour (FYI, it's white) and PR-journo catfights suggest that it's all being taken too seriously. Just add a little bit of the shiny stuff and the fun begins again. It really is as easy as that.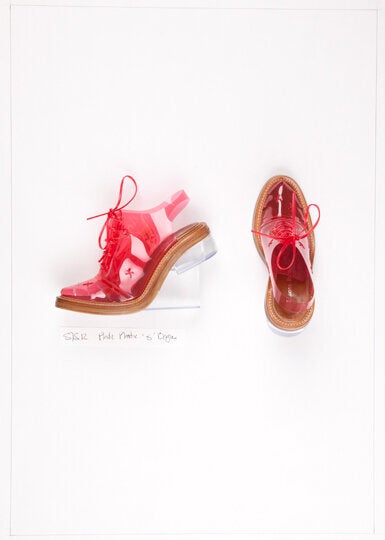 Simone Rocha AW12 perspex brogues
However you take your shoes, there's an all-clear footstep waiting for you. Simone Rocha's trademark perspex-soled brogues will really make you walk on air, while Charlotte Olympia's 'The Higher The Heels, The Better You Feel', all clear ankle strapped beauties are all you need to be transported to an age of jelly shoes and sandy beach feet.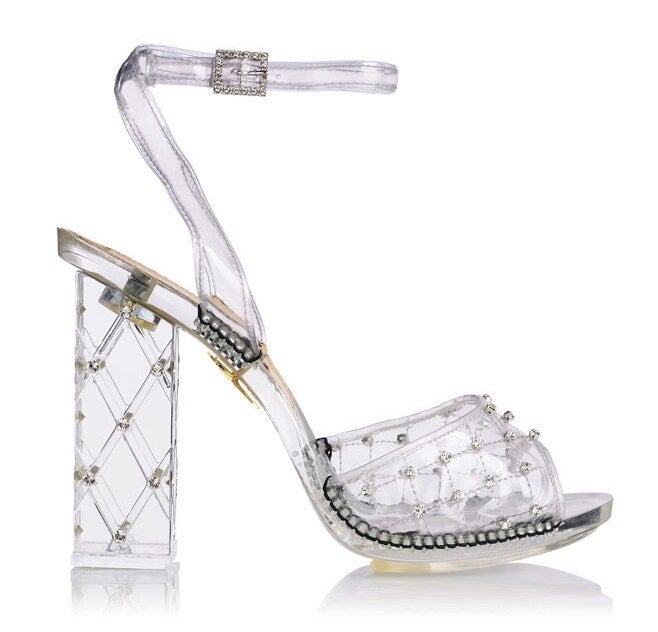 It's a little gimmicky, a little bit of something you really fancy. New kid on the block Sophia Webster, Nicholas Kirkwood's protégé and well-deserved SS13 NEWGEN recipient, compiled a delicious collection packed full of the shiny stuff. A blue spotted clear clutch makes the perfect kitschy complement, and clear covered, raspberry-spotted demi-heels are the ideal transition shoe. They are beyond covetable. Just, perfect.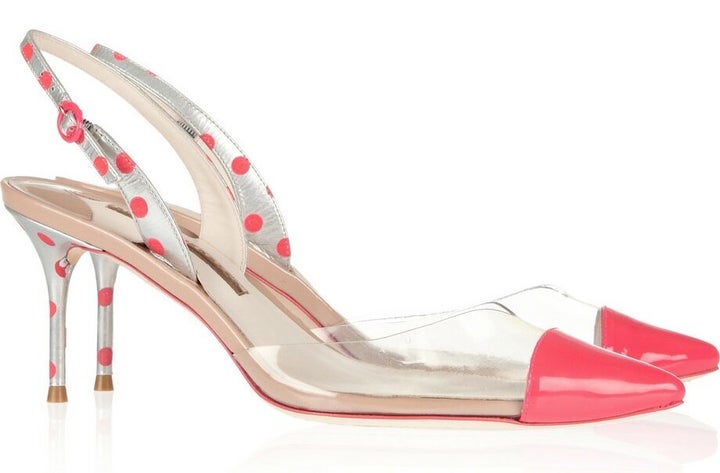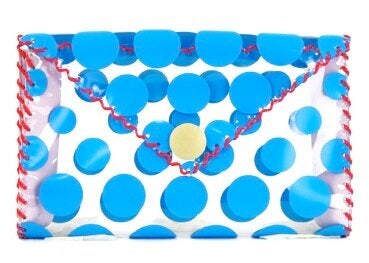 Sophia Webster 'Daria' heel / Sophia Webster 'Perri' clutch
Out of the shoe closet, fashion maximalist Holly Fulton's American road trip inspired collection made head to toe plastics an intriguing possibility. An all clear and all fun, rosy purple get-in-my-wardrobe dress was the exquisite piece de resistance, adorned with giant roses. Even Valentino's classics could not be compromised with their clear additions, while Burberry chose Quality Street shades for their transparent bags, giving the emerald light to clear accessories the world over.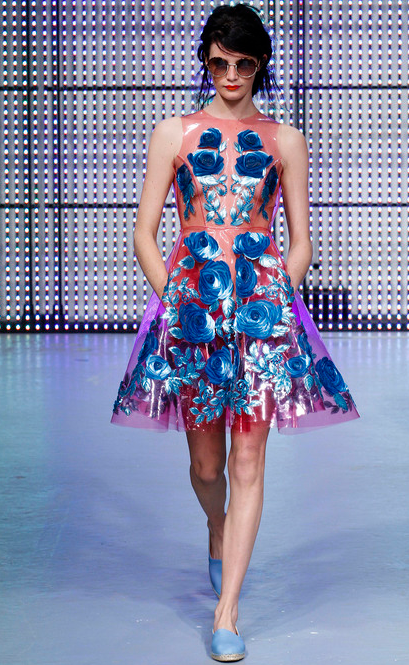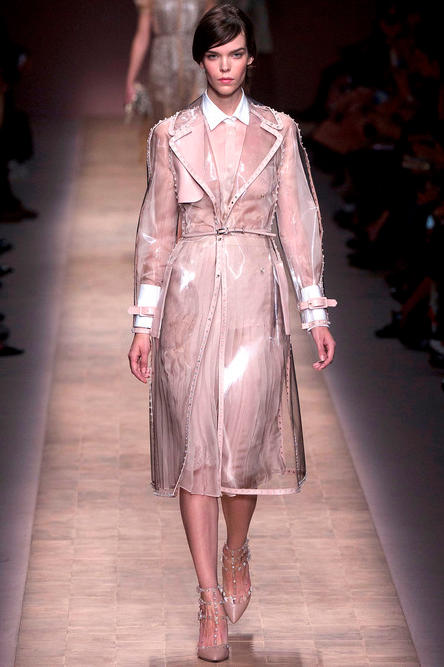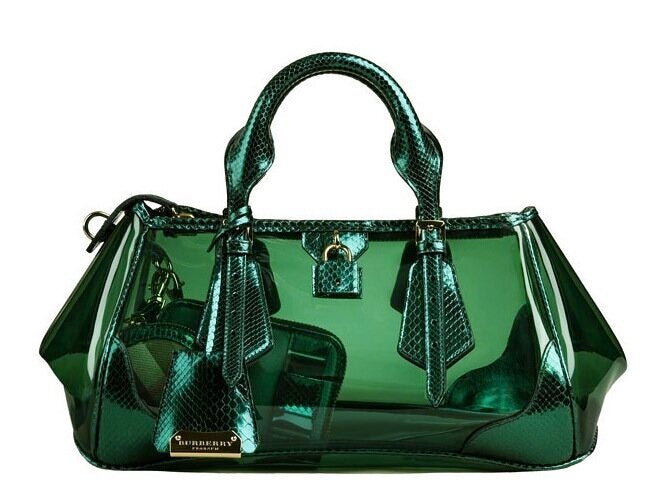 Holly Fulton SS13 / Valentino SS13 / Burberry SS13
So welcome to the future. It's a little squeaky, very shiny and straight out of your imagination. Plastic fantastic.