I've fallen, head over staggeringly high heels, in love. Again. This is becoming too regular an occurrence. Temporarily blinded by a uniform of black and grey, Resort 2013 has reminded me of my love for fabrics. As a staunch lover of block colours and tones, as you'll know by now, sometimes prints, embroidery and embellishment can be terrifying. The printed parts of my wardrobe are frequently tried on and almost instantly discarded when I realise that I can't make it work. Ever.
It's a disappointing feeling in the morning when this well rehearsed dance takes to the stage.  The black pieces sit there smirking, knowing full well that they will be next in line for another standard day at work. They don't need to worry.  When I was younger I enjoyed wearing peacock colours, but working amongst black-clad women everyday forced me into premature workwear mode. Inspired by Resort 2013, I plan to embrace prints once more.
Valentino, my greatest love (yes, even trumping Chloe to the gold medal) has produced a collection that made me stop working and actually gape in amazement.  I want every single look- I could definitely make them all work, pushing through the sea of black silks and arriving triumphantly in colours and prints. Looking at the whole collection, Valentino Resort '13 is super colourful, awash with bright pea greens, fuchsia pinks, bold reds and (much to my delight) a modest selection of black, nude and grey looks.  It's quite the rainbow, dashed with enough heavy tones to keep any fashion editor happy.  The collection begins with classic Valentino, ultra delicately feminine looks, a spread of full length, mid length and trouser ensembles, the latter with a perfect peplum.  These looks are softly floral, clear in their design but resolutely delicate.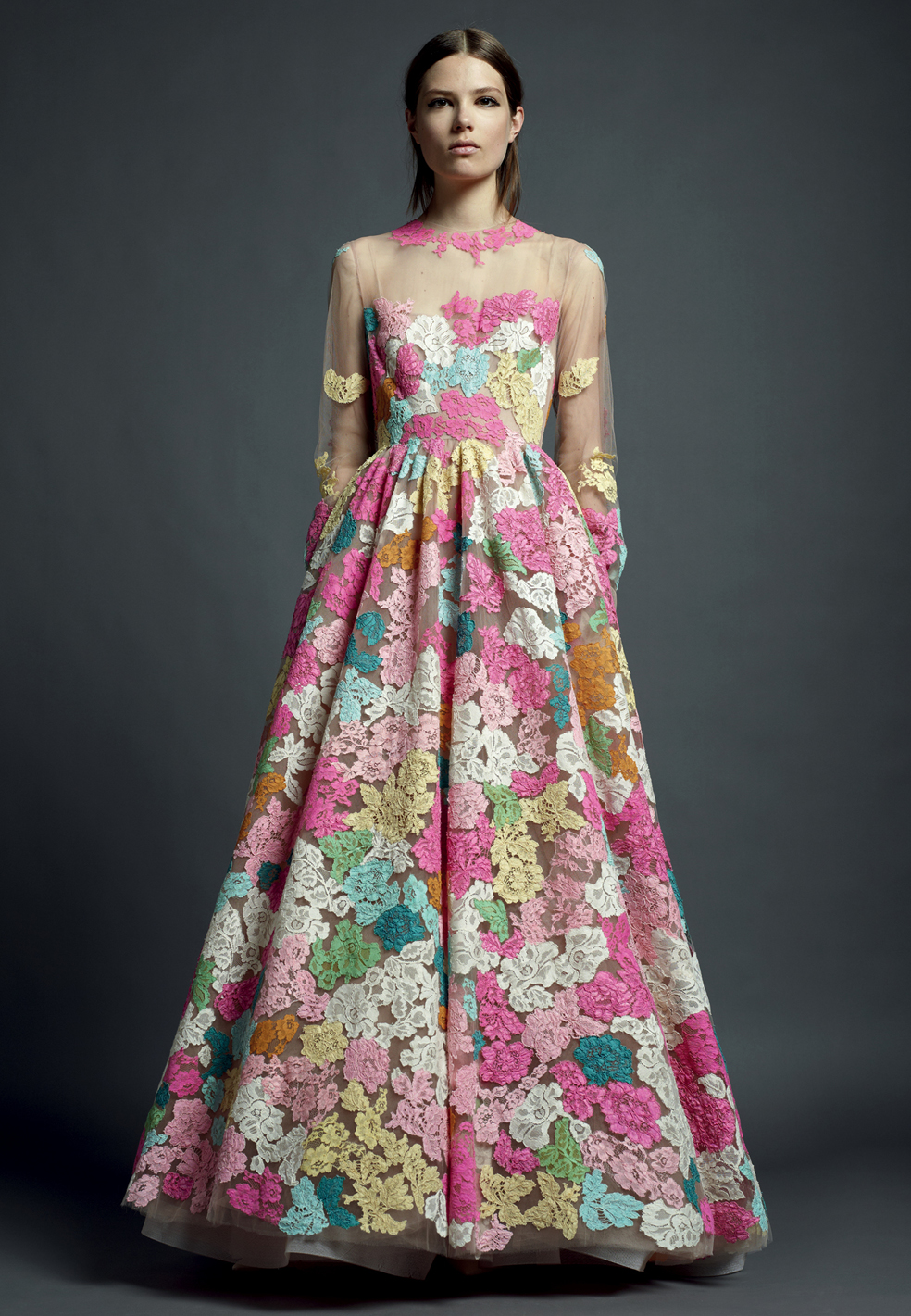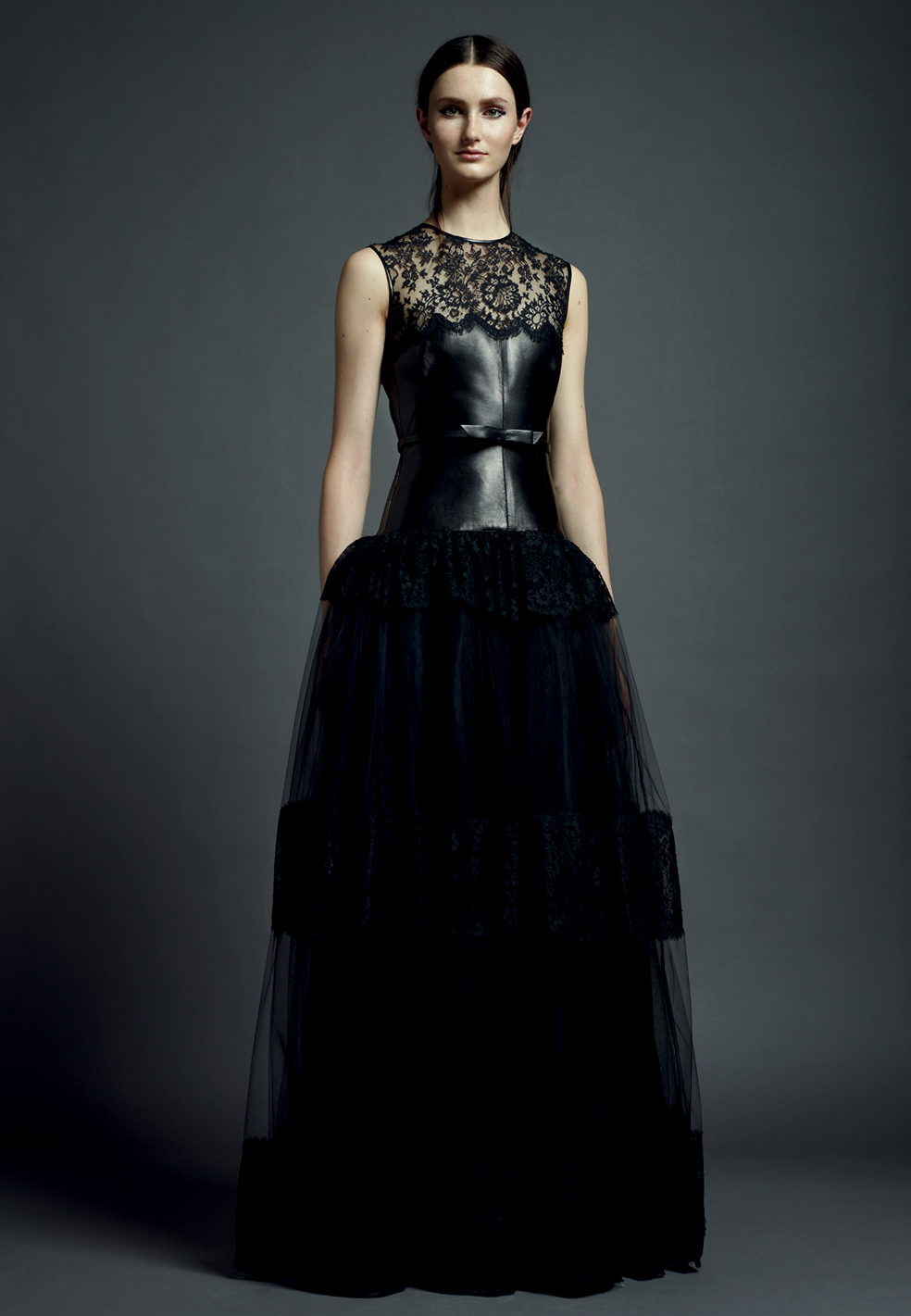 (Valentino Resort '13)
Each Valentino collection is truly one to fall in love with, and Resort 2013 is no exception with pieces for all days and all nights.  Colourful structured peplums, exquisitely cut dress coats that are all ready for the Duchess of Cambridge, and without a doubt the most fabulous red carpet dresses we are likely to see on the Resort circuit this year.
Where Valentino presented soft and subtle, Jonathan Saunders certainly did not shirk on his print parade.  Resort is traditionally the collection for the print, and is defined by its patterns; Saunders has gone to town with this memo.  The collection is a fusion of dip dye geometric prints, big, bold and brash florals and subtle textures, driving his beautiful message all the way home.  Saunders painted his way through the colour spectrum, not entirely drawing away from his fall colours, bursts of bright pastel blues, greens and a seasonal mix of darker shades.  Resort seems merely an updated fall collection, to much relief, full of the same gorgeous shapes and seasonally bright colours.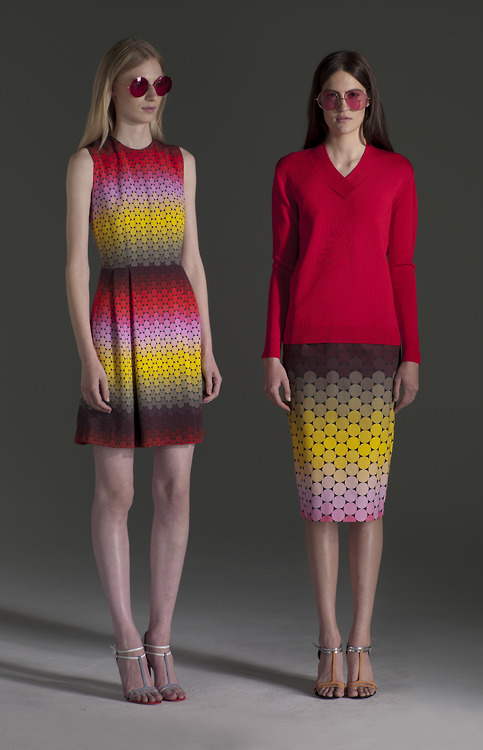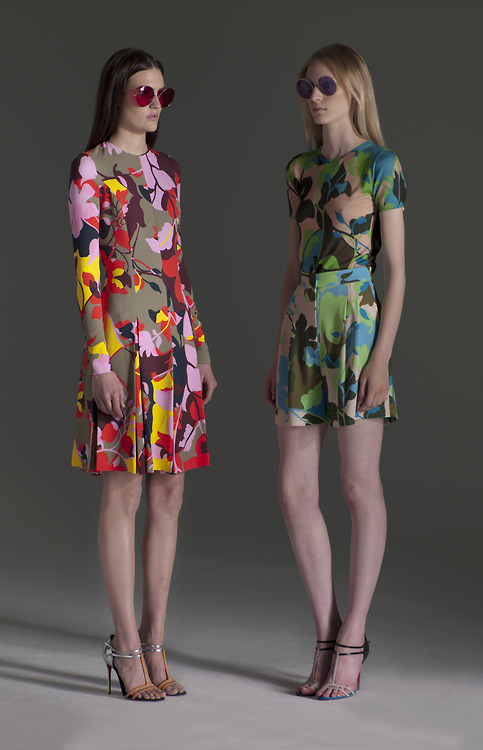 (Jonathan Saunders Resort '13)
I have no doubt that little persuasion will be necessary to blend seamlessly into prints after a long winter of ombre monochrome, Alexander Wang's dark burgundy shades and limitless beige.  Not that there's anything wrong with simple tones; I should know after all.
(Images courtesy of Valentino @ Karla Otto London/Jonathan Saunders @ Starworks London)