Confession time. I am scared of foundation. Years of ballet stage makeup, and a contrary attitude towards anything in the least bit popular, have deterred me from ever squirting my face with the brown stuff. When I was ten, my mother said I could have my ears pierced; unlike almost every girl in the village, I tossed away the offer in favour of...well, anything else. And so it was the same through my teenage years; you name it, I probably shunned it. Once someone says you can do something, the challenge vanishes. Foundation suffered at such a fate.
Despite this, I have a famous collection of beauty products. There's every shade of lipstick imaginable, an impossible collection of nail varnishes, and more cleansers than Liberty's beauty hall. I am particularly partial to the perfect blush, and the discovery of a new soft pink lipstick can change a day's perspective. But I have no such inner glow with the f-word.
In light of my fears, I accepted an invitation to the Bare Minerals boutique in Covent Garden. The thought of breaking down my foundation suspicions was nerve-wracking, but on a sunny Friday morning, I donned the Cos-but-looks-like-Celine coat, and headed out for a lesson in the application of natural makeup. Greeted by the lovely ladies of Bare Minerals' charming West End boutique, I was met with a dose of my own unorthodox optimism. I saw soft, fluffy brushes, clear rainbow pots of powdered bush, highlighter and bronzer. A makeup junkie's dream, no less. Better still, there were no squeezable tubes, glass jars, or God forbid, foundation sponges in sight. The concept 'caked on' could not apply. Cue happy face.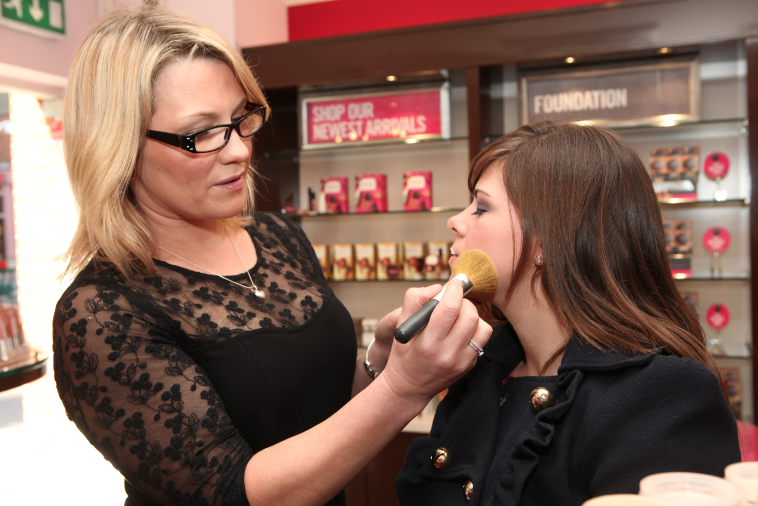 A lucky customer at the Covent Garden boutique
Still nervous following tricky decision making as to my exact shade of absolutely everything, it was time to let go of my antique ideas. My face was buffed and brushed and swept across with the super soft brushes that were soon to become an integral part of my morning; I dared not to glimpse in the mirror. By the end, I'd daringly suggest that my face felt the same, not a touch of heaviness.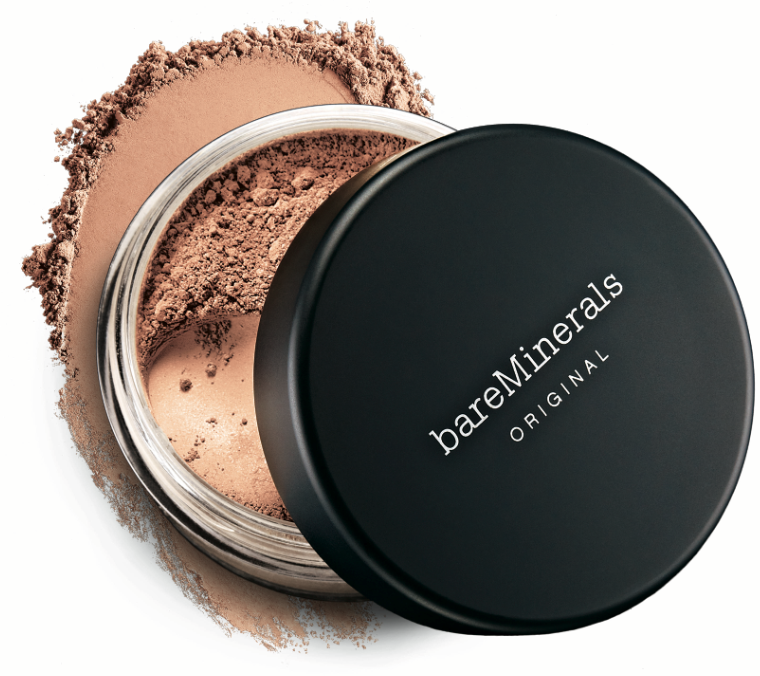 Bare Minerals Original Foundation
And the reason why? Bare Minerals is all natural. The products are formulated without preservatives, using only the finest natural ingredients perfect for pampering your skin. As a fastidious moisturiser and serial cleanser owner, Bare Minerals is my newest no brainer. I can still see my freckles, yet I feel barefaced, and for me, that's just how makeup should be; effortless. As winner of Instyle's 'Best Mineral Base' award for three consecutive years, and named Psychologies' 'Best Mood-Boosting Makeup' 2012, it is safe to say that the original foundation has some steadfast fans. Being the brand that just keeps giving, Bare Minerals welcomes the nationwide release READY foundation, currently exclusive to Selfridges. The solid substitute to the classic powder formula, the SPF 20 product will no doubt be racking up the awards as it hits a store near you, early next year.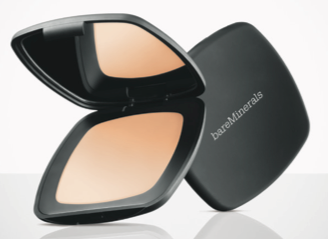 Bare Minerals READY SPF 20 Foundation
So, even if you're a die-hard fan of the brown stuff, I dare you to give Bare Minerals a go. Your skin will feel lighter yet still beautifully protected from the dangers of the day. And really, what more could you want?
Bare Minerals is stocked internationally, with boutiques across the country and is sold in Selfridges, John Lewis, Boots and Debenhams amongst other leading national retailers. Visit www.bareminerals.co.uk for more information.
All images courtesy of Bare Minerals. With thanks to Anna Hirsch.