Dressing 'casually' can be a problem. Like many things, the more thought you put into it, the room there is for error. Highlights of my recent fashion discoveries include the sad realisation that my Rive Gauche blazer is the only thing to pull off big shoulders, complex layering assumes the look of one going hiking, and the effortless colour blocking tactics are only possible with precision training, and an unlimited tonal wardrobe. To the latter sentiment, one (and by this I mean me) may resemble one's seven-year-old self's paint palette. And that's not something I'd like to remember.
Thinking about what to wear in the morning is often just a little too complicated. Stick to what you know usually works best, often sufficing as the solution to my frequent ensemble dilemmas. This season, I sense a real solution. Introducing minimal maximisation... or rather, the rise of the oversize.
I realise that excessively large sized clothes may not be immediately appealing. Like layering they are fraught with difficulties largely associated with 'does my bum look (too) big in this?' Despite this, that very exclusive nod to fashion is all there in the act of the oversized. Be not fooled, this is no excuse to gorge on Godiva's delectable chocolate-covered strawberries, or to stop that excellent running habit you've adopted. Whether I'm referring to the one in Louboutins to the bus stop, or the 5k I'll leave to you.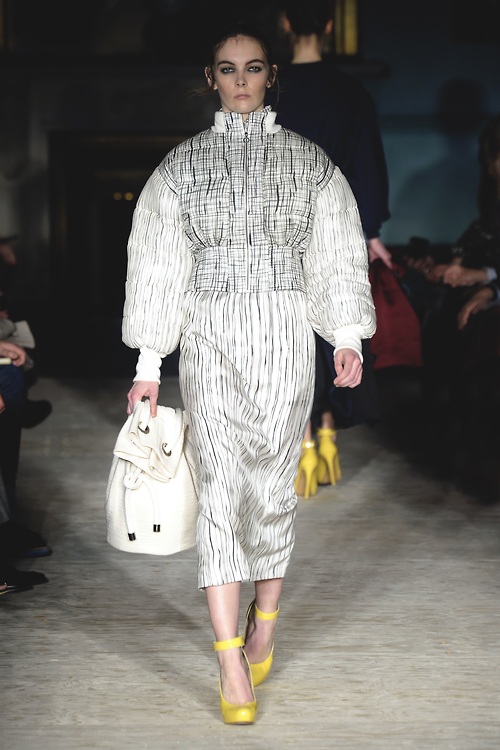 Husbands beware, the 'Bridget, that's not your coat' trend can be actually be put into practice, making extensive appearances on the catwalk and reducing models to their even more skeletal selves. Roksanda Ilincic literally pulled out all the stops with almost inflatable looking coats, going Olympic-style sumo against the oversized trend. Championing more of a bedtime than Olympic Park vibe, Chloe matched the covetable Parisian sensibilities with a British sporting edge in creating a very comfy collection of coats, while Celine fell back on elegant yet minimalist functionality, as is their timeless mission.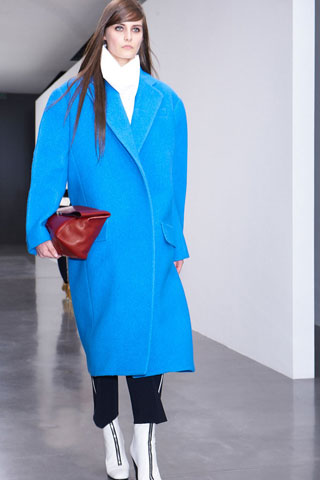 Pair an oversized boyfriend blazer with a slick pair of trousers for the perfect complement to the new season a la the queen of casual chic and those wedged trainers, Isabel Marant. The Parisian worked an almost impossibly chic boyfriend blazer with simple skinny trousers and stilettos for her take on oversized. Now who said fashion was tricky?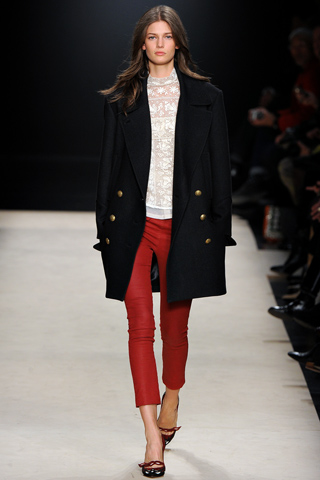 Not everyone chose macho man for their autumn theme song; Raf Simons' last collection for Jil Sander generated a well-deserved standing ovation from the Milan crowd, exhibiting perfect large scale minimalism. The absolutely divine pastel coat, seemingly more at home in your grandmother's dressing up box than the catwalk, sealed Raf's place in fashion history.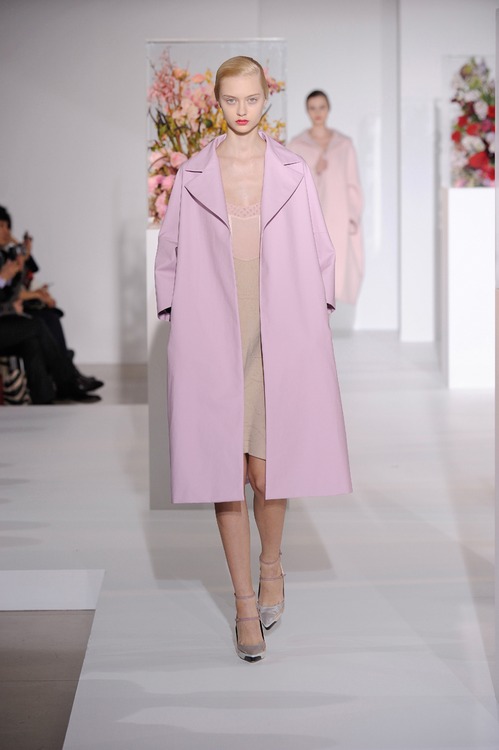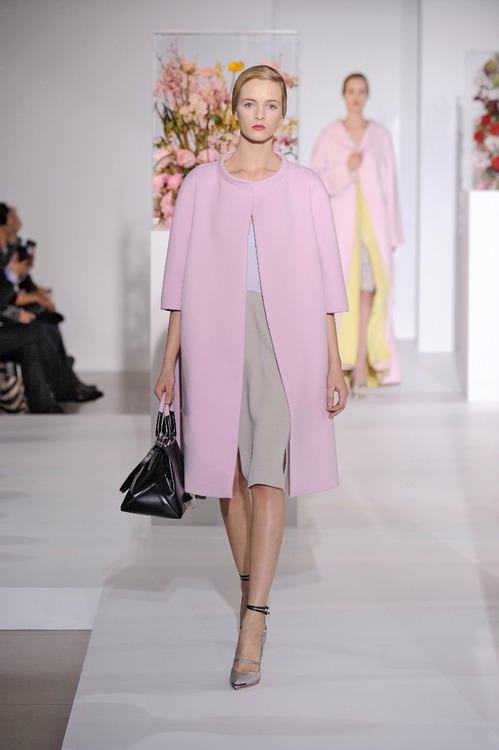 Coats were not alone in this trend's domination. Prada showed the ultimate high fashion geek chic brogue, super high, and super clumpy yet ultimately powerful. Almost so bad they're fabulous, Prada's shoes literally lift you into the fashion limelight. A broad selection of large than life tote bags more suited to a weekend in the Cotswolds than a trip to Waitrose with the kids emerged. We've all done it, bought a huge handbag and proceeded to fill it with as much as possible. This is regrettable yet inevitable position to be in, and made all that easier by Valentino's Mary Poppins effect hold all.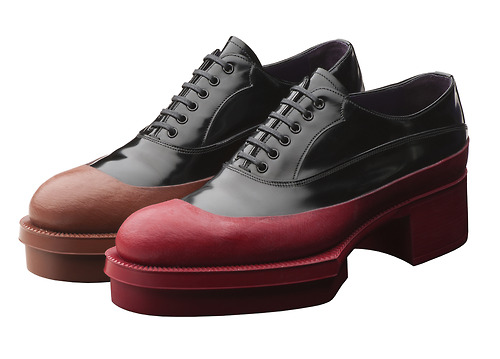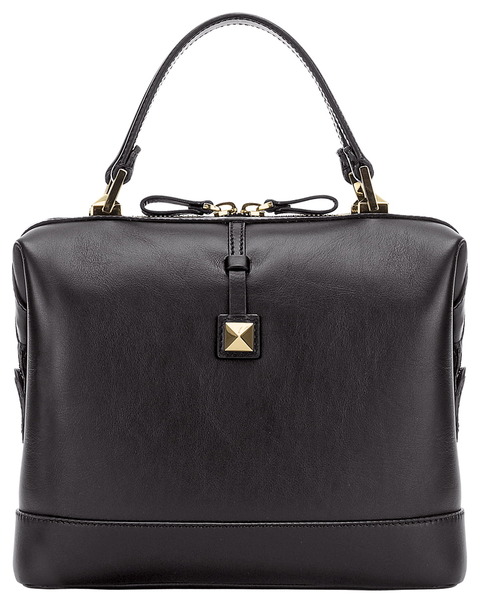 In a strange sartorial hybrid, the rise of the oversize signals minimalism within a much larger idea. While shapes might be overbearing, concepts are minimal, forming the perfect combination of micro macro. Minimalism, the chic Parisian's favourite, favours a simple way of living and dressing that can be easily incorporated into AW12's biggest and boldest trend.
In a season that celebrates the waist, we are treated to a splendid array of cuddle-me coats. Thomas Tait's wide collar pea green number was almost as inviting as MaxMara's maximum lengths in coordinating colours while Commes des Garcons struck a floral chord with a cape-like piece, enough fabric to wrap up half the finale girls. During all of this, the clean architectural lines we have come to expect have not been forgotten in construction. Big, bold and beautiful does not signal the end of tailoring, it has simply streamlined to perfect the utterly sensationally casual in oversized looks.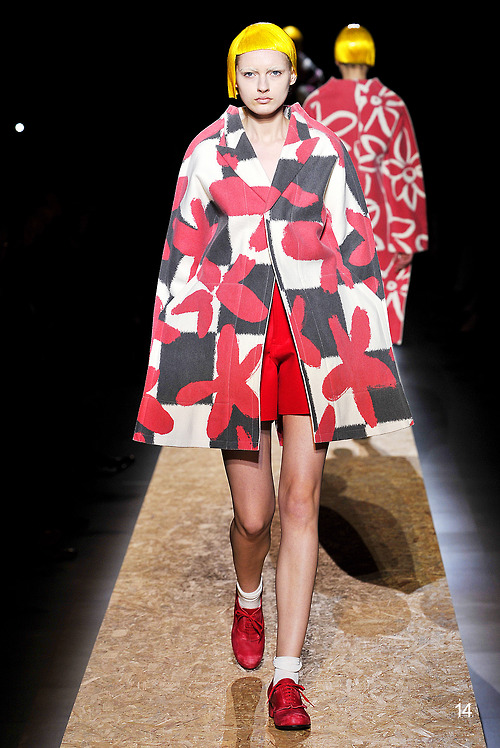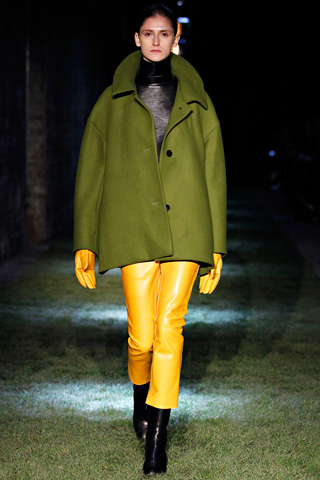 So if Michelin men don't take your fancy and Chloe's dressing gown look is just a tiny bit too appealing, invite Raf Simons into your life and champion oversized simplicity. With that coat, you barely need a dress. Cough, did I really suggest that? Financially viable though, let's be honest.
Images courtesy of Roksanda Ilincic at Starworks, Chloe, Celine, Isabel Marant, Jil Sander, Prada, Valentino at Karla Otto, Comme des Garcons, Thomas Tait.