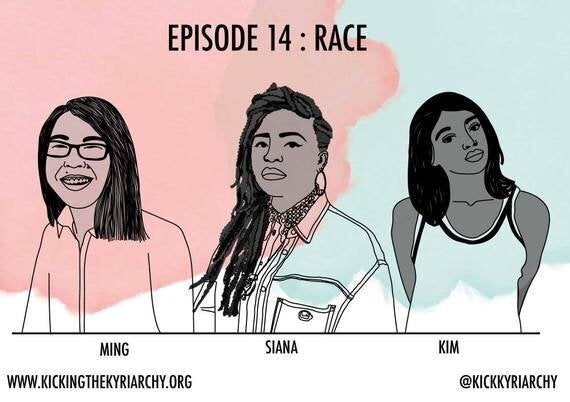 The widely recognised definition of racism is missing something important. Structural power. It's this that gives white sounding names an advantage in job applications. It's this that means people of colour are more likely to be stopped and searched by the police. It's this that means most make-up brands, plasters and "nude" coloured clothing is for white skin tones only i.e. the norm. If structural racism didn't exist, why did Rihanna's new make-up brand set a benchmark for beauty that other brands have never even come close to achieving? Because most beauty brands didn't even realise there were forty shades of human skin tone worth catering for.
The world is not equal for everyone. It's a tilted stage where whiteness is centre stage, it's the norm and those in the spotlight aren't given the tools to recognise it. Recognising this is important, white readers (ourselves included, obvs), you can be critical about the privilege we have but didn't ask for, and still benefit from it. Just don't let that guilt get in the way of being an ally and calling out racism when you see it, nobody's got time for those white tears.
"I can wholeheartedly say that the dictionary definition of racism was written a very long time ago and not by a person of colour. It doesn't allow us to have a conversation about modern-day racism. If you're not aware of it, then make yourself aware of it. Racism isn't just calling someone something, it's a whole system. If you think we live in an equal society, you're living in a daydream. You need to recognise that there is such a thing as white privilege and you can be homeless and still have white privilege, because you can still have a better chance of getting out of homelessness than a person of colour in the same position." - Munroe Bergdorf
We might not expect these politics in the beauty industry, but Munroe Bergdorf was the first trans woman of colour to model for L'Oreal in their diversity campaign, and then unapologetically sacked a few days later when her comments on Charlottesville surfaced in the Daily Mail, taken out of context with "all white people are racist". The hypocrisy that ensued next was actually comical. L'Oreal hired Bergdorf because of every injustice she'd ever experienced and written about. Now they were dropping her for that very reason. Surely by starting a diversity campaign you're acknowledging that the world isn't equal and that there's STRUCTURAL INJUSTICE. Not to mention the barrage of transphobia, racism and violent threats Bergdorf received, not doing the 'not all white people are racist' trope any favours. We salute and admire Bergdorf for having the poise and grace she maintained whilst explaining to every news outlet under the sun what structural racism was, which is more than can be said for some of the ogres that interviewed her. Since, Bergdorf has been recruited as a model by the makeup brand Illamasqua and has brought a long overdue conversation about racism to the mainstream, something many wouldn't have even been aware the UK needed.
All white people are racist, because all white people exist in a racist power structure that we aren't actively fighting to dismantle. Racists don't just wear white pointy hats and say the 'n' word, by doing nothing, any and every white person is still taking advantage of a power structure that favours us. Don't be more upset with being called racist than actual racism.
If you're upset, do something - listen to the voices of people of colour, do your own research, give money, time or resources to spaces and platforms for people of colour. As Siana points out in this episode; if Charlottesville was a surprise to you, you've not been paying attention.
Don't just take our word for it though, there are plenty of amazing resources we'd encourage you to check out so you're not relying on the people of colour in your life to explain everything. These are also based on the experience of British people of colour. We don't often recommend books (in fact, we mostly make a point not to) which is why these are a real exception:
We'd also suggest you tune into Episode 14 : Race.
Related