What do you get when you combine a Michelin Starred Chef, a renowned Food Photographer, a company dedicated to all things food and culinary in Britain, and a roomful of eager foodies, photographers and avid bloggers? Answer: An animated, informative, fun and delicious Thursday night in London...and what I like to term, serious Food Porn.
Last night in the new Google Headquarters near Tottenham Court Road, where wine flowed freely and the view of the city skyscape was an easy second to the canape selection revolving the room, a group of fifty food bloggers and food photography aficionados gathered to learn tips from the best in the business, Australian-born David Griffen.
David shared his secrets for capturing food through the lens, and in this time of electronic madness he wasn't shy on tips for shooting food using your phone; ideal for restaurant reviewers who don't want to haul out their SLR kit when fine-dining. He even has a blog dedicated to mobile phone food photography.
The evening was hosted by Great British Chef's, a relatively new company whose focus is promoting the finest chefs on offer in Britain, sharing their food ideas and recipes, and bringing together anyone and everyone who is passionate about food, cooking and culinary delight.
While David taught us how to utilise our gadgets to capture food at its best, award-winning Michelin starred chef Pascal Aussignac cooked up a storm. Aussignac is the name behind Club Gascon, Cigalon, and Baranis to name a few. His canapes, starters and signature dishes were the focus of our photography, but the moment the shutters stopped snapping, we were able to sample the delicacy's we had been shooting. Pascal's food is as creative as it is tasty, and impeccably presented.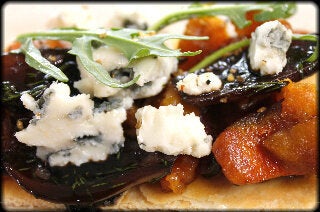 Butternut squash, Roquefort and Trappeur Salt Tart
We started with a Butternut squash, Roquefort and Trappeur Salt Tart. Simply laid out on a thin crust of 'tart', toppled with the most perfectly caramelised butternut I had ever tasted. When questioned, Pascal advised me he had tossed the butternut in a rosemary stock, then added a little sugar and olive oil and roasted it for over two hours. It was set off with the intensity of the Roquefort and balanced by the tang in the caramelised red onions. Duck Carpaccio with Sea Urchin foam and Cauliflower was soft and creamy in texture, but the foam was a little too fishy for my palate. To finish, in an effort to pay homage to both the British and French palate, Pascal presented his Duchess Marmite. A bowl of potato and cheese with fried potato crisps on top and drizzled with a marmite sauce...sounds horrid I know, but looked beautiful and the saltiness of the marmite worked perfectly with the creamy potato it covered. Perhaps not something I would order on a menu, but a happy marriage of two nations.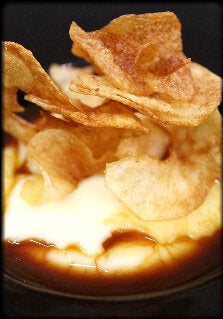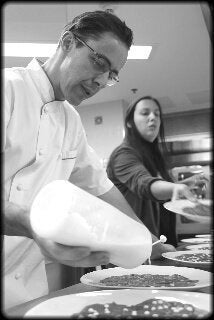 With the London Restaurant Festival starting on Monday, what better excuse could you find for getting out of the house, and snapping up some of the tasty treats on offer in the country's capital. You don't need a fancy camera, arm yourselves with your mobile phone and get shooting and posting photos of food that will make the wider world hungry to behold.