On a snowy Saturday, there is possibly nowhere I would rather lunch that at The River Café in Hammersmith. Celebrating their 25th year since opening, this Michelin-starred restaurant has been the training ground for some of the finest names in the business, including Theo Randall, Sam and Sam Clark of Moro, and Jamie Oliver to name a few.
The River Café was a joint venture between Ruth Rogers, and until she passed in 2010, Rose Gray. Together they have written six cook books (all of which reside happily on my bookshelf), and in my mind, these two ladies have succeeded in an art where too many fail. They have brought outstanding Italian cooking to the UK, with a strong emphasis on the simplicity that should be afforded the freshest and finest ingredients, and have re-defined Michelin-star dining for me.
Michelin restaurants are too often synonymous with over-worked masterpieces of science, where for the most part, I forget if I am eating chicken or fish, because it resembles neither. Much to my husband's delight I tend to avoid them, and would happily choose an outstanding gastro-pub or local ethnic restaurant any day of the week. The trick to getting a star these days seems to require extraordinary amounts of tampering with the original state of the ingredients in use, and for my palate, often loses the magic along the way.
The River Café seems to stand up for the opposite of this, however, with their menu changing twice daily to reflect the freshest, seasonal ingredients available to them on any given day. The number of ingredients in each dish remain elegantly few and each of them is listed in the description of the plate. I, for one, loathe having food arrive at the table with ingredients on it I neither anticipated nor would have ordered, so this suits me well. Instead, the combinations of incredibly fresh and high quality produce are trusted to be enough to create outstanding food. I am not suggesting that there is no artistry at work in the dishes here, on the contrary, the artistry is in making this food exceptional, with the confidence that with perfect cooking, combination and presentation, the ingredients and flavours will be enough to speak for themselves.
The menu is broken up in to several parts. Antipasti (£16-£18) which includes a variety of starters, Primi (£16-£17) the pasta and gnocci selection, Secondi (£34-£38) inlcuding fish and meat mains, Gelati (£8 for two flavours) a selection of homemade gelato, Dolci (£9) for when you have room for desert, and I Formaggi(3 for £13 or 5 for £23) Italian cheeses flown in specially.
Looking at the Antipasti section I could easily have ordered every dish, from a classic like Mozarella di Buffala (£18) to Agretti(£16) (a spring-time water retaining plant that grows on waterbanks) served with Slow Cooked Tomato and Pangrattato. After much deliberation I chose the Capesante in padella (£17), seared Scottish scallops with capers, chili, large leaf rocket, borlotti beans and red wine vinegar. I always find it hard to go past scallops on a menu, and was interested in the use of chili, which ordinarily I would think too strong an ingredient with such a subtle seafood. While scallops are not meant to be cooked through, too often they arrive on my plate raw in the middle, as if it somehow makes them more of a delicacy. I was rewarded here, however, with scallops cooked perfectly (only fractionally opaque in their centre), chili that did not overwhelm but enlivened, and the addition of fried sage leaves and capers with the beans...was perfection and full marks from me.
My husband chose the Capellacci di Zucca(£16), fresh pasta stuffed with pumpkin, ricotta, sage butter and parmesan. As a gluten-intolerant foodie, I can never order the pasta, but in this instance decided to have a bite of his (and to hell with the repercussions later). Silken and paper-thin pasta, filled with a subtle pumpkin centre that was not dominated by the taste of cheese. Although this dish was not an explosion of taste in your mouth, it was beautifully simple, fresh, delicate and much as you would find in exceptional home-cooking by some rustic Italian mamma!
Secondi's were no easy choice either. I have always ordered the fish at The River Café in the past and decided to again, with Branzino ai ferri (£37), chargrilled wild sea bass with potato, fennel, parsley & dried porcini al forno and salsa verde. A very large fillet of seabass arrived, which after my antipasti was going to be a challenge to finish, but I rose happily to the occasion. The colours on this plate were all a little similar I thought, with muted green and beige and brown at play. I wanted a burst of something else, red perhaps? Perfectly cooked and executed seabass with a smoky taste from flame-grilling. the flavours in the porcini and salsa verde complimented and in no way overpowered the taste of the fish. This one did not blow me away, but it was delicious.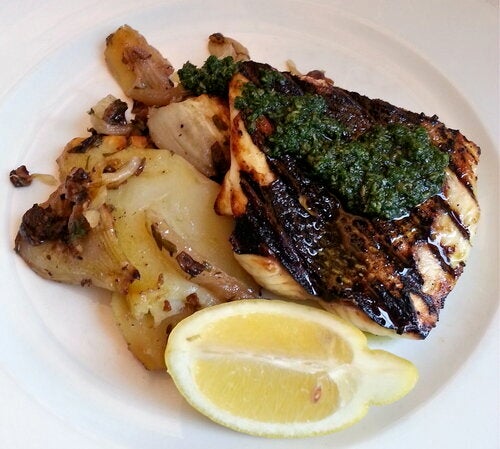 I was also able to try the Piccione al forno (£36), whole Anjou pigeon wood-roasted in Chianti Classico with smashed celeriac, potatoes and thyme. For a pigeon there was a good amount of meat on the bird, and the richness the Chianti provided really strengthened this dish. The celeriac cut through the flavour beautifully creating a balanced, hearty and warming meal. There is something very satisfying about eating a dish that tastes both earthy and rustic, elegant and subtle all at once. It made me think that food is like a dance. You need to be light (on your feet) but confident. Something Ruth Rogers and her team apply well to all their dishes.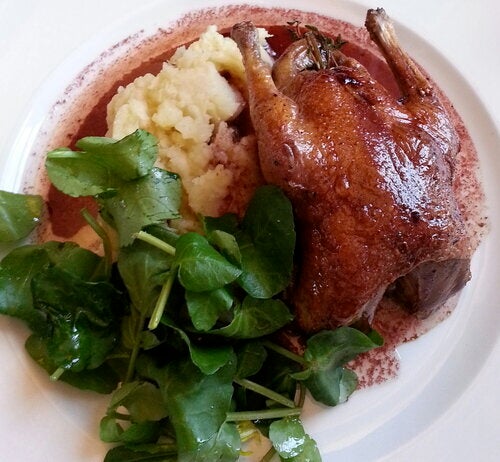 Despite being seriously over-full, there was nothing that could stop me from ordering the Lemon Tart. While the Chocolate Nemesis is the more famous of the deserts here, I have had it before and the ganache-like centre is too rich for me. The Lemon Tart is like a spiritual experience with a spoon! Thin crusty pastry and incredibly tart lemon filling. Served only with a dollop of fresh thick cream, this is the best Lemon Tart I have ever tasted in a restaurant and I will continue to order it every time I come!
With the exception of Billecart-Salmon Champagne (which at £11 a glass for the N.V Brut is a great way to kick-off your dining experience) the Italian-only winelist is extensive without being intimidating. It is broken up in to the various production areas of Italy, and there is a good spectrum of price-points in each category. All the serving staff seem very knowledgeable about the wine, as we spoke to several and were impressed by each. After explaining what I was looking for in a wine, on a waiter's recommendation we tried the Aglianico del Volture Titolo (£76), from Campania. It was my first time trying the Aglianico grape (referred to occasionally as the 'Barolo of the south') and it proved to be an excellent choice; robust and full bodied with good tannin while still retaining the fruit. This wine is made by a woman, Eleni Tucci, and it brings me to another noticeable distinction about The River Café. The owner is a woman, the residing head-chef is a woman, and it seems about 50% of the staff are women. In a largely male-dominated profession, it is refreshing to see, and I am certain it is no accident.
The friendly staff are not in uniform but smart-casual attire, and along with the paper linings on the tables, the open-plan setting and their busy kitchen on display, it makes for a familiar, almost home-like environment that lacks any pretention. At approximately £100 per person with wine, it is an expensive dining experience, but certainly not one that will disappoint. Luckily for me, Ruth Rogers herself was hovering through the kitchen the day I dined, and was warm, chatty and delightful. My congratulations to this fine establishment, which is fast becoming my favourite restaurant in London.
Thames Wharf Rainville Rd, London, Greater London W6 9HA