An open letter to the new Mayor of London from a hopeful #TeamSadiq voter
London is the love of my life. Our magnificent capital has been my happy home for 29 years. But every day my heart sinks a little lower, as I watch more flash developments slowly devour the city's vibrancy, diversity and soul. Billboards advertising "luxury flats coming soon" may as well read "your time is up, millennials!" The cost of living here is spiralling out of control, and the burden is becoming too much for the young to bear.
Generation Y-UK has watched everything that our parents benefitted from - university grants, affordable house prices and proper pensions - be kicked out from underneath us. In London, the loss of these benefits is felt the most acutely.
When I meet up with my friends - from overworked and undervalued teachers to frustrated creatives - the only solution most of us see is to leave London all together. Smaller cities and other European capitals are an attractive escape from the profit-centric trap we feel London has become.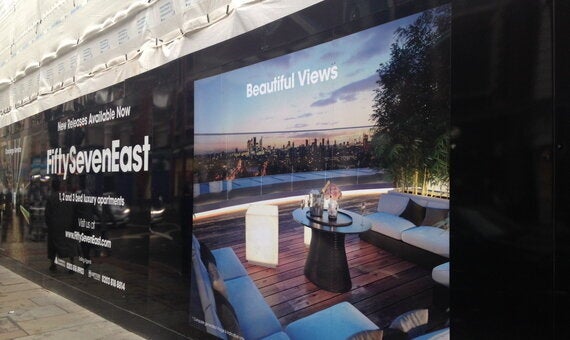 A one bedroom flat in this new development in Dalston costs £540,000, in the borough where child poverty is the second highest in London at 41%.
A mass millennial exodus from London will be a disaster. As young, healthy, full time workers, we are net contributors to our (rapidly deteriorating) welfare system. If we leave the country, and take our tax money with us, those left behind will suffer. As the new Mayor of London, you have a colossal challenge on your hands to convince Generation Y that this city is a place where they can succeed.
Your pre-election pledges struck all the right chords with us - and I believe by prioritizing these three areas for urgent action, you could convince at least some of us to stay.
Give some hope to Generation Rent.
I have lived in four different flats in the space of five years. My friends and I were moved on when flats were sold, or forced to move further out when rents rose. Each time we kissed goodbye to another few hundreds pounds that went into the black hole of letting agency fees. I currently spend 43% of my income on rent and bills - a sum that will never allow me to save for my future. Longer-term tenancies, that guarantee fixed rents for two or three years, and fairer fees from letting agents will relieve some of the pressure on Generation Rent.
Revive our faith in the welfare state.
The welfare state we have grown up depending on, and that makes us proud to be British, is being slowly dismantled. State schools that took me and my contemporaries to top universities are losing talented teachers in droves due to academisation. The National Health Service is in chaos. State pensions barely exist. Childcare costs are astronomical. With these public services under such severe threat, could Generation Y be blamed for choosing to have their children elsewhere? These are nationwide challenges - but London has chosen Labour to tackle them. Speak out on these issues, and catalyse change for the rest of the country.
Support young entrepreneurs and creatives.
Other European capitals are positioning themselves as safe havens for small businesses, tech-savvy entrepreneurs and location-independent creatives. Could London do the same? Tax incentives for start-ups, easy company reporting processes, and affordable office spaces will help London stay part of this party. The Bootstrap Building in Dalston, that charges around £130 a month for a desk, with rolling two-week tenancies, was exactly the kind of space where young entrepreneurs could thrive. Yet this summer the charity will be hit by rent increases of at least 400%. Until costs of living and running a business are reduced, London will be out of the loop on the small business boom.
The overwhelming sentiment attached to your campaign has been hope. Your resounding victory has restored our faith in UK politics. We believe you can put a stop to the runaway profit train currently bulldozing its way through London. Please, bring our beloved city back from the brink, before millennials start to pack their bags.