Everything about St Lucia is green. From her lushly vegetated peaks undulating across the teardrop shaped island, to her twinkling emerald waters, it's a Caribbean paradise chock-full of geological marvels.
For high-rollers who can cruise in on their superyacht and moor up for a couple of days, 48 hours in St Lucia is an effortlessly doable experience. Let it be said however, that this island deserves more than two days to get to know. Nine hours direct from London to Hewanorra airport, this is one destination whose beauty, beaches and Bounty rum you want to spend some serious time getting acquainted with.
STAY
Palm-fringed beach? Tick. Sweeping Bay vistas? Tick. There's a reason Marigot Bay was dubbed "the Caribbean's modest beautiful bay" by esteemed American author James A. Minchener. In hands-down St Lucia's most picturesque location, Capella Marigot Bay Resort and Marina nestles into the verdant hillside.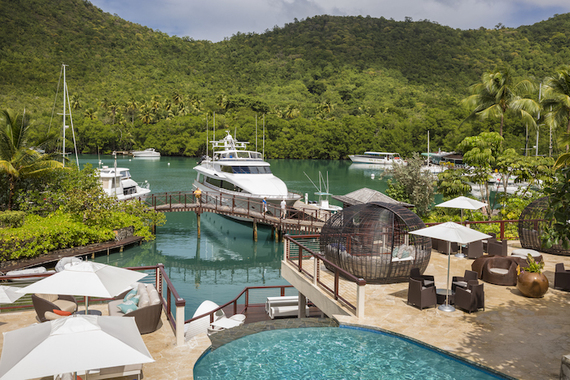 IMAGE CREDIT: Capella Marigot Bay Resort & Marina PR
Seemingly created in harmony with nature, the resort's timber framed pavilions emerge from vegetation surrounding a couple of dip-worthy infinity pools. It has a zen-inducing spa, some of the island's finest restaurants and ultra-personalised service. Best of all, for intrepid explorers, Marigot Bay Resort and Marina boasts its own picture-perfect marina making it the best place to jump on a boat and discover the rest of the island.
DAY ONE
Throw yourself into the action by taking a guided eco tour around St Lucia's best sites. With Captain Mario at the helm and cultural ambassador Jahrod Alcindor as our guide, we sped off in the morning from the marina on a boat. Heading south to the town of Soufrière, located at the base of the majestic Pitons: an insanely photogenic mountain duo that rise conically from the earth. So iconic are these lofty peaks, in fact, that the local beer is named after them.
After an amble around Maranatha Botanical Gardens taking in exotic flora and fauna, we head to the dormant-yet-very-much-bubbling Soufrière Volcano. Legend has it a former tour guide accidentally fell through the surface, creating a new crater in the process, though we're assured his virility maintained intact. We learn virility is something of common theme in St Lucia. Apparently, the island is the world's biggest consumer per capita of Campari. Why? Because in the 70's men were once told it 'puts the choo-choo in the train'.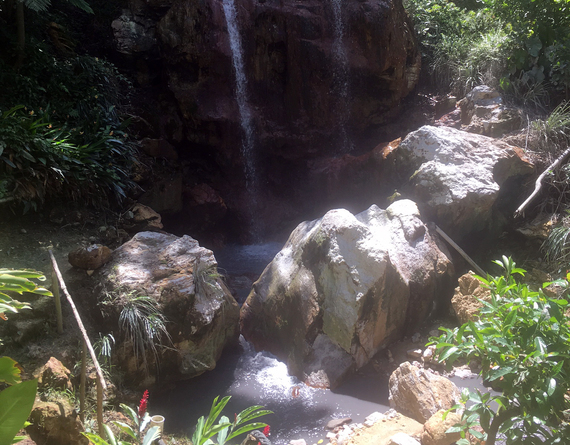 IMAGE CREDIT: Ellen Grace Jones
After, we take a hike into the nearby rainforest and are rewarded with a spa treatment of the jungle kind. Our guide, Jarod is a literal Rasta shaman. Clambering around intricately hewn pathways, he stops every so often to pick up a herb, snap off a branch and tug at a root asking us to sniff or touch, explaining each one's medicinal properties. Many twists and turns later we greeted with the magical Sapphire Falls, though their waters are less sapphire, more an otherworldly ashen grey due to the volcanic sulphur. We're given a pot of black clay to slather all over, then shower under the falls after it's worked its magic.
En route back to Marigot Bay, we drop anchor at Anse Cochon, a small, secluded beach for a spot of snorkelling in its aquamarine waters. Multi-hued peacock flounders and trumpet-fish weave in and out of vivid orange tube coal and spherical brain coral.
DINE
Take dinner al fresco at The Grill 14o61o, Capella Marigot Bay's sublime restaurant, admiring the marina's bobbing yachts with the sounds of whistling frogs serenading your meal.
DAY TWO
Start your day by returning to the jungle - this time, with a bird's eye view by zip-lining through its lofty fringed canopies at Rainforest SkyRides. To get to the zip location, a cable car slowly, silently glides its way a mile into the rainforest depths. The odd parrot squawks in the distance in-between Tarzanesque cries of fellow zippers. Once harnessed not once, not twice, but thrice (phew) to the zip-wire we send ourselves hurtling through the boughs.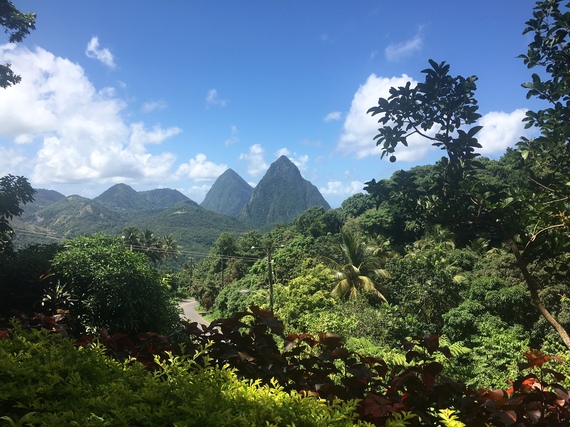 IMAGE CREDIT: Ellen Grace Jones
Post-zipping, it's rum time at the island's main distillery, St Lucia Distillers. Home of the legendary Bounty rum and premium tipples, Admiral Rodney and 1831, this boutique distiller may be small but it's got a world class rep and have acquired countless awards. We get a potted history of the Caribbean tipple along with more than a few 'yo-ho-hos' and plenty of bottles of rum.
The day is rounded off with a devastatingly gorgeous sunset cruise. With Marigot Bay on the west of the island, you're literally moments away from watching the sun making its journey beyond the horizon.
DINE
If you fancy a side order of privacy with your dinner, eschew the restaurant and have it cooked in your suite instead by one of Marigot Bay Resort's tip top chefs.