First things first, if Kate Moss says it's okay to wear trainers then it bloody well is, okay? As a reluctant heel wearer - which is oft problematic, being 5ft tall - I can't express to you how overjoyed I am that it's now socially acceptable to wear trainers all the time. Even when you have absolutely no intention of partaking in any exercise - not even a brisk walk.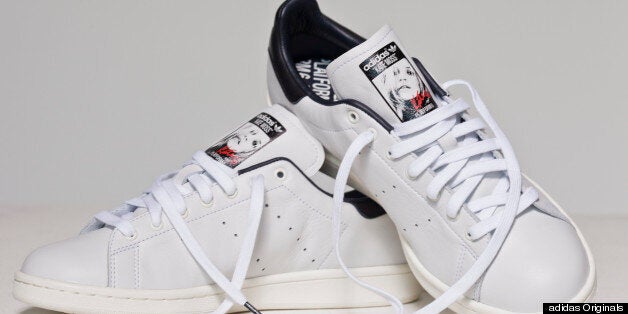 Since the dawn of the fashion trainer revolution I've had a pair firmly fixed to my feet and refuse to remove them even for the scariest bouncer on the door of the most trendy London nightclub. If they don't allow trainers I don't want in.
My insatiable lust for trainers (and no, I don't think that's an odd way to describe it) has led me to sink a whole heap of money into shoes that you won't find on the shelf at Office in Watford. This means searching for adidas Originals on ebay, rediscovering those beat up Fila runners I lived in when I was 12 and asking unsuspecting randoms on the street where they got their shoes from. If you see me and you're wearing trainers I'd advise you to cross the road.
The other day I uncharacteristically found myself drawn to a fluoro pair of Nike Air Max 1s in Size. I tried them on, took them to the till, but then thought better of it and quickly left the shop. Over the course of the next week I saw the whole world and his wife wearing them. Lucky escape there.
There's literally nothing worse, NOTHING, than standing next to someone on the train who's wearing the same coat, hat, top, shoes as you. When it does happen, you have to address the situation with some awkward and kind of creepy comment like: "You've clearly got great taste, pal." Then they just stare blankly at you like you're a total mental patient, because surprise, surprise most people don't over-think their outfit like you, you freak!
However, it seems I am not alone in my unique-trainer-fixation. This month, adidas Originals announced the return of the Stan Smith shoe. A trainer created in the Seventies and made infamous by the legendary player and its namesake. After vanishing from production lines two years ago the tennis shoe is back and this time it's got Kate Moss' face on the tongue. *Shakes with excitement*. *Passes out*.
Just 10 pairs of these trainers are currently on display at the Oxo Tower and are available to snap up at auction until September 14, those who miss out will have to be quick as super limited numbers of an exclusive Stan Smith will be available at Dover Street Market during London Fashion Week. You'll have to beat me to the front of the queue. Good luck with that.