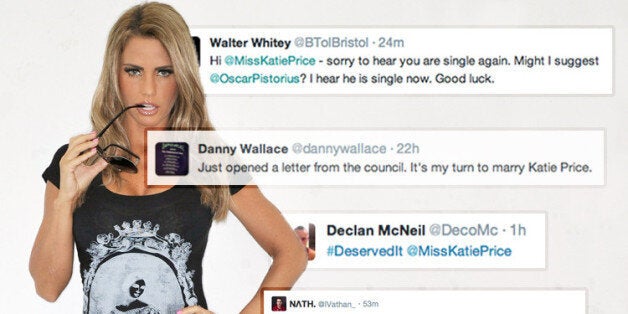 Last week a seemingly distraught and heartbroken Katie Price (formerly Jordan) took to Twitter to announce her divorce from husband of just over a year, Kieran Hayler, declaring he'd been "having a full on sexual affair" with her best friend Jane Pountney for the past seven months.
Unsurprisingly she was met with little sympathy, but the barrage of vile and abusive messages hurled at her like rocks in some sort of digital stoning left me cold, irked and ultimately feeling sorry for the glamour model.
​To say she's been unlucky in love would be a gross understatement, I mean this woman's list of exes includes an absent father, a man with a sex dungeon to call his own and an underwear model she could only communicate with via Google Translate.
It's more than fair to say she's made some bad choices, and been pretty vocal about them, since her split from Peter Andre - the man she was so convinced she'd share her happy ever after with she made a reality telly show and recorded a rendition of A Whole New World with him.
But why does this grant the Twittersphere permission to lay blame at her door? Why do we have zero compassion for a woman who: A) has been cheated on by her husband. And B) is six months pregnant?
If someone like Holly Willoughby or Amanda Holden did what Katie did would the world react in the same way? Would tweeters declare: "She's [a] silly c**t! Lol embarrassing", "Somone should set her up with Oscar Pistorus ‪#haha (sic)‬" and "Guarantee she's in someone else's bed & remarried within the next year". Would male comedians feel the same need to tweet a shit joke? Would Jameela Jamil retweet it?
We all have a friend who's made some pretty effed up decisions when it comes to men. We all know a girl who is happiest when she's got a boyfriend, even if said boyfriend is a complete and utter troll. And we've all had at least one shit relationship. Do they deserve to be tied to the whipping post? No. So why is Katie fair game?
Did she bring the bile on herself? Did she let out a rallying cry when she, a woman who god forbid has been married and then divorced more than once, dared to share her hurt on Twitter?
"Nobody cares, you attention-seeking woman," one Twitter user wrote. And perhaps she was seeking attention, perhaps she wanted a little bit of sympathy, but I fail to see why she should be met with such hatred.
If anything, we should feel saddened by her need to turn to social media and not a friend to express her pain.
This article was originally published on HuffPost UK's sister site MyDaily.co.uk