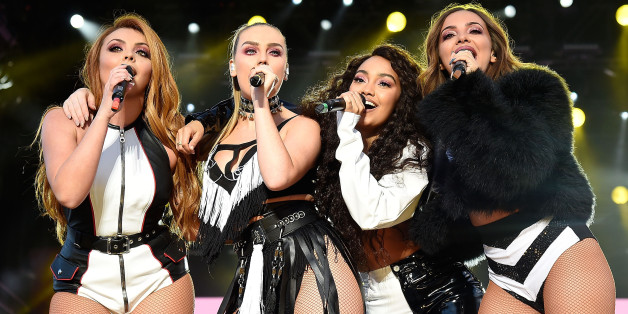 Kevin Mazur/One Love Manchester via Getty Images
Watching footage of the One Love Manchester concert I was filled with a sense of pride that we can all work together to fill the world with love.
But apparently some viewers were left with something rather different on their minds: "disgust" - all thanks to four women's choice of outfits.
When Little Mix took to the stage proudly dressed in black and white costumes, many people took to Twitter to share their distaste.
Personally found Little Mix's skimpy outfits extremely disrespectful. #OneLoveMachester

— Jen (@JenniePhelan) June 4, 2017
In tears... im not nornally a softie.. well done ariana xxxx respect shame little mix were half naked #OneLoveManchester

— jennifer osborne (@polekitten) June 4, 2017
#OneLoveManchester so inspirational until little mix come on half naked everyone else dressed normal but ofc they make it about themselves🙄

— Amy (@amyellery_) June 4, 2017
When @LittleMix turn up to a charity concert
Half naked DISRESPECT AND DISAPPOINTMENT #OneLoveManchester

— Emily (@xheartemilyx) June 5, 2017
What is it exactly about a woman's thighs that people find so "disrespectful"?
The amount of flesh Perrie, Jesy, Jade and Leigh-Anne had on show has absolutely nothing to do with respect - because a woman's body is not a source of shame.
Tweets calling for the group to "have a little respect" suggest that what a woman wears bears more importance than her actions. Little Mix didn't "make it about themselves" by wearing "skimpy" outfits, any more than Liam Gallagher made it about himself by wearing an orange raincoat.
Terrorists want to disrupt our way of life, so what message would Little Mix have sent to their fans if they had taken to the stage being anything less than themselves?
By not altering their signature style for the performance the pop stars were standing defiant in the face of those who would wish to limit our freedom.
Most of us may not choose to spend our days dressed in leotards and fishnets, but that's no reason to criticise anyone else for doing so, especially when they've come together to support such a good cause.
Let's not forget another proud leotard wearer who is a hero and role model for many young girls.
I'm certain Little Mix won't let the criticism knock them, as they made clear during the introduction to their song 'Wings'.
"We wrote this song in the hopes it would empower people to stand together and not let anything bring them down," Jade said before they launched into the poignant lyrics:
"We don't let nobody bring us down. No matter what you say it won't hurt me. Don't matter if I fall from the sky. These wings are made to fly."
To donate £5 to the We Love Manchester fund, text LOVE to 70507. Texts cost £5 plus your standard network rate, with 100% of your donation going to the We Love Manchester fund.