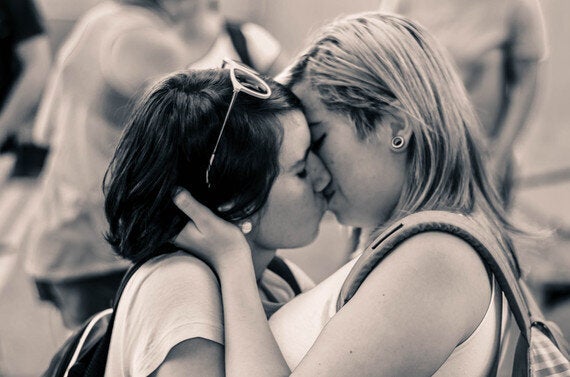 Cosmopolitan presents itself as a liberal, sassy and feminist magazine written for the 21st century woman. Editor-in-chief Louise Hart has quoted that Cosmo's strap line is to "be the best you can be", behind the magazines ethos of "learning to love yourself and appreciate yourself and be inspired by other women".
It's pretty great, then, that this summer, for the first time in its 50-year-history, Cosmo made an attempt to target these 'other women' its editor talks about: women who don't fit neatly in the straight box when it comes to sex and relationships.
It published an article online titled '28 Mind-Blowing Lesbian Sex Positions'. The internet responded in uproar. Reviews were typed furiously into keyboards. Videos of lesbians trying out the positions were published. Even the Daily Mail got a slice of the action. So did this article mark a small step for a woman, a giant leap for womankind?
Well, not really. You see, the sex positions are drawn as cartoons. It's worth pointing out that the pictures which feature alongside many of Cosmo's sex tips for straight couples are of real-life people. The fact they've used cartoons to illustrate these "mind-blowing" lesbian sex positions is cringe-worthy, creepy and actually quite offensive. Don't even get me started on how, with their flowing hair and perfect breasts and smooth, lean bodies, these lesbian couples look like they've been drawn by a porn film director.
I showed my friend, who has been with her girlfriend for about five years now, Cosmo's step into the lesbian world. Her response was the following:
"Looooool omg. I love how the diagrams are both femmes (yeh right). Looks like the kind of porn straight men watch. However I still think it's pretty good of them to be inclusive. Maybe straight women think that their sex advice is just as far fetched."
The main problem I have with Cosmo's lesbian sex positions is the sad silence which has followed it. Despite being creepy and, as my friend says, far-fetched representations of a sexual lesbian relationship, it's still some kind of breakthrough for LGBT equality in mainstream British magazines and Cosmo can now finally show it is crossing between different sexualities in its readership. Yet the article is quietly hidden in Cosmo's online site, found through the luck of Google search, rather than standing loud and proud amongst the 'elite' articles which make it to Cosmo's print version.
Content for lesbian couples has not been published since- neither on Cosmo online nor in its print version. Sure, online, there's a token 8 Things Not to Say to a Transgender Person and 9 Lesbian Myths, Debunked but the relentless lists just make women who aren't straight seem even more foreign, as if they're something to be made a spectacle of. Awareness and visibility of women who love women doesn't have to mapped out as a 'Top 10' list, similar to what you may find in a Your 2014 Guide to Understanding this Different Breed of Woman leaflet if it existed (or does it?). What's more, who is this guidance and advice for? Not the 'other women' that Cosmo need to target, that's for sure.
In this month's issue, Cosmo printed a story: Revenge Porn: My ex sent naked pictures of me to my boss. How refreshing would it be if this was the story of a estranged lesbian couple? Cosmo could also take it a step further and produce content which has investigated into discrimination against lesbians, bisexual women and trans women in the workplace.
Cosmo knows its reports on sexism against straight women at work will always attract a big following because much of its readership is made up of independent career women. I for one would love to read an eye-opening article which is like, Think you've got it tough being the only woman in an all-male environment? Try being a transgender woman in an all-male environment.
Researching into such stories and interviewing people Cosmo columnists might not usually interview may be a challenge, especially as the magazine is universally known as a magazine for straight women. But hey, by producing such content, they'll actually be going by their editor's mantra.
So what's the fear? "Gay women aren't as profitable as straight women", my friend tells me. Okay, the last time I saw my friend in a skirt was when we were at school and were made to wear ghastly green and blue tartan kilts. She wears her hair short, hardly wears makeup and would rather read about cheese than 'catwalk to curvy'. Even if Cosmo devoted a whole double-page spread to lesbian sex she probably still wouldn't read it as she's just not that into the kind of content which makes up the bulk of Cosmo. But her girlfriend is interested in things like beauty and fashion. I've rocked up to their house, hair in a towel turban, no make-up on my face, knowing I'll have full access to blusher, mascara, eyeliner, lipstick, hair tongs and pretty tops and skirts. She likes the kind of stuff Cosmo write about but doesn't buy it because of the "'Juicy ways to please your man' and all that sh*t". So Cosmo lose a potential reader. And that is a real shame.
Again, I stress, it is good of Cosmo to finally show it can reach out to all women. But it needs to take it to the print version, whack in a few decent articles about a lesbian, bisexual or trans woman which isn't in a list, talking about romanticised, mind-blowing sex positions. It needs to prove it is the open-minded, modern female magazine it says it is. Its readers aren't going to be inspired by 'other women' if these other woman only exist online, represented as misleading cartoons, painstakingly scissoring and licking each other out.