I traveled to the stunning ancient Nabatean city of Petra in southern Jordan, across the border from the kibbutz where I had lived for seven years.
My wife and I were founding members of Kibbutz Yahel in Israel's Arava Valley, and we lived there starting in the late 1970s. Our home was near the border with Jordan, and even though it was a peaceful border, it was not one we could cross. Israel and Jordan were still technically at war. It was only in 1994 that Israel and Jordan signed a peace treaty. The peace between the countries allowed Israelis to visit Jordan, and one of the sites I had longed to see for some time was Petra, capital of the Nabatean traders from the 3rd century BCE.
I set off with a good friend of mine in July 2005. We traveled to Eilat and met our Jordanian guide at the border crossing just north of the city. Traveling in our guide's 4-wheel-drive pick-up, we made our way first to Wadi Rum, where we hiked in the amazing sand dunes and desert landscapes.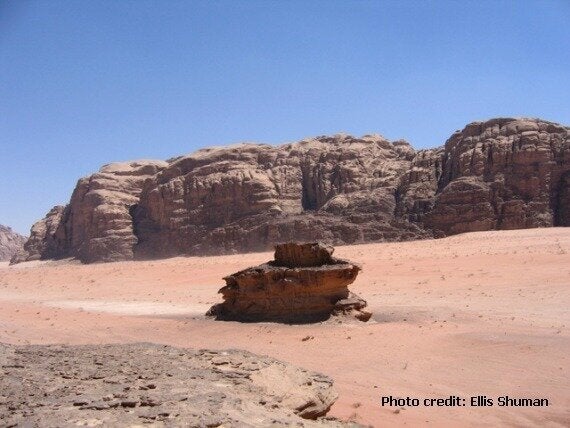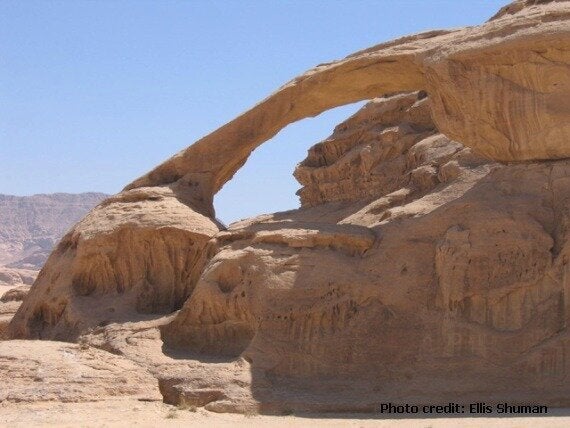 We made our way by foot into Petra via its Siq, a narrow, but colorful gorge which winds its way back and forth until the most amazing site comes into view.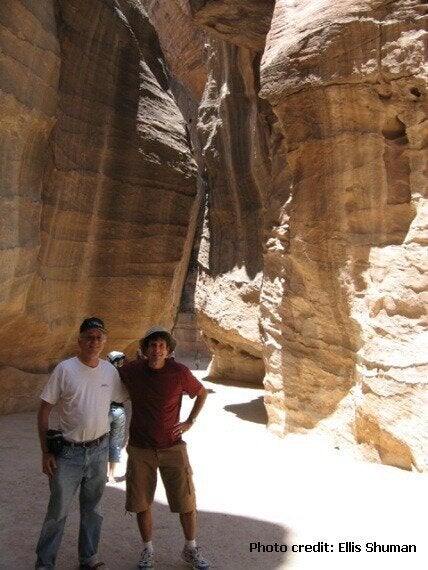 Al Khazneh (the Treasury). This elaborate temple, now completely empty, was originally built as a mausoleum and crypt at the beginning of the 1st century CE.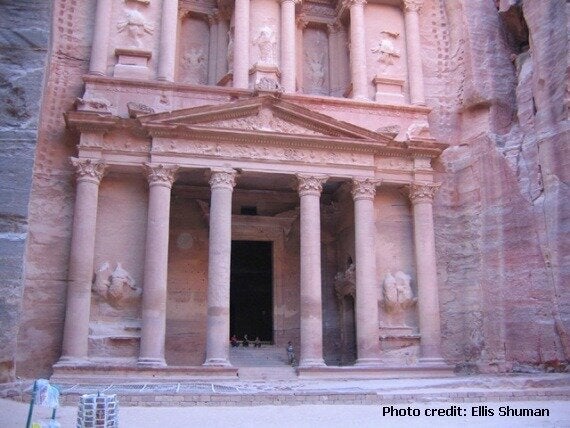 Petra with its tombs and monuments carved into the cliff walls, is worth more than just one day's visit. We visited an archaeological dig where we saw remnants of pottery marked by elephant profiles and exotic fruits. We climbed into the mountains to visit the Monastery, a temple carved into the rock more stunning than the crowded Treasury. We saw tombs and an ancient theater. We longed to stay longer but we had a pre-defined itinerary for our visit. We would return to this ancient Nabatean city on a second visit to Jordan, and even today I would love to visit again.
With our local guide we drove south, and when we were seemingly in the middle of nowhere, on a stretch of empty road through the desert, we came across a trinket stand. A Bedouin man, complete in traditional long jalabiya and headdress, was selling ceramics and necklaces. We stopped to talk to him and were surprised when he spoke to us in Hebrew.
"Where did you learn Hebrew?" we asked the Bedouin. "In the kibbutz," he replied. "Which kibbutz?" we asked. "The one over there," he said, pointing across the border to Israel.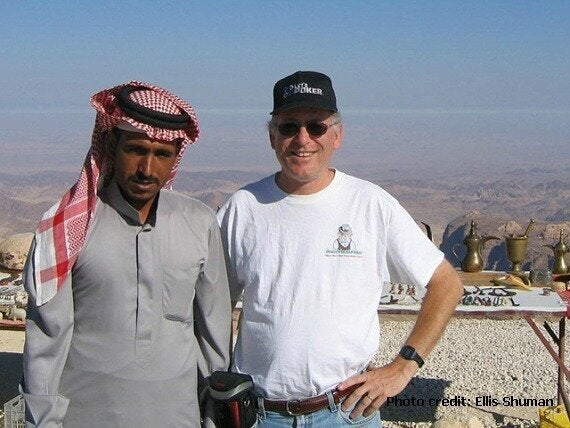 It turned out that this Bedouin, a native of the Jordanian desert, had been sent to Israel on an agricultural training program in the years following the peace treaty. He had learned agricultural skills, as well as to speak Hebrew, and his teacher was someone I knew from my own days on Kibbutz Yahel.
In the middle of nowhere, surrounded by the stunning landscape of Jordan's southern desert, and across the border from the kibbutz where my wife and I had been pioneers and farmers twenty years before, I met a jewelry-selling Bedouin who spoke Hebrew and knew about kibbutz life. How could this even be possible? My friend and I bought small necklaces as souvenirs but we parted from our Bedouin friend with memories that would last a lifetime.
Adapted from a story originally published in Bulgarian in the weekend edition of the Sega daily newspaper.