Inspired by Georges Bataille's 'Critical Dictionary', David Evans set up an online art magazine by the same name, employing the visual in order to challenge definitions of words and instead illustrate the constantly altering, multiplicity of meanings that they signify.
The latest facet of his Critical Dictionary project is an exhibition at WORK Gallery, which opened last week. Pieces by artists such as Dominic Shepherd, Paola Di Bello and Penelope Umbrico feature in the collection, looking to explore terms that range from 'Mycelium' to 'Binge'.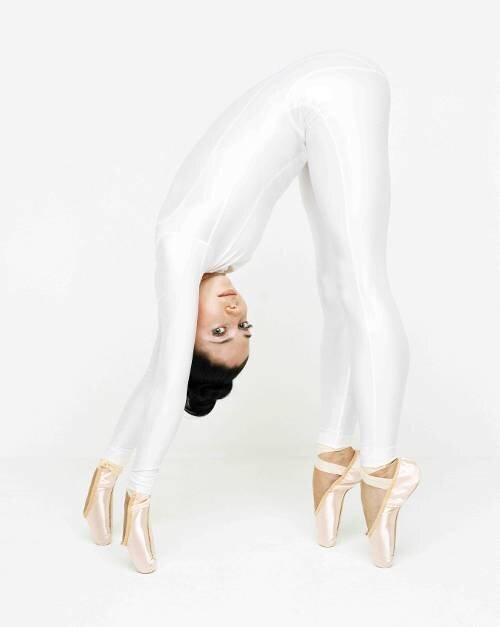 Emily Chan: Tell me a little about your background and what made you start the online magazine.
David Evans: For the last 20 years or so I have been teaching the history and theory of photography at various art schools in and around London, and am currently based at the Arts University College at Bournemouth.
An ongoing concern has been the ways in which major 20th century writers like Georges Bataille, Bertolt Brecht or Guy Debord became interested in working with, and on, photographs. [...] I realized that their ideas could be discussed and developed in a modest online journal that needed no major funding. Hence, criticaldictionary.com. It started less than 10 years ago, and so far there have been more than 20 issues with more than 50 contributors from around the world, always happy to donate work for free. A book version appeared in 2011[...]and the current exhibition at WORK Gallery is intended to complement the website and book.
EC: How important is the collaborative aspect of Critical Dictionary and the narratives that run between the different pieces?
DE: The idea of multiple voices with different accents is very important indeed. Dissonance is encouraged and there is no last word.
EC: Why is it important to question the way in which we define words?
DE: To define a forest as a large area with a thick growth of trees isn't wrong, exactly, but is limited. It says nothing about the forest as a pervasive symbol in Romanticism, an international movement of the early 19th century that challenged the Enlightenment by confronting light and transparency with darkness and opacity. Or why from 1948 onwards, Israelis were keen to plant trees on demolished Arab villages, presenting the resulting forests as pure nature. Such issues are raised, I hope, by 'F for Forest' in the book Critical Dictionary.
EC: What is your favourite piece in the exhibition and why?
DE: A vitrine contains Brecht's original War Primer, first published in East Berlin in 1955, next to War Primer 2 by Adam Broomberg and Oliver Chanarin, published last year by SteidlMACK. Basically, Broomberg and Chanarin provide an update, sourcing images from the internet related to the so-called War on Terror, and pasting them onto Brecht's photo-epigrams dealing with the Second World War. For me, their new work exemplifies one of the aims of Critical Dictionary: treating radical achievements from the past as raw material to be re-worked rather than revered.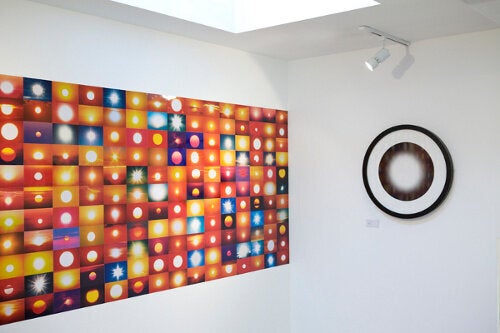 EC: I love the 'Rotten Sun' images - can you tell me a little about these pieces?
DE: 'Rotten Sun' is a short cryptic text by Bataille and I wanted tie-in imagery that was more than obvious illustration. The imposing grid by Penelope Umbrico is made up of close to 400 snapshots of sunsets, taken from amateur websites on Flickr. Penelope uploaded all the files in Brooklyn last week and they were efficiently printed to her specifications - 6" X 4", glossy, full bleed - by the online photographic service of [...] Asda, which also delivered the prints to the gallery in London in record time. This deliberately excessive work highlights the sunset as cultural cliché.
In contrast, Dominic Shepherd's collage is very restrained. His starting point is a photographic reproduction taken from some old annual that he probably found in a charity shop, depicting a tasteful female nude pushing a boat into the water. Yet, for me, Dominic's simple addition of a black spot to the sky generates new and profound associations - the black sun of melancholy, perhaps, or the start of a trip to the underworld.
And finally, there is David Hazel's camera-less photograph of a black disc, in a complementary black circular frame - cold and enigmatic. This section of the exhibition has worked if it encourages reflection on multiple meanings and on multiple ways of generating meanings.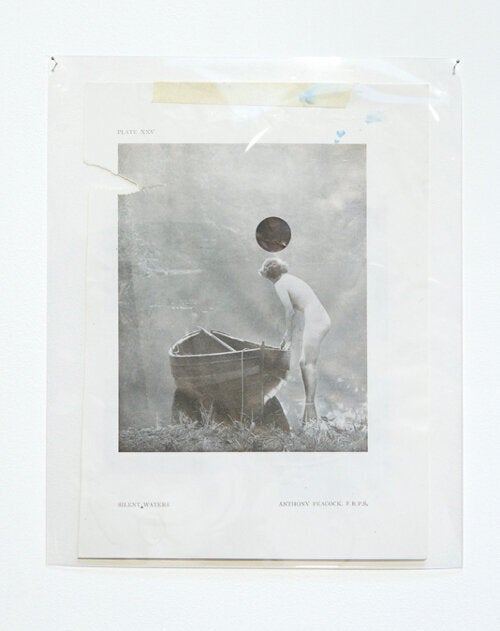 EC: In terms of art and its relationship with society, what would you regard as the main differences between Bataille's world and our own?
DE: I am often astonished by the continuities. In the 1920s, Bataille and associates were challenging the widespread assumption that 'civilisation' was a monopoly of Europe or North America. They'd be surprised, and dismayed, to discover that the same reactionary rhetoric is still being peddled by Bush, Blair and the rest.
EC: If Critical Dictionary were to have its own entry, how would you define it?
DE: No definition, but various projects juxtaposed, perhaps. Images and texts from Documents, next to the unfinished dictionary started by the Situationists in their house journal, next to Passwords by Jean Baudrillard, for a start.
EC: Where else would you like to take this project - do you have any other plans for Critical Dictionary?
DE: Plans are afoot for a Critical Dictionary roadshow with venues handpicked by contributors to the website, book or current exhibition. Currently, we are considering selected artists' bars in Oslo, Belgrade and Cairo.
Critical Dictionary at WORK gallery runs until 25 February.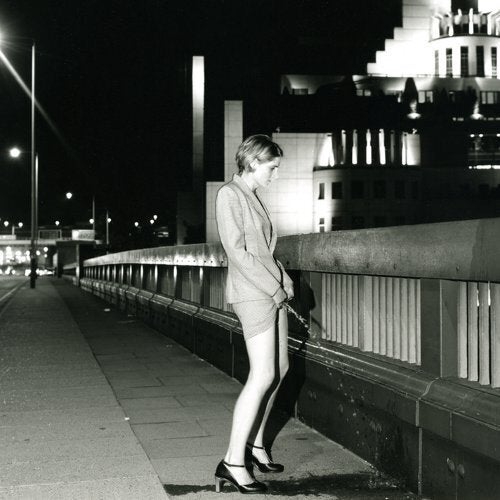 1) Jake Walters, O Stravinsky Project Part I, 2011
2) Photograph from WORK gallery installation
3) Dominic Shepherd, Black Sun, 2008
4) Sophy Rickett, Vauxhall Bridge, 1995
Related