Move(mber) over Stoptober, there's a new gimmicky month in town - all hail the month of Veganuary... yep, that's right, this month is apparently the time to put down the carving knife, kick all thoughts of eggs to kerb, and get down and dirty with some root vegetables. But while the idea of eating raw veg tofu for 31 long days may not sound too appealing, trying out veganism isn't actually as tasteless or tough as you may first think. As a cheese-loving vegetarian, the challenge of finding a fab meal sans fromage initially filled me with dread, but I'll give anything a go and knowing that I'm a big fan of falafel gives me hope. So to celebrate the success of the tasty chickpea patty I have rounded up the best five places in London town to try falafel this Veganuary...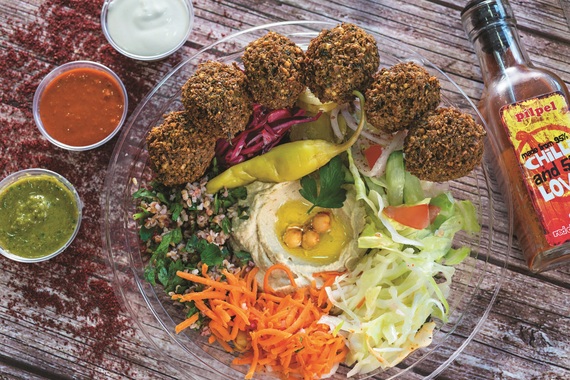 Photo credit Pilpel
Pilpel: Famous for chickpeas and chilli, the Pilpel falafel recipe is more than 60 years old. There are branches all across town from Spitalfields to St Paul's and they serve up the most succulent falafels you could imagine. Soft centres which ooze flavour are surrounded by a crispy exterior. And if you're also watching your weight as part of your New Year's Resolutions there's a handy calorie calculator on their website allowing you to add up the nutritional value of the meal you're about to dig into!
Comptoir Libanais - Enjoy a healthy selection of mezze, salads, wraps and tagines this winter. Mezze plates come with baba ghanuj, tabbouleh, falafel, lentil salad and grilled halloumi cheese, while wraps and salads come packed with falafel - or even halloumi and chicken for those of you not on the vegan wagon. There are branches in Soho, South Kensington and Liverpool Street.
Mr Falafel - Located in New Shepherd's Bush Market, offers a range of wrapped sandwiches featuring all my favourite falafels, with accompaniments including juicy olives and spicy potatoes. The bareboned cafe may not look like much from the outside, but this Palestinian falafel eatery has established itself as one of the leaders in the hotly-competed falafel restaurants of London town!
Yalla Yalla - A more sophisticated venue, Yalla Yalla has two central outlets (in Fitzrovia and Soho) and also a pop-up in Greenwich. With a selection of mezze all served with pitta bread and olives, these chickpea and broad bean patties are served alongside crisp salads, tahini and a garlic yoghurt sauce and offer a real taste of Beirut street food.
Honey & Co - This Middle Eastern deli on Warren Street has become a firm favourite, with their Yemeni falafel delicately seasoned with cardamom and coriander. Honey & Co is the first solo venture of established chefs (and happily married couple) Sarit Packer and Itamar Srulovich. While Sarit trained under Chris Galvin, Jerusalem-born Itamar worked his way up through Tel Aviv restaurants before heading to the UK. What you are served here really is a deliciously authentic taste of the Middle East.
Whether you decide to commit to the whole Veganuary craze, or simply like a Middle Eastern twist to your lunch break, these five falafel joints are great places to explore the versatility of the humble chickpea patty.
This post has been published on The Huffington Post's blogging platform. The views and opinions expressed in this blog are those of the author and should not be taken as those of The Huffington Post. The Huffington Post does not allow bloggers to acquire products, access or accommodation for review in the site's name.