Being a mum (or dad!) is tough. So let's make parenting a little easier with these five hacks...
1. Batch cook and freeze - for easy dinner times
This may be obvious to you - it's something I've always done even before kids, but having spoken to a family member who has NEVER batch cooked and frozen I thought I'd share it! There are some great kid friendly meals that works very well. Our favourites are bolognese, chicken casserole, chilli, curry and even easier - buying frozen fish fillets that quickly microwave!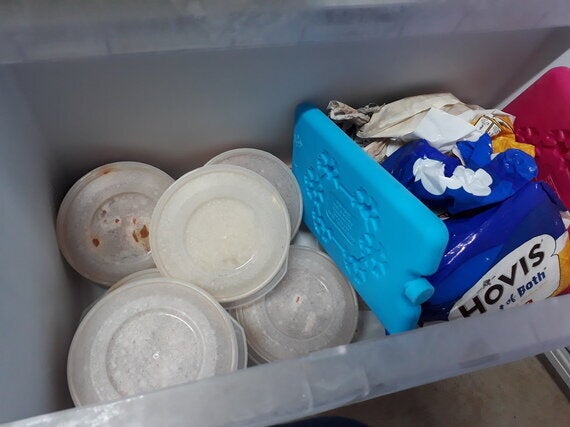 Every week or so we cook one of the above for us one night, but make enough for four (or sometimes even six or eight!) and then freeze the remainder into little pots. All you need then do is remember to pop them out of the freezer the night before (we don't always remember that...but the frozen fish is done from frozen so we do that when we forget!!) and then pop on some pasta/potatoes/rice and whack the pot in the microwave and hey presto! An easy, nutritious and fresh meal! All in the time to cook the carbs.
2. Don't use batteries and stickers to start with - for exciting new toys without the cost
This might seem stingy, but it's worked wonders for us - particularly as my LO has Christmas and birthday at the same time so we are inundated with new toys all at once and then have to spread them out to last the rest of the year.
I often remove the stickers from the box, or don't put in the batteries to a toy as relevant. So then when he has got bored of a toy after a couple of months, I can then add the stickers with him, or pop in the batteries and hey-presto you have a new and exciting toy for another few months!
He loves this medieval marble run - but if you look closely it's not very medieval - yet ;-)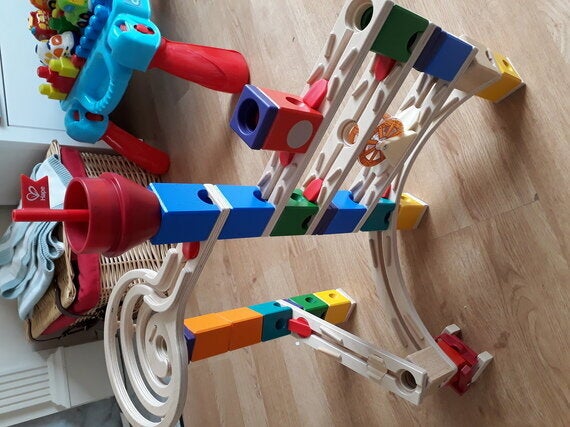 And we'll have fun putting them on when he becomes bored - result!
3. Label up jigsaw pieces - for quick tidying away
I stole this idea from an Instagram friend many moons ago - and I now swear by it! Particularly for those jigsaws that have four in a box. Before you give them to your child sort them into the four puzzles, label each piece for each puzzle in a certain way, and pop each puzzle in a plastic ziplock bag. And ta-dah! When your LO invariably mixes all the pieces up you can quickly sort through and pop them back into their separate bags ready for next time without actually having to put the puzzle together yourself.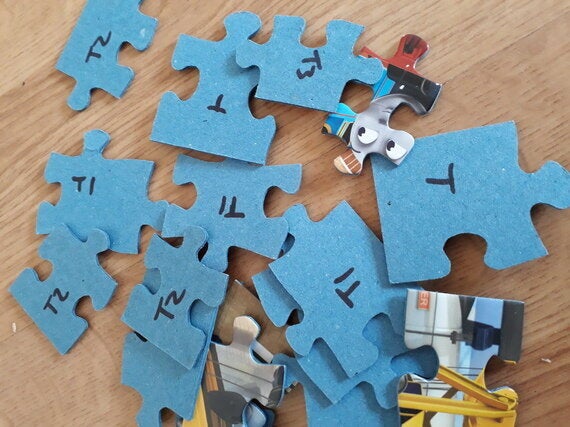 4. Put duvets and sheets inside pillow cover - for quick changes
We've all been there - your child wets the bed or is sick in the night and you want to change the sheets quickly to get some more shut eye - but you can't for the life of you find all the bits you need! So next time you do a wash, once dried fold up a sheet and the duvet cover and pop it into the relevant pillow case. Then pop it somewhere you'll easily be able to find it in the middle of the night to avoid more scrabbling around in the dark.
5. Hide away toys not played with often - for easy disposal or another bout of fun
In the run up to Christmas I've done a cull of my LO's toys in the hope that we can pass on some before the new influx of toys. I found before that if I ask him what to give away, or suggest something to pass on, he is insistent that it's his favourite toy and he wants to keep it forever. However, if I remove it one evening and pop it into storage he has only once asked where that item is. If he asks I find it - but given every other time he hasn't asked he clearly isn't that attached! So much easier!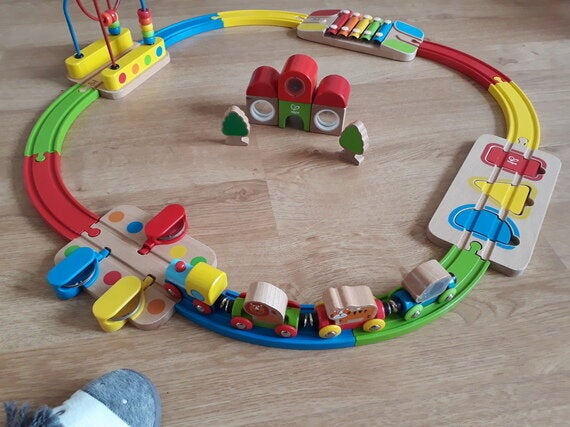 Or likewise, if you then actively bring it back out a few weeks or months later it's almost as good as a new toy! This rainbow train set is for 18months+ but he spent a whole afternoon playing with it when I got it out the other day!
Any other great mum hacks you've come across? Do share!