It wasn't until my third child that I tried cloth nappies. Like many others I had assumed it was a faff and a fiddle. My mind immediately leapt to old school terry towelling squares and giant safety pins, having to dance naked around cauldrons of boiling crusty cloths and bins of soaking poopy nappies!
I may have been a tad off the mark...
Did you know this week is Real Nappy Week? Running from Monday 18 April to Friday 24 and 2016 will be Go Real's 20th annual celebration of all things reusable nappyish.
Go Real is a not for profit organisation that aims to celebrate and encourage families to make the switch to reusable nappies. They state that 355,000 tons of disposable nappies go to landfill in the UK every year, costing the local authority and tax payers an average of £32 million annually.
They feel passionately about changing the 'buy it and throw it' disposable consumer lifestyle, in favour of a 'buy it, use it, pass it on' philosophy.
Go Real's research shows that families can save up to and above £1000, (per family) by using Reusable nappies:
"At an average cost of 16p per disposable, between them parents in England and Wales are spending approximately half a billion pounds on disposable nappies every year."
My experience
Reusable nappies have come on so far! There are so many different styles, so many amazing patterns and colours - the world of cloth nappies is an addictive one! From unique one-of-a-kind WAHM (Work At Home Mums) made nappies to funky patterns like this Close Parent Pop In: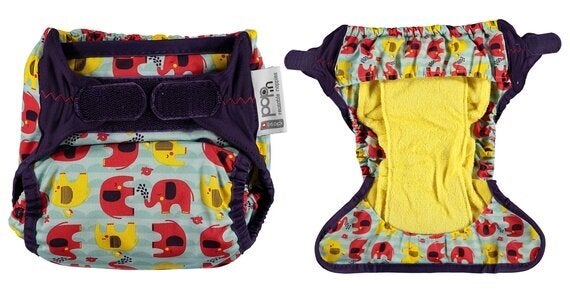 This is a limited edition special Babi Pur print.
I was so surprised by the ease and the enjoyment to be found from switching to cloth. I can report that I never needed to boil one nappy and still unfortunately do not even own a cauldron. I simply kept a nappy bin in my wash house (this title makes my shed sound so much posher that the sad damp reality...) every couple of days I would run a nappy wash and endeavour to hang them on the line to dry.
In fact the only negative thing I ever encountered with cloth nappies (swiftly skirting past the oh-so-real cloth hoarding addiction) was that some clothing brands can fit a little more snugly around the reusable styling derrière.
However this can also open you up to a world of amazing children's clothes with brands that are specifically cut to accommodate fluffy cloth clad bottoms like:
Calling in the experts
I thought as a celebration of the 20th annual real nappy week we would share our love of cloth by catching up with Jolene, co-founder of Babi Pur; a wonderful ethical welsh store stocking a beautiful selection of family supplies with the highest quality and ethical standards.
How do you take part in/celebrate RNW?
By having lots of fun with our customers and doing everything we can to spread the word about cloth. We also have lots of special offers and freebies to entice people to give cloth a try!
What's the most common question you get asked about reusable nappies from new comers?
There are a few common questions. People are often confused by the choice that's available and it's common for people to assume that cloth nappies are complicated. It's our job to show that they're not!
What's your best tip/hack for using reusable nappies?
Wear, wash, repeat! It really is that simple! We also advise you don't use you fabric softener with your nappies as it effects the absorbency. We have set up a Facebook group with trained nappy advisors if anyone has any direct questions we would are always happy to help.
6 Reasons why you should think about ditching the disposables:
We also spoke with some of Babi Pur's wonderful customers about what their favourite things about using cloth nappies were and this was their top 6 reasons why they love using cloth nappies:
1. Not having an array of nasty chemicals next to their babies skin really helps reduce nappy rash and is much gentler on babies skin;
2. Not having the strong smell that comes with disposable nappies;
3. The money that they have saved;
4. The benefits to the environment;
5. Beautiful colours and patterns - they look so much nicer;
6. Improved poo containment!
If we have peaked your interest in switching or even testing cloth nappies, hop on over to Go Real as they have information on which Local Authorities offer what incentives: Worry not though if your area doesn't offer any help pop over to the wonderful businesses joining in with Real Nappy Week 2016 and you will be sure to grab a bargain or 20!
Related