Whether we like it or not, there is still a social stigma attached to online dating. It's something people feel slightly apprehensive about, maybe because they're often unsure of the correct 'internetiquette' of how to go about it properly. Even if people are regular, confident online-daters, it appears it's still something they'd rather keep hidden away from prying eyes; hoping to avoid the inevitable 'so how did you guys meet?' when introducing their new Guardian Soulmate to friends and family.
So, what would the future of online dating look like if we were able to meet people online without having to "describe ourselves in 100 words", enter our credit card details on a monthly basis and sift through endless messages from people we know are just not our type? What if, instead of being secretive about our string of potential suitors we could do it in a more social, open and convenient way?
Here's where the latest announcement from online music dating site Tastebuds.fm and the recent launch of its Spotify app comes in. For the first time ever, we're being offered the benefits of a dating site without having to directly visit one. And the best part? All we have to do is listen to our favourite music.
The beauty of the app is that it seamlessly integrates with Spotify, scanning your most frequently played music showing you people nearby who have similar music tastes. You can browse prospective dates, listen to your matches' favourite music and send them a quick message to say hello. With tools such as this, we are on our way to eradicating the old perceptions of online dating. Seeing what others are reading and listening to through social apps are becoming the social norm as we do it daily with friends and acquaintances. We already connect with people we don't know by sharing interesting links on sites such as Twitter, and by using these social apps on Spotify, we are narrowing our search of finding like-minded people even further.
By the introduction of apps on social sites, it means we gather information in a less intrusive manner than if we were to scour the detailed profile of someone we didn't know. This shift in online behaviour also means we don't feel as reserved when sharing traces of our online activity, be it through articles we've read, videos we've watched, photos we've liked. We're expressing ourselves but in a way that's not overbearing. When it comes to dating, this to me seems like the perfect platform to get to know someone before a date, you've given a little taster of who you are through things you like, avoiding the awkward small talk. Instead you're just sharing pieces of content that reflect who you are.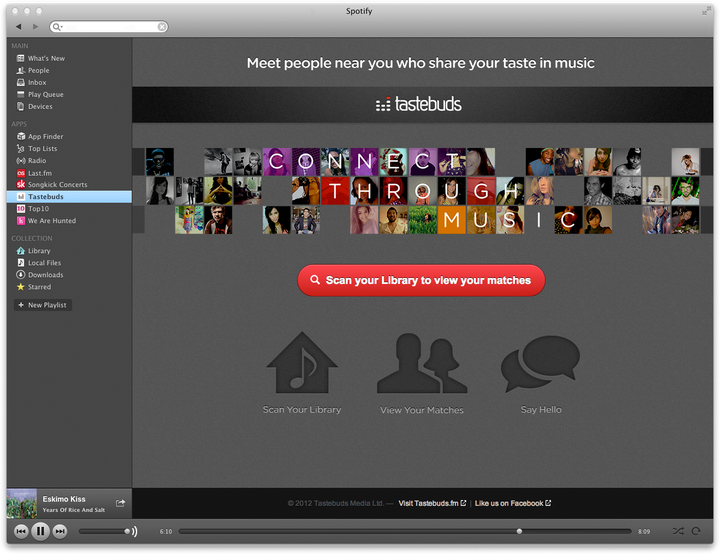 No painstaking forms to fill out
It always shocks me how long it could take to fill out a profile on traditional dating sites. Writing a 'summary' of your multi-layered personality or current state of mind in a certain way to 'sell yourself' can be time-consuming and nerve-wracking. The last time I attempted to sign up to a dating site I was faced with answering questions that I didn't even know the answers to myself. Are you looking to have children? If yes, how many and at what age? How much do you earn? What size are your feet? With Tastebud.fm's new integration with Spotify, you don't need to summarize yourself with words by selling in your 'athletic build', or emulate a Doctor's note by ticking the non-smoker box or bore anyone with the complications of your family history. You can simply express your mood and personality through the music you're listening to.
Meet your match, by doing what you normally do
Last year, Mark Zuckerberg added another buzzword to our vocabulary by introducing "frictionless sharing" at F8. This is the concept of being able to share across platforms without any additional effort required. This reminds me of how an integration such as this one allows users to socialize and share without any additional effort made from outside their normal online activity. We can now go online, listen and share our favourite things as we did before, but now with the added prospect of meeting someone cool. Alex Parish, co-founder of Tastebuds.fm believes that "traditional dating sites force you to complete reams of forms and personality questionnaires, wasting your time when all you want to do is starting meeting new people. The Tastebuds.fm Spotify app is a game changer - you're instantly shown people you have things in common with and can share music with them in real-time, without ever having to leave Spotify." By the sounds of it, the app does the hard work finding your matches so you don't have to. All you have to do is listen to your favourite stuff.
The role that music plays
It's a no brainer that sharing music is a great introductory method to build a relationship. Another great example of how music is connecting people is The Note Well'sSpeed Listening meet-ups sponsored by Tastebuds.fm. Giving the old school 'speed dating' idea a twist, this is a night where you bring your iPod and swap tunes with a stranger for ten minutes, then rotate. You may be introduced to your new favourite band, or cringe at some 90's playlists, but either way, it sounds like a brilliant ice breaker and you can get an idea of someone's personality in a more immediate and personal way than asking them what they had for breakfast.
If the Spotify Facebook integration is the soundtrack of your social life then I think Tastebuds.fm meeting Spotify is the soundtrack of your dating life. We all discuss music tastes all the time. Music is a tool for memory building, ever-present at social events: birthdays, discos, weddings, concerts. It's a universal theme that travels with us throughout life and a strong part of our on and offline identities. It makes sense that it's a great starting point when meeting someone new. Through Tastebuds.fm you can not only chat about shared music tastes, but you're also algorithmically pointed towards gigs and music events that might take your fancy, which are additionally perfect date venues.
The success of Tastebuds.fm clearly comes from this unique focus. They have found that 43% of first messages get a reply, which shows it's far more likely you'll get a response to a message than a non-music based dating site. So, what are you waiting for? Give it a go; discover new music and who knows, you could discover a new person along the way.
Tastebuds.fm is co-founded by Alex Parish and Julian Keenghan - two musicians who met while playing in the London-based band Years of Rice and Salt. Download the Tastebuds Spotify App here. Follow the Tastebud.fm guys on Twitter here.
Related