The time is upon us where the nights are getting darker, the weather is getting colder and children and adults are getting ready for spooky happenings, Halloween! Whether your choice of scary fun is a frightening terror maze, classic trick or treating, carving out pumpkins or watching films that will keep you up at night, I've got just the ideas for outrageous spooky treats to go alongside your festive fun. Get inspired by these ideas that are perfect for children's parties, giving out as treats or for you to gobble up yourself.
Tombstone Cookies in Graveyard Pots
Simple and quick to make these are great for a small Halloween dinner party or night with friends. A classic light chocolate mousse with a spooky twist and extra. See here for the full recipe.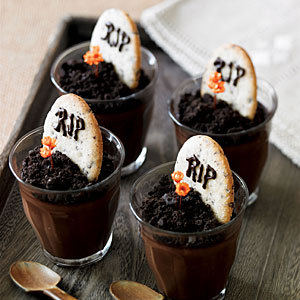 Blood Filled Puff Pastry Intestines
Frightening, simple and yummy; fill your puff pastry with a choice of jams, tomato sauce, Nutella or peanut butter and shape to look like gruesome intestines. This could make a great tear 'n' share starter that will creep your guest's right out. See here for the full recipe.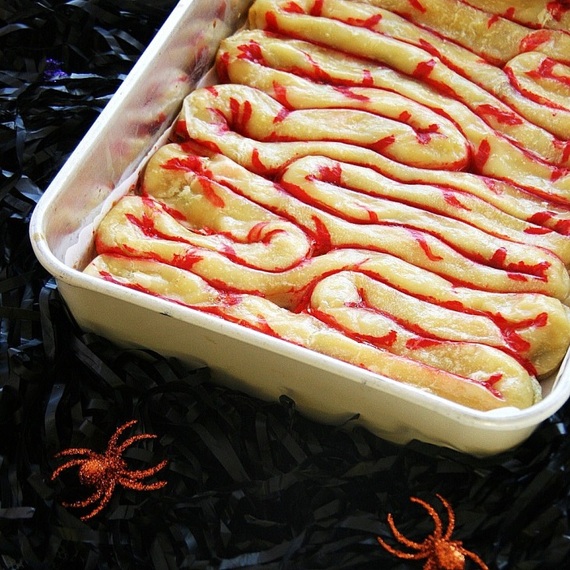 Poisoned Apples
I love the concept of this, elegant yet 'deadly'. I can see these going perfectly at a fairy tale 'gone wrong' party or perhaps to put a twist of horror in your own Halloween version of an Alice in Wonderland tea party. See here for the full recipe.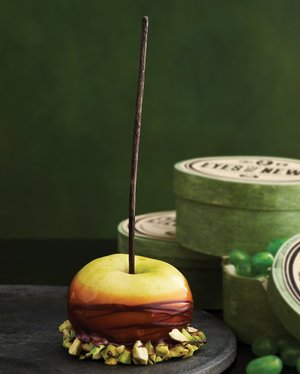 Graveyard Brownies
Everyone loves a brownie but these are to die for. These brownies will get everyone talking. A great idea for getting the children's creative juices flowing, they will love to help you out. See here for the full recipe.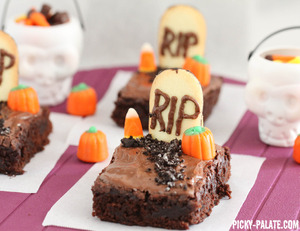 Classic Pumpkin Pie
Staying safe in a scare free zone?! Then go old -school American with a traditional Halloween dessert - 'just like grandma used to make'. See here for the full recipe.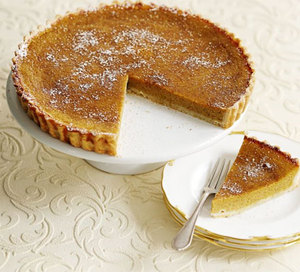 Orange Pumpkin Cupcakes
Well, any type of party doesn't seem complete without a few cupcakes and what better way to use up any pumpkins you may have got on offer than by making cakes? Leave your guest wondering what pumpkin cake tastes like, they will be presently surprised....unless you've hidden nasty tricks in the middle that is. See here for the full recipe.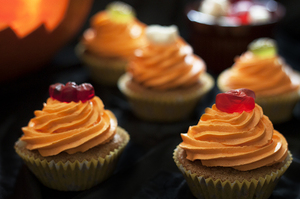 Halloween Punch
Make this soft for kids or add a dash of gin or vodka for grown-ups but most importantly don't forget to add extra worms around the bowl! Try 'spooking' up your ice by adding black, red & green food colouring in to the trays before setting. See here for the full recipe.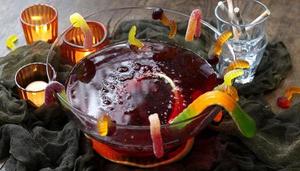 Pumpkin Pancakes
Pancakes! They aren't just for pancake day. This recipe isn't super scary but a must try for Halloween lovers. Start Halloween off right with a good but slightly unordinary breakfast. See here for the full recipe.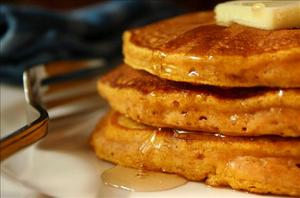 Squeamish Squares
Definitely one for the younger children, simple rice crispy squares turned gruesome. Have fun decorating these with copious amounts of gummy worms, spiders and bats. These squares are also perfect 'treats' for trick or treaters. See here for the full recipe.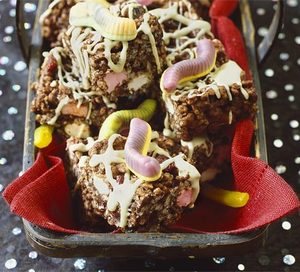 Devil's Food Cake with A Chocolate Spider Web
The clue to this cake is in the name, so good but so...so... sinful. This could be the centre piece to a party, or the highlight of your frightening day. Play around with decoration by adding fake spiders around the cake stand with some 'spider web' for extra effect. See here for the full recipe.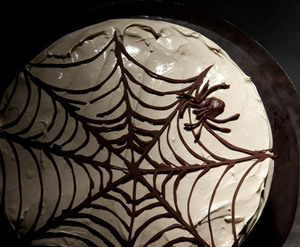 I hope this has got your taste buds tingling and your brain bursting with creative gruesome ideas. Have a very scary Halloween!