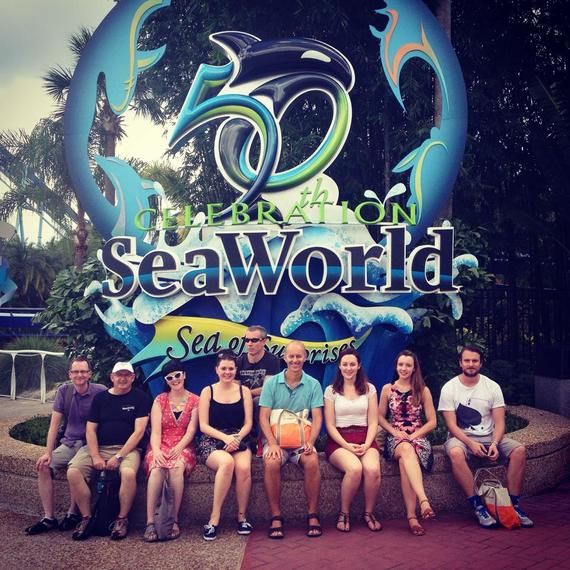 The first time I went to Orlando I was 5 years old and it was the most magical experience ever! (No kidding!). So I can't recommend it for your kids enough. But at the same time, I actually think you should leave the nippers behind the next time you go.
Yes, really! It might seem a weird idea. I mean why would you go there without the family? It's busy, it's overwhelming, it's full of kids stuff. Isn't it?
Well, not necessarily, so here's 10 reasons precisely why I think you should go there for a grown ups only holiday:
1. Inject Some Childlike Wonder Into Your Life.
Work is stressful, life is demanding and depression and anxiety rates are at an all time high. If that was not reason enough I don't know what is.
I deal with anxiety problems and I'm not going to lie, I've been really struggling lately. I cannot tell you how much this trip helped me personally to feel so much better (like tenfold!). Going to Florida brought me back to a place of pure unadulterated joy because that is precisely what it is.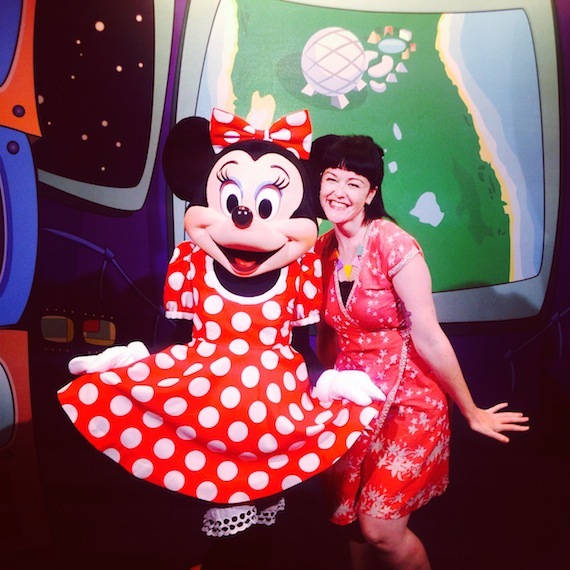 Just look at that grin! That my friends, is pure happiness. I am 29 years old and I felt just as happy in that picture as I did when I first visited the Disney parks at 5 years old.
So, allow yourself to feel like a big kid again. Embrace that childlike wonder you once had, go back to a time of no responsibility and pure excitement. Because believe me, that excitement does not really go away, you just need an outlet like Walt Disney World to bring it out in you.
Perfect example of this; when our group was queuing to have our photos taken with Mickey and Minnie, all the girls started frantically rooting around for their lipsticks upon nearing the front of the queue. Because even in our 20s and 30s, looking nice in a picture with Minnie Mouse is still just as much of a big deal as it was at 5 years old! (It's actually a VERY big deal and a lot of fun).
Our group got the opportunity to meet Mickey and Minnie and go round the world in 40 minutes instead of 40 days at Epcot (probably the most adult-orientated of the Disney parks). Entry for adults is: $94 per person for single entry.
2. Go to a Local Winery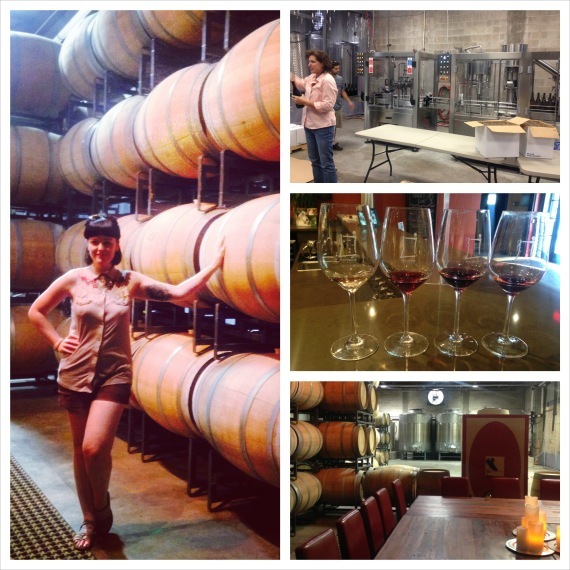 You thought this post was going to be chock full of theme park orientated fun didn't you? Well you know what? There is more to Orlando than just the parks!
Why not go downtown take a Quantum Leap to a unique urban winery with a local focus. Established by Jill Ramsier & David Forrester after a wine-infused evening together (ain't it always the way?!), they decided they wanted to set up Orlando's first ever sustainable winery.
The sommeliers in you may struggle to understand how grapes can flourish in dry and humid Orlando and you're right, they can't. Quantum Leap Winery instead sources quality, sustainably grown wine, wherever it is around the world, and then transports it in eco-friendly vessels back to Orlando. It is then stored, finished, blended and bottled in their huge buildings, with a continuous focus on environmentally conscious practices.
Check out Quantum Leap Winery for unique events like their monthly 'wine downs' and ladies pamper evenings. Find them at 1312 Wilfred Dr, Orlando, FL 32803.
3. Go on a Rollercoaster and Scream Your Head Off (repeatedly!)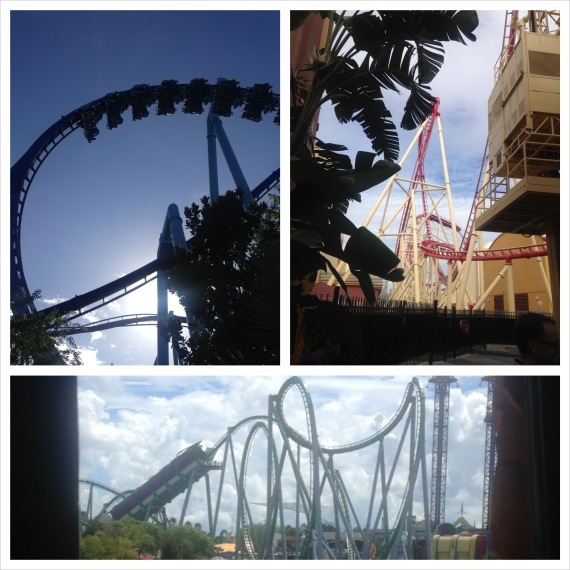 Fob off the kiddie rides and go on as many of the parks' rollercoasters as you can. Set yourself a challenge, because if you don't have to wait around for the young 'uns, then you can go on whatever rides you like.
Opt for VIP treatment at Universal Studios Orlando and get immediately to the front of every ride. As result of going for that option, our group managed to go on 12 rides between the 2 Universal Parks in one day! If that isn't something to brag about at the pub, I don't know what is?! Also, it makes you feel like a bit of rockstar. But prepare from some dirty looks from the poor folks who've had to queue for 40 minutes to get on that coaster.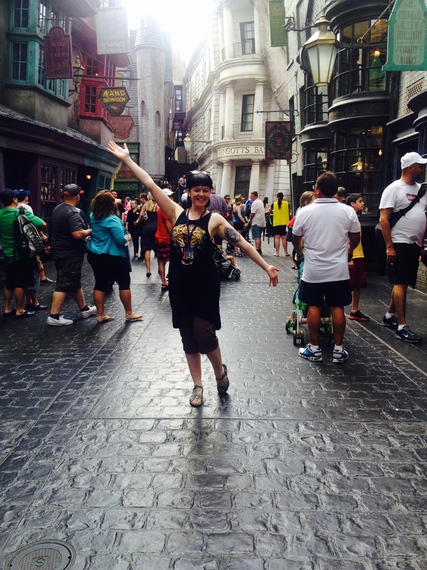 And you're not a Harry Potter fan, so aren't so sure about delving into his Wizarding World there? Don't worry about it, neither am I, but I must admit, it's ABSOLUTELY worth a visit. I think as a non-fan you can take my word for it, when I say I was blown away by everything in there. You can't help but be excited to be immersed inside the imagination of these movies and no longer in your everyday life. Diagon Alley and Hogsmeade are magical and so are the rides! Wow!
The VIP Experience is 5 hours long and is tailored around your group and tastes. A Continental breakfast is included and costs £229 per person (+ tax).
4. Forget About Burgers & Fries and Try Some of Orlando's Finest!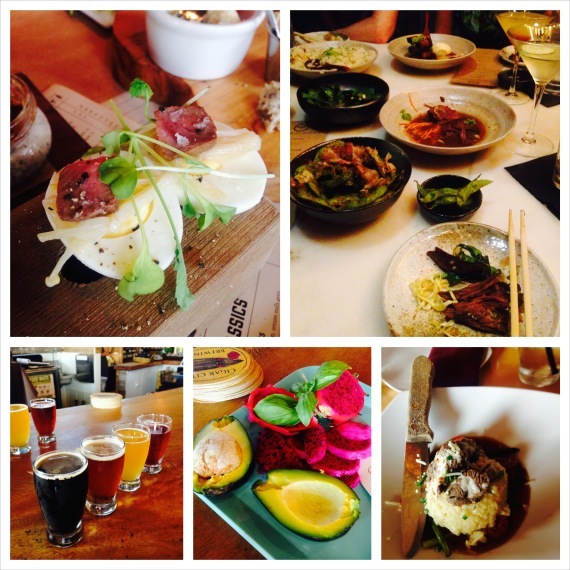 Don't think that a visit to Florida has to be purely about fast food, gigantic buffets and bulging waistlines, because it doesn't. I have to admit every other time I've been to Orlando, I have just gorged on fast food and didn't even consider how their could be other options out there. Sure portions are huge, that doesn't change, but Orlando has some seriously amazing eateries to check out:
Go to the East End market, located on Audubon Park, just north of Downtown Orlando, to try a selection of the city's finest independent and upcoming food and drink talent. Ten food enterprises dominate this space, including a Basque restaurant, a cheesemonger, a Japanese taster bar, a bakery and a farm shop with a great selection of local ales.
The Ravenous Pig
I cannot persuade you enough to check out this amazing pork-orientated Gastropub. The Ravenous Pig offers not only traditional pub fayre (which means some very happy Brits abroad) but they also offer an extensive menu including a raw bar, fresh seafood, microbrewery ales and beers and do monthly pig roasts.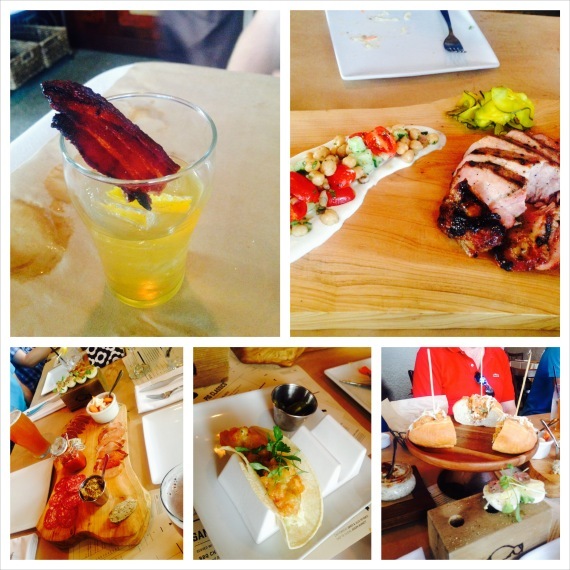 But my top tip: try the bacon infused Old Fashioned. Oh my goodness! Give me all of the bacon things! Bacon rules! The pig rules! Find them on: 234 N Orange Ave, Winter Park, FL 32789
Dragonfly Robata Grill & Sushi
Big sushi lovers? Then look no further than Dragonfly for some seriously moreish sushi and cocktails. Look up from your food in this stylish outfit and you could think you were in New York instead of Orlando. Very nice! 7972 Via Dellagio Way, Orlando, FL 32819.
Kres Chophouse
And if you want to eat in Michael Jackson's favourite chophouse when he was in town, then you must head to historical Church Street which embodies a New Orleans' French Quarter kinda vibe with more nightlife to shake a stick at. Try the sizzling steak and the vanilla bread and butter pudding. 17 W Church St, Orlando, FL 32801.
5. Check Out Where Florida's Richest Live and Shop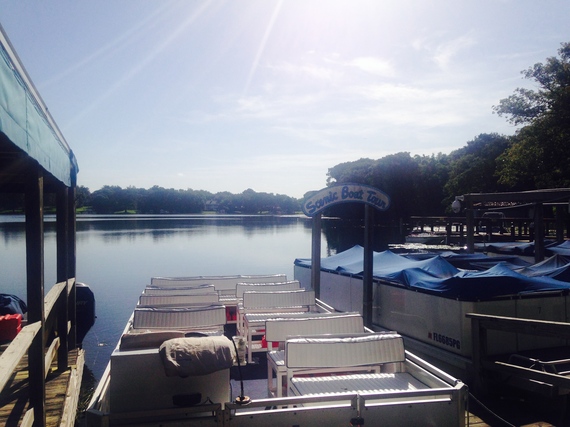 Go for the scenic boat tour at Winter Park and see where the rich and famous live in their ginormous and impressive lakeside properties. This is a great relaxing thing to do, when you're feeling a bit burnt out from the parks. Tom Hanks used to live here as well as a host of sports stars and historical figures.
Then check out Winter Park's Park Avenue for some very cute and upmarket boutiques. Watch out, that credit card is going to get a workout!
6. Go to a Museum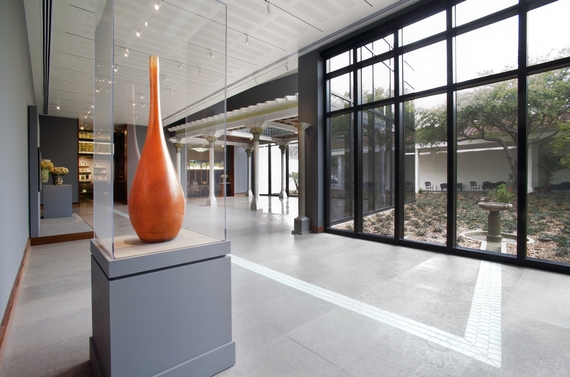 Yeah, museums! Orlando may not be so widely known for its museums and cultural sights but of course they exist, so go and see them for yourselves.
Antique and vintage lovers will love the Charles Hosmer Morse Museum because it is the home to the world's most comprehensive collection of the works of Louis Comfort Tiffany and some spectacular Art Nouveau pieces.
7. Meet a Penguin!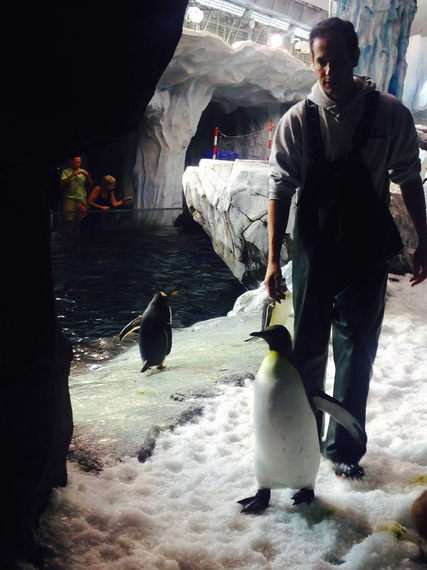 This was undoubtedly the highlight of the whole trip for me! It was totally unexpected and wonderful! There is no doubt no matter what age you are, that meeting a penguin is one of the most magical things you could ever do. So head to SeaWorld and opt for the VIP treatment again to get an exclusive tour of the park, fast track to rides and a chance to meet the animals.
The meet the penguin option starts at $59 for adults.
8. Drive the Car of Your Dreams!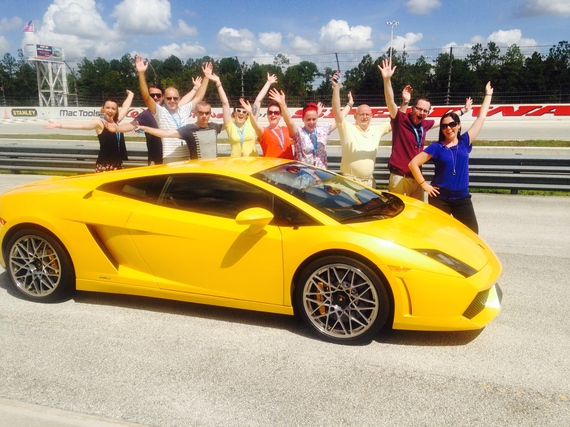 Boys (and girls), you have to try the Richard Petty Driving Experience at Disneyland! I would say this is the MOST grown up thing that you can do in the Disney parks and if you're all rollercoaster'ed out, then this is another insanely fun way to get your adrenalin levels pumping.
Choose from a Lamborghini, Porsche, Ferrari or Audi and hit the racetrack. You can either opt to drive the car yourself (which includes training) or to be chauffeured around at high speeds instead.
The chauffeured drive costs £99 and real driving experience costs £449 (plus tax).
9. Shop Until You Drop!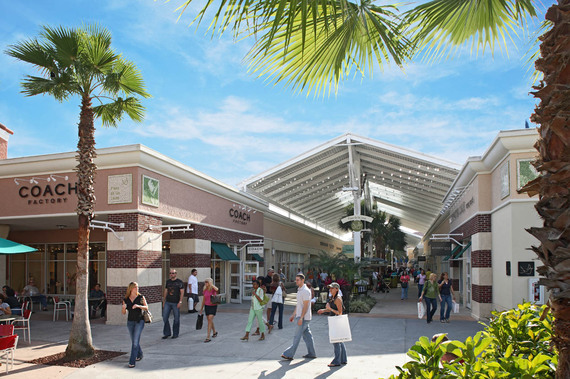 Can you come to the US without shopping and making the most of that dollar difference? I don't think so...
The Orlando Premium Outlets really are worth a visit if you want to save some money on those things that have been meaning to buy for a while or if you need to get some last minute gifts. Save significant amounts at the big brand outlets and get additional dollars off with vouchers and get Disney gifts for the youngsters at massively reduced prices.
10. Just Chill At the Hotel (Because You Can!)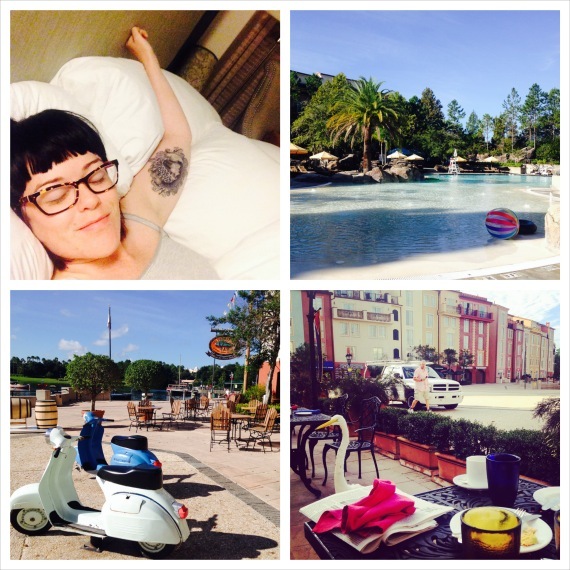 If you have no kiddies dragging your sore feet out of bed every morning to go around yet another park, then you can dictate what YOU want to do.
Stay at Universal Orlando's very own Loews Portofino Bay Hotel, which is an exact replica of Italy's very own Portofino in Genoa. You may be in Orlando but you'll wake up and think you're in Italia! Kooky eh?
Head to Trattoria del Porto for a big breakfast and then hit the gym if you are that way inclined.
Or if relaxation is more on your mind, then the Mandara spa may be more your cup of tea and definitely take some time to dive into one of the hotel's 3 luscious pools.
Staying within the Universal Resort means you get exclusive Universal Orlando theme park benefits including: Early admission to The Wizarding World of Harry Potter one hour before the theme parks open, plus complimentary Universal Express ride access. You also have close access to City Walk, which is the adults' playground of the area. So kick back after a hard day laughing your head off and knock back a few cocktails.
Trip Info:
My trip was sponsored by Visit Orlando and My America Holiday as part of a press trip.
My America Holiday has five nights at Universal's Loews Portofino Bay Hotel (room only basis) for £995 per person including car hire and flights with British Airways from London Heathrow. Valid for selected travel dates in February 2015 and for bookings made by 1 November 2014.
To book go to myamericaholiday.co.uk/florida-orlando-holidays or call 020 8290 9797.
Also, by booking with My America Holiday you will receive a FREE VIP Coupon Book and a Platinum VIP Passport for Orlando Premium Outlets®.
All bookings made by 28 February 2015 will be entered into a prize draw to WIN a $200 shopping spree voucher. To view My America Holiday's new Florida brochure click here.
For more information about Visit Orlando, please visit: www.visitorlando.com/uk.