David Moore, the phenomenally successful restaurateur behind the Michelin-starred Pied à Terre and L'Autre Pied, is about to launch his next food venture. I caught up with him at his Charlotte Street venue to chat about his upcoming restaurant; a potential re-pop-up of Pied Nus, food bloggers and the new celebrity chefs.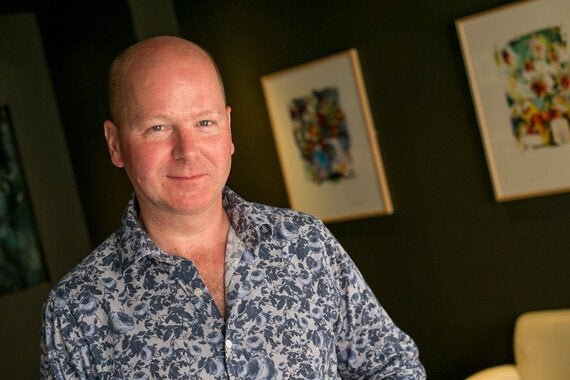 When I arrive in the dimly-lit confines of Pied à Terre, David is already there, grinning at me and guiding me towards 'the power table,' - a tiny two-seater facing the bustle of the restaurant. By the time we're tucking into the bread basket, I realise that he isn't on a charm offensive, he's just naturally as gregarious, colourful and bright as the loud paisley shirt he sporting.
David, a father to two young girls who sometimes critique his food with helpful comments like "urgh Daddy, that's disgusting," might be about as unpretentious as an owner of a couple of Michelin-starred restaurants can get, but there's no mistaking who's king of the castle at Pied. Even the charming sommelier, Mathieu Germond, admits that he has nicknamed him 'Daddy'.
All this is unsurprising when you consider that in an article by The Telegraph last year it was reported that "turnover at the business hit £4m last year and Mr Moore is expecting "double digit" growth in 2014." All pretty impressive for someone who started at catering college in Blackpool and whose first job was, in his words, cooking for geriatrics, well, at least until the fateful day his renegade head chef made the audacious decision to cook the beef medium rare. Out of the 120 plates send out, 118 came back and David left in protest.
David landed his first big job at front of house by catching Monsieur Desenclos on the back foot at Raymond Blanc's Le Manoir aux Quat'Saisons. He started as a chef de rang and, fast forward a few years, was a head waiter and then assistant manager before starting his own ventures in 1991.
David might have looked coy when I asked if those 2014 predictions had become financial reality, but there was no disguising his pride when his hugely popular pop-up Pied Nus popped up in conversation. Diners and critics alike were heralding the death of the pop-up a few years ago and they still have their dissenters with Michael Hogan at The Telegraph bemoaning what he described as "the hipsterfication of the dining scene."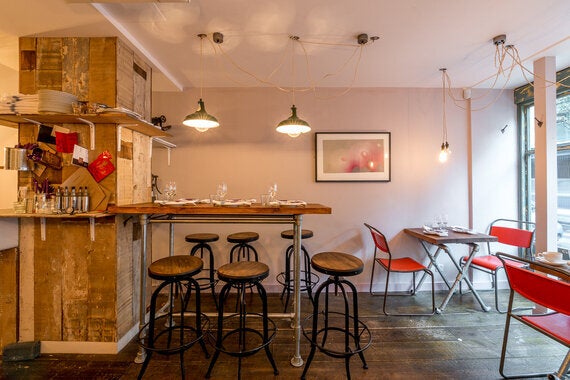 But David and head chef Ed Dutton managed to make a good impression, and it's isn't hard to see why. There's no need to, as Hogan dreads: "queue in the rain or loiter on the pavement, self-consciously scoffing out of a disintegrating cardboard box." There's just stripped back, seasonal food, informal surrounds and, to the pop-up lover's delight, real tables, chairs and, gasp, napkins. After a busy five months it's safe to say that the venture has been a success, so much so that David floated the potential to re-open Pied Nus at a different location after it closes in March this year. Re-popping the pop-up? Now that's innovative.
David hit the issue with trend restaurants on the head when he told The Telegraph that: "People only care about the new kid on the block." According to David, food editors focus journalists on the latest discoveries because they think the only thing people want to read about is what's new. "I was sitting having dinner with a pal and he said 'I need to go out for dinner on Saturday night. Where's new?' ... I asked him when was the last time you went to Club Gascon? ... It's the guys that have been around 10 years that need the support."
So how do you keep up with the fast-moving food scene and be innovative without gimmicky? David thinks the emphasis has to be on substance and authenticity, with chefs and managers hand sourcing produce from farms and breweries. His next restaurant, a US smokehouse-style concept, 160 Degrees Fahrenheit, with Sean Martin and Andrei Lesment is set to open in early Spring in West Hampstead and once again, he's bang on trend. Smoking features across the board in food this year from butter to veg (alongside adult milkshakes, vinegar and healthy junk food...think kale lollies).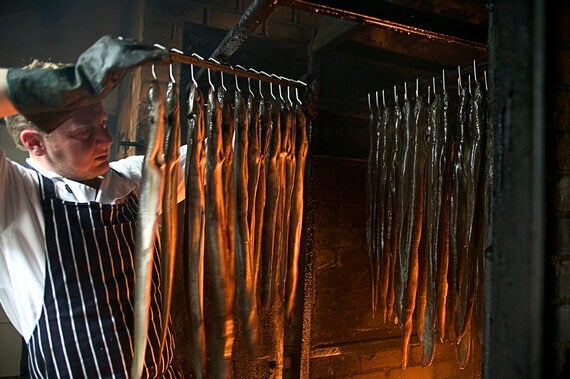 A man hanging eels in a smokehouse in England, UK/VisitBritain/Britain on View/Getty Images
But it's all to play for until the reviews start trickling out, which leads me to ask David how he feels about food bloggers and the effect they have on new restaurants, a somewhat thorny subject for most industry people.
He shifts and exhales, eyes on the pristine tablecloth before carefully replying: "I think the critics have become less important ... Neither of them are more important than the other, but you have to embrace the bloggers, it's not going away, it can only grow."
"The way that a restaurant markets itself now has definitely changed. You'll find that new openings now will not just have hard hat events and canapé evenings for all the mainstreams, they'll have a blogger's evening or a blogger's event. You have to get them onside, they have a very large reach."
"I've even got my blog now" he says incredulously, genuinely surprised that anyone would want to read about what he gets up to in day-to-day life. The thing is, with chefs toting millions of twitter followers (Jamie Oliver is currently on 3.74 million, six times more than David Cameron) and a string of high-profile TV appearances, they've become the new rock stars and the reach is only going to get wider with industry insiders, suppliers and restaurateurs taking their turn in the spotlight.
David reckons it is because the standard of good food is now so high that it's become ubiquitous and people are interested in every facet of dining now. Fellow restaurateur Russell Norman, the force behind Polpo and Spuntino, is currently starring in BBC2's new series, The Restaurant Man and David has a new TV project in the pipeline.
Yet it's still hard to prise David away from the front of house, despite the long hours and the stress. So why does he still do it? He smiles, "I love the conviviality of it all and I'm never happier than when I'm bouncing around at Pied Nus with a corkscrew and a pen." On saying that, like a coiled spring, he's up from the table, chatting to a couple of regulars and hugging me before heading out and off to try and catch a cat nap before the start of the school run and a shift at Pied Nus, at the front of house, naturally.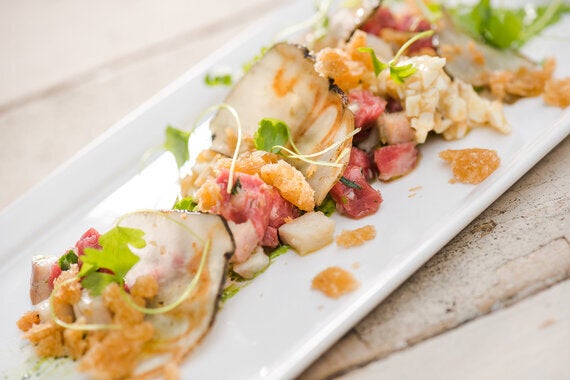 Beef Tartare, with Smoked Eel, Celeriac and Watercress at Pied Nus
David Moore's London Food Picks:
Butcher: McKanna Meats, 21 Theobalds Rd London WC1X 8SL‎
Fishmonger: Steve Hatt 88-90 Essex Rd London N1 8LU‎
Greasy Spoon: Andrews Restaurant, 160 Grays Inn Road, WC1