In Italy, food is serious business.
This is a country where recipes are passed down through generations. It's a place where every coffee has its own time of day, every pasta shape its corresponding sauce and a good pizzaiolo can earn thousands of euros a month.
Any olive oil aficionado will tell you that olive oils vary in flavour from region to region - a mellow, fruity Sicilian oil is perfect for salad and seafood, a peppery, greenish Tuscan oil adds punch to bruschetta and meat while a golden Puglian oil gives vegetables and pasta a nutty, herby flavour.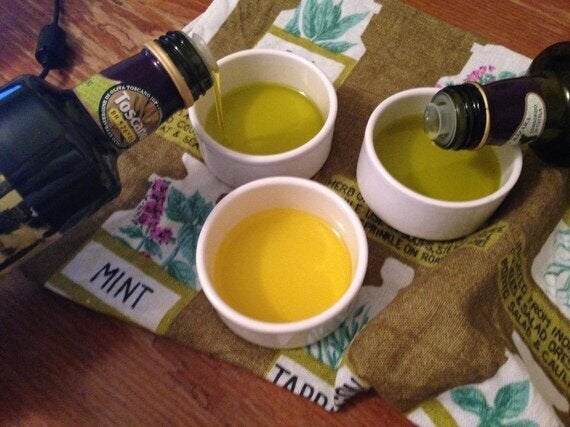 And spaghetti isn't just spaghetti - it should ideally be shaped using a bronze trafila instead of a Teflon-coated one to give it a rustic texture so it will grip and soak up sauce like a sponge, instead of the slippery, skinny versions found in most supermarkets over here.
Yes, there's something quite special about the food in Italy and no one is more aware of this than Francesco Mazzei, the owner of L'Anima - arguably the best Italian restaurant in London.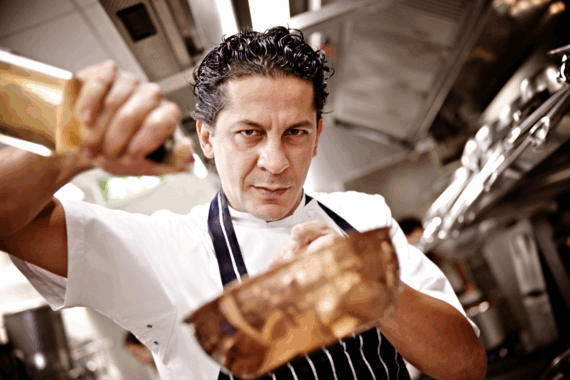 Mazzei grew up making his own olive oil, salami and bread in Calabria, down in the toe of the Italian peninsula and was working in his uncle's Gelateria before he reached his tenth birthday before moving to London via Rome, Edinburgh, Milan and Bangkok to open L'Anima in 2008.
I recently saw Mazzei in action, trying out the rustic pasta and regional olive oils from the new Sainsbury's range of Italian products at a master class and managed to glean a few tips from the maestro himself on authentic Italian cooking.
There's nothing like watching an Italian chef cook. It's something about the passion and the ancestry that comes out in a blur of steel knives, tomatoes and heavily accented English. My first job as a fifteen year-old was waitressing at my local Italian restaurant and I loved it. It was where I developed an addiction to good coffee, took covert glugs of Chianti and gorged on freshly-baked ciabatta, squid ink pasta and Ossobuco.
I've never forgotten the unique sound that the chef made when angry - his melodic Italian punctuated by a very British sort of swearing that burst from him when a customer dared to order an off-menu dessert. It used to reverberate around the kitchen as he pummelled a zabaglione into frothy submission before flinging it at me with grin, a flourish and an "eccolo qua."
Watching Mazzei whip up a batch of steaming black olive gnocchi coated in melted butter and brown shrimps was a far less tempestuous experience than my memories but nonetheless full of the essence of Italian cooking: simple but beautiful plates of food.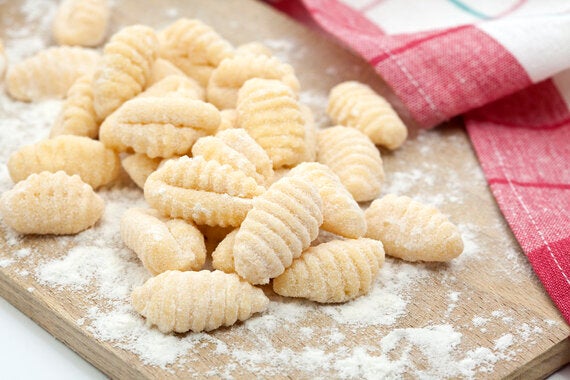 Ursula Alter/Getty Images
Try using carnaroli rice instead of arborio for your risotto as it holds its shape better. Mazzei prefers to use arborio rice for things like arancini - stuffed, fried rice balls - instead.
Never use cream in your risotto as, according to Mazzei, putting cream in savoury dishes is done by the French, never the Italians. To give your risotto a creamy texture you should add a spoon of butter and grated grana padano cheese and mantecare (blend it) at the end.
Use olive oil instead of butter in your mashed potatoes. A couple of spoons of a warm Umbrian oil will make the potatoes taste smooth and nutty.
Try poaching your fish fillets in olive oil instead of frying them. Always keep the oil temperature between 95-100 degrees Celsius and never let it boil. You can reserve the infused oil to add flavour to pasta dishes like seafood spaghetti.
Perk up your gnocchi mix with extra flavour by adding a spoon of black olive tapenade or porcini mushroom paste or make an autumnal version by swapping half the potato mixture for mashed, roasted pumpkin. Always use floury potatoes for making gnocchi.
It's that time of year at the moment when, as the nights are draw in, the central heating comes on and the Christmas adverts start to flood prime time television, that everyone begins craving spicy, filling winter warmer dishes.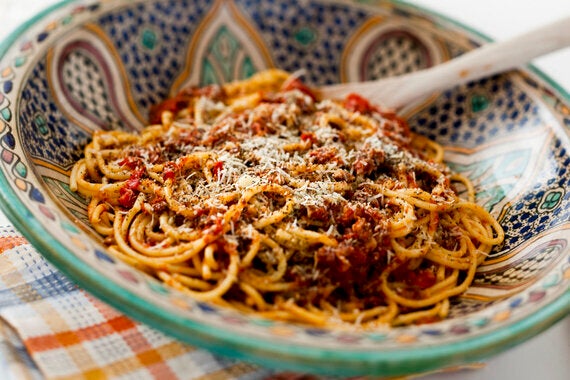 Per Magnus Persson/Getty Images
If you're after a quick and easy Italian dish to please the whole family then look no further than Francesco Mazzei's Spaghetti with Spicy Tuna.
400g Taste the Difference Spaghetti
300g Taste the Difference Italian Pomodorini cherry tomatoes
50g finely chopped shallots
1 fresh, medium hot red chilli
Heat the oil in a pan and fry the shallots gently for a few minutes, then stir in the garlic, olives, capers, tomatoes and chilli.
Season with salt and pepper and bring to the boil. Stir, then reduce the heat and simmer for five minutes.
Meanwhile, bring a large pan of salted water to the boil and add the pasta.
Flake the tuna into the sauce and heat through.
Drain the pasta, return to the pan and stir in the sauce.
Serve with a garnish of finely chopped parsley on top.
The new by Sainsbury's Italian range is available in stores now and the Taste the Difference pasta range goes on sale from 10 November.