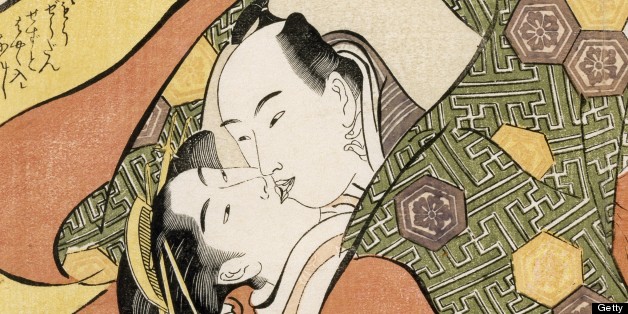 Getty

Untitled by Shota Katsube/Souzou: Outsider Art from Japan/Wellcome Collection
Souzou, the Wellcome Collection's exhibition of 300 works of Japanese Outsider Art comes into its final days this weekend and I, for one, am sad to see it go.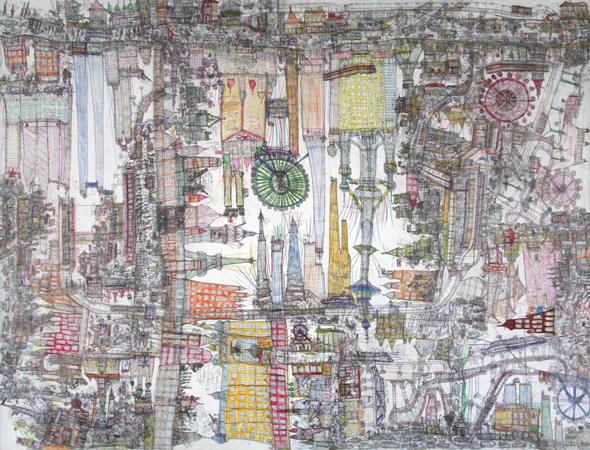 The Economically Booming City of Tianjin, China by Norimitsu Kokubo/Souzou: Outsider Art from Japan/Wellcome Collection
It's outsider art in the extreme, created by 46 artists who are residents and day attendees at social welfare institutions across Japan.
According to Wellcome's website: "'Souzou' has no direct translation in English but a dual meaning in Japanese: written one way, it means creation, and in another it means imagination. Both meanings allude to a force by which new ideas are born and take shape in the world."
Well, the force and imagination are certainly felt in this exhibition. In places it feels like a child's craft corner with clay sculptures and tiny metallic warriors staging a World of Warcraft style battle in miniature. In others it feels intricate, edgy and downright disturbing with gruesome paintings of morphed and transmogrified genitalia and demonic life-size dolls. It's sort of Picasso cloned with Emin and Hirst layered over The Scream, it's Dali-esque...basically it's bloody weird.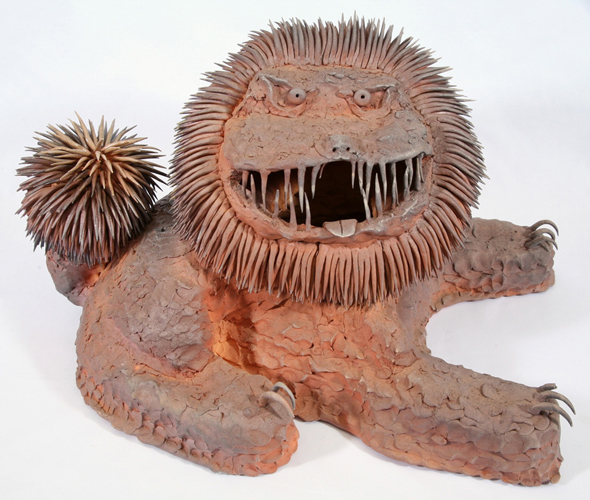 Okinawan lion by Ryosuke Otsuji/Souzou: Outsider Art from Japan/Wellcome Collection
It's rather like a Murakami novel played out in pieces - where pivotal characters in books like Blind Woman, Sleeping Willow, Norwegian Wood and even The Wind up Bird Chronicles take breaks in institutions of varying descriptions - and there is a pervasive undercurrent of feeling gently unhinged.
But in a way that is the beauty of this exhibition; it's outsider art and doesn't pretend to be anything else. It doesn't really make sense and it doesn't have to; there's no need to 'get' this art to appreciate it and while the exhibition isn't exactly enjoyable, it's rather refreshing.
This art couldn't have come from any other country really. Some of it is reminiscent of anime, some of it rooted in history or culture and some just the imaginings of someone who has taken some paint/wool/fabric and let go.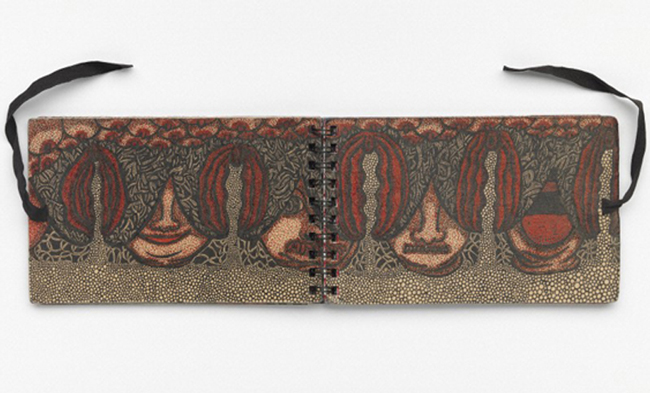 Untitled by Marie Suzuki/Souzou: Outsider Art from Japan/Wellcome Collection
I found that the variants and vagaries of the art on show reminded me of its country of origin: Japan, with its mixture of rigid structure and customs and its recesses of deviancy and blurred social margins. Travelling around Japan I was in turn amused and shocked by the strangeness on show in every day life, from the sexuality to the food and even the conduct of its people.
I was bowed to by airport staff who nearly scraped their foreheads on the ground in deference, then forcibly rammed onto a train by a 'pusher' - a white-gloved gentleman who has the dubious job of ramming as many people as possible onto rush hour trains. I saw a woman harshly reprimand her five-year-old for staring at me on a bus then was subsequently hunted down by hundreds of lilliputian school children in pikachu hats toting surveys in Nara Park while their teacher pointed me out saying something along the lines of: "Quick, get the foreigner!"
You're greeted by a deafening chorus of: "Youkoso, ohayouuuu gozaimasuuuu" when you enter any shop, a cry that follows you around as every different employee - who genuinely seems in love with their job - walks within a metre of you (and just you wait for the complicated thank you and goodbye song and dance if you buy anything). Then there are the times where human contact is severed completely, like the restaurants where you order your food from a vending machine that spits out a ticket for you to hand to the chef, cutting out the middle man entirely.
In memory of the close of Souzou and in celebration of one of the weirdest and most wonderful places to travel on earth, here are some things that could only have come out of Japan.
Part exhibition house, part shrine to the legendary animator, artist and director Hayao Miyazaki who co-founded and created Studio Ghibli and all the wonder it produced from My Neighbor Totoro and Nausicaä of the Valley of the Wind to blockbuster hit Spirited Away.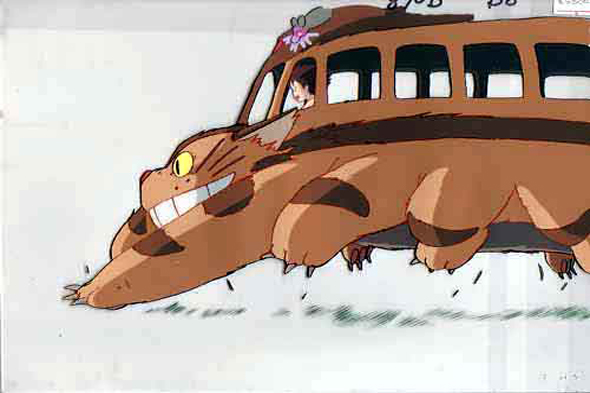 The Camphor Tree/www.totoro.org
This crazy museum feels like stepping through the looking glass. There are magical mobiles and murals, tiny doors, strange passages, floor to ceiling sketches and a life-size version of the cat bus from Totoro, complete with dust bunnies (although, as I discovered, you can only go in it if you're a child).
Maid Cafes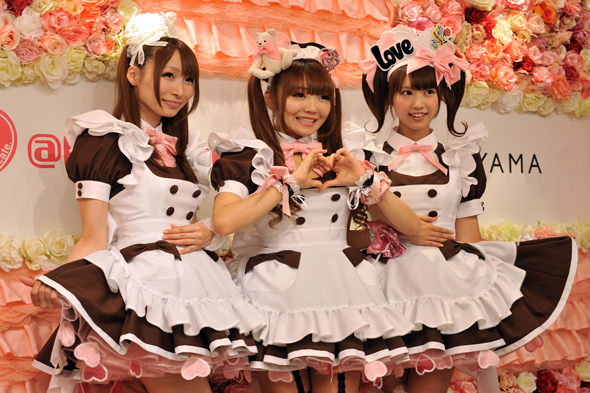 YOSHIKAZU TSUNO/Getty Images
These are scattered throughout Japan but mostly found in concentration around the geeky Akihabara district in Tokyo. In these cafés, waitresses dressed in cosplay maid costumes act as servants and treat customers as masters (and mistresses) in a private home. A young lady dressed as a cartoon character simpering, serving tea and calling you master? Sound weird? That's because it is.
Can't afford the sky high accommodation costs at the local hostel? Why not spend the night at a Manga Kissa instead. These glorified libraries come with booths separated by curtains and sometimes walls. You pay by the hour or overnight, get a comfy chair, a computer and unlimited access to the library of comics, films and books to while the night away. Drinks and showers are usually included as well. I tried it and after the sixth neon fizzy drink and hours spent watching poor quality versions of Black Swan and Star Trek I left dazed, confused and quivering from a sugar high at the first light of dawn.
The Penis Festival
Every April the festival of Kanamara Matsuri, or 'The Steel Phallus,' gets under way in Kawasaki. The object of celebration is recreated in sweet form, in carved vegetables, decorations and a parade.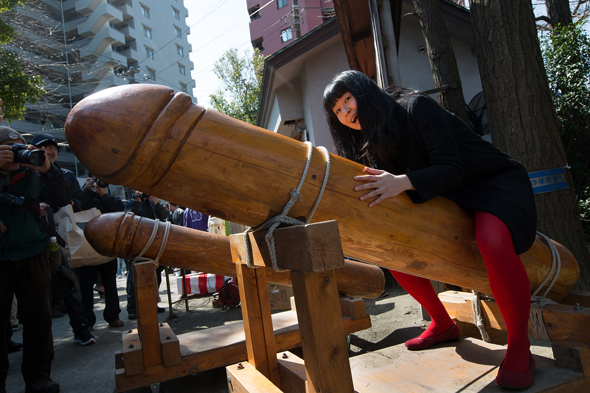 Getty Images
The Kanamara Matsuri apparently came from local legend surrounding a penis-venerating shrine that was once popular among prostitutes praying for protection from sexually transmitted diseases. There's also the slightly more disturbing legend of a sharp-toothed demon that hid inside a young woman's vagina and castrated two men on their wedding nights. The young woman sought help from a blacksmith who made her an iron phallus to break the demon's teeth, leading to the enshrinement of the item. What? Exactly.
For more examples of the truly, inexplicably bizarre you should have a look at this website: japanisweird.com, which features - you have been warned - among other things: a japanese KFC Colonel, an intimate relations practice room for teenagers and more adult-sized costumes clearly intended for children than you can shake a Pocky biscuit stick at.