Think opera is solely for the upper echelons of society and still, even today, restricted by price and peerage? Well, to be fair, Grange Park Opera is about as blue-blooded and intoxicatingly glamorous as it gets, but that shouldn't stop anyone from going.
Set in a bucolic, pastoral idyll on Lord and Lady Ashburton's estate in Northington, Hampshire, Grange Park's operas are staged in an imposing neo-classical mansion, which is in places exquisite and in others, where modified, bullish and almost thug-ugly with square pillars and stark expanses of ochre brick.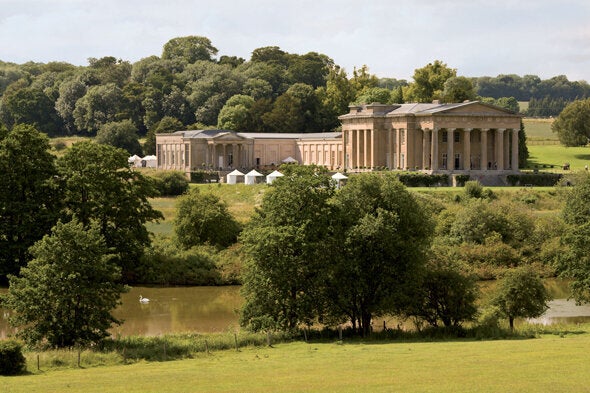 The Grange, Northington/Grange Park Opera
For two months of the summer, diaphanous ladies in evening gowns and gents in penguin suits gather in the walled, sunken garden to picnic in indian tents or dine in crumbling ballrooms where chandeliers sway precariously from net-covered ceilings when the wind whistles through the cavernous halls. There are llamas grazing in the fields around the venue and the swell of conversation is punctuated by the pop of champagne corks, the honk of nearby Canada Geese and, of course, the 'rahs' and 'yahs' of the vaay, VAAY posh.
Here you'll see more tartan trousers and multi-coloured moccasins than you knew existed here and the London visitors stick out like sore thumbs with their fash pack jumpsuits, Hackney quiffs and Ray-Bans.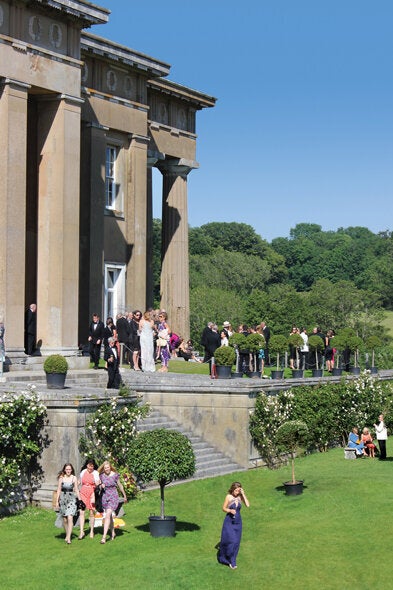 Grange Park Opera Festival/Rebecca Thomas
I used to work at in the restaurant at The Grange, serving food and wine to discerning diners under the eagle-eyes of co-founder and chief fundraiser Wasfi Kani. It was were I met Joanna Lumley and David Attenborough and I remember it with a rose-tinted fondness in the extreme.
BUT, The Grange is far from being snobbish and exclusive and is one of the most inviting opera festivals out there. Not only do they offer the entire village free tickets to compensate for the increased traffic during the season, they give stonkingly good deals for opera lovers under 35 with their Meteor scheme.
Their sister company Pimlico Opera also remains pleasingly eccentric - like that batty old uncle you're terribly fond of - venturing into prisons performing opera for inmates and the public alike and The Grange continues to stage some of the most un-lauded and unloved (sometimes with good reason) of operas, like the demented bacchanalia of Prokofiev's For the Love of Three Oranges and the mind bending, cross dressing mash up that was Cavalli's Eliogabalo.
I returned to The Grange for opening night of their 2013 opera season on May 30 and wasn't disappointed. The crowd was the same - we were sat next to gentleman with a ruby brooch that even Liberace might have considered vulgar and in front of a man who bumbled in at the interval, dress shirt unbuttoned, hair askew and roaring that he couldn't find the "bloody place" and turned to his velvet-jacketed neighbour, exclaiming: "Gosh, do I know you?" before plonking himself down.
Opening night was Tchaikovsky's dramatically depressing and sometimes dreary (purists will shoot me for that) Eugene Onegin, where the young impressionable heroine Tatyana falls in love with the sophisticated charlatan, Onegin, the best friend of her sister Olga's love interest: the somewhat wimpy poet Lensky. Onegin spurns Tatyana's naive love as girlish infatuation, proceeds to flirt with Olga (in opera this means he squeezes her hand - the horror) and ends up killing his best friend Lensky in a jealousy-induced duel. Years later he is reunited with Tatyana, only to find she is married to the elderly officer Gremin and has become a lady of high society and out of his reach.
Stephen Medcalf's impressively directed production reminded me of a kind of Gone with the Wind meets Anna Karenina with the pace and tone of Tchaikovsky's score maintained throughout, from the Russian Roulette of the duel to Onegin's final, melodrama-ridden lines: "Misery! Wretchedness!"
The formidable Susan Gritton, playing Tatyana, had a bug on her vocal chords, which we were warned might affect her performance. She carried on undaunted, tackling Tatyana's high notes with relative ease, despite raising that niggling opera troupe of suspended belief: the bubble that allows an audience to turn a buxom, somewhat matronly woman in her late forties into a coy and dreamy teenager to appease the plot. Gritton's force of personality and belting soprano just about achieved this, although I couldn't quite stop the Benny Hill theme music from playing in my head when Onegin and Tatyana where chasing each other around the stage in a bizarre game of cat and mouse.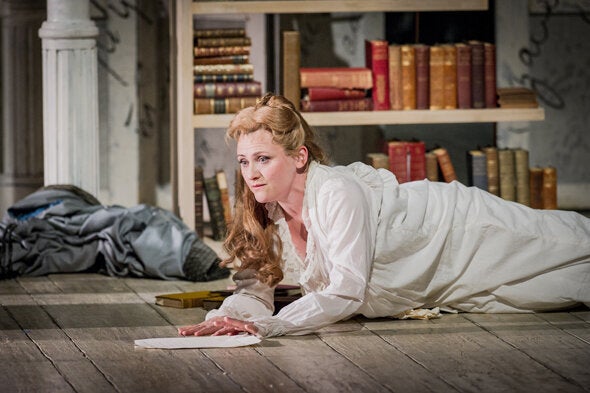 Susan Gritton, Tatyana, Eugene Onegin/Grange Park Opera 2013/Robert Workman
Brett Polegato navigated the caddish Onegin with aplomb, adding a new level of engaging sensitivity to the character with his rich, mellow baritone. Clive Bayley's Gremin was a delight and his deep, war-torn bass reverberated around the auditorium like hot chocolate, while Frances Bourne provided a convincingly lively and girlish Olga. In fact, the only real slip in vocal quality came from Robert Anthony Gardiner who, while visually dashing as Lensky, proved his tenor was too weak and pitchy in places to handle Tchaikovsky's score.
I've never been the biggest fan of Russian operas as I am never convinced that it's the easiest language to evoke beauty and softness, but a combination of direction and staging from the talented Francis O'Connor made this performance memorable.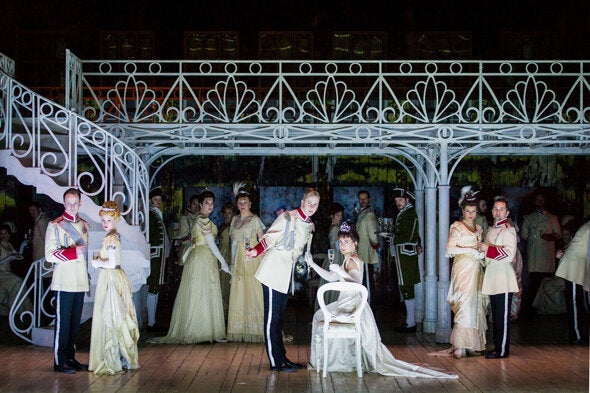 Ensemble, Eugene Onegin/Grange Park Opera 2013/Robert Workman
Cheap it isn't and there's no point in pretending that it is. The majority of visitors are of a similar social class and there's no point pretending that they aren't. However, visiting The Grange isn't just about the spectacle or the performance. It's the setting and the scenery and, above all, the music. If emerging from the theatre into a rural wilderness on a purple-stained evening doesn't transport everyone onto the same level of opera society through love of music alone, then nothing will.
Popular in the Community