After the fanfare that surrounded Benjamin Britten's 2013 centenary and the accolades David Alden's Peter Grimes generated in its ENO incarnation, transporting this sea-ravaged epic deep into the heartland of Hampshire's countryside for opening night of The Grange seemed a tall order.
In truth, the Grange Park Opera's rose-strewn lawns and delicate, neo-classical architecture are worlds away from the setting of George Crabbe's 19th century poem The Borough that this Britten is rooted in. But any concerns about containing the intensity of Britten's maritime opus in The Grange's auditorium were, however, partially washed away by the execution of Jeremy Sams' production, which managed to be both claustrophobicly intimate in its portrayal of gossiping village life and expansive, with a wall of sound that engulfed the audience emanating from his ensemble cast and an omnipresent sea that became in itself a lead character.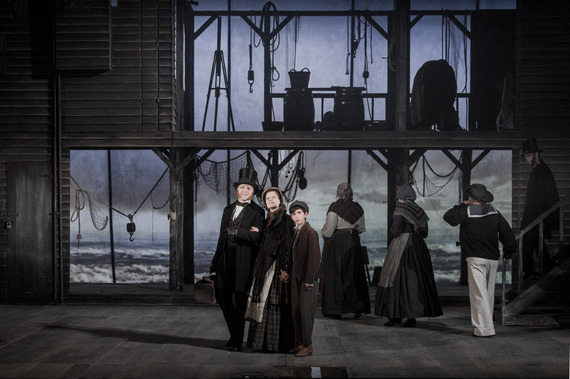 GPO Peter Grimes 2014 Robert Workman
The seaside setting for the tale of gnarled and brutish fisherman Peter Grimes, who stands accused of killing his apprentice, was in full force from the off with the air full of the shrieks of seagulls and the entire cast already milling about on stage, gathering for Grimes' trial in The Prologue before most of the audience were seated.
The somewhat stagey authenticity of this pre-brined atmosphere was helped hugely by Francis O'Connor's brilliant set - a stripped back, wooden affair that unfolded during each act like a Russian doll, revealing interior glimpses of tavern, church and hut against a backdrop of a seething, steely grey digital sea. It might have been almost too stylized and gritty picture-book perfect (sort of like the miserably bleak film set for Les Miserables) for a 'real' portrayal of tough, coastal life, but it was hugely effective.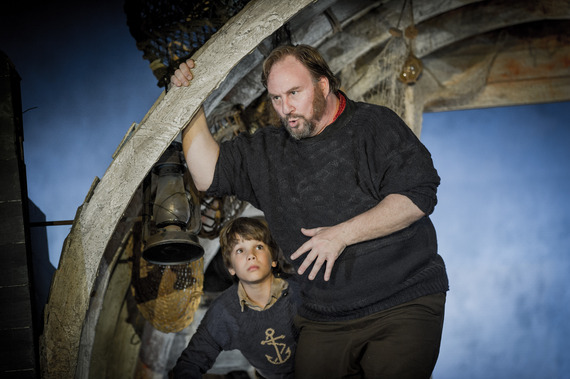 GPO Peter Grimes 2014 Robert Workman
Every detail and nuance, from the worn paint on a wooden pillar where the ship's ropes were fastened to the puddles that blotted the stage and the incredibly realistic rain drops of light (in fact all of Paul Anderson's lighting design was superb) that lashed the theatrical town were impressively and immersively done and the nuances didn't stop with the set design.
Peter Grimes is no light opera. Britten's score is punishingly complex - the orchestra at The Grange conducted by Stephen Barlow never abated; never fully relaxing into the music and keeping listeners alert and unsettled throughout - and his characters three dimensional, always evoking a visceral reaction. Sams offered something new to Britten's hard bitten story of Grimes, a gruff bear of a man who is physically harsh to his young apprentices, generally despised by his fellow villagers and redeemed only partially by his love for Ellen Orford - a widow who seems to love Grimes in spite of his mercurial nature and the town's damning disapproval.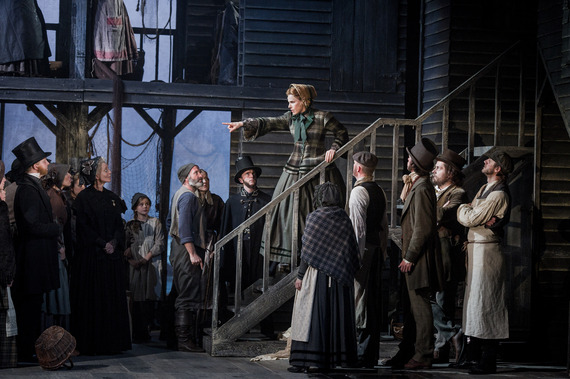 GPO Peter Grimes 2014 Robert Workman
Atypical though Grimes is as an operatic leading man, the writing never fully allows the audience to warm to him. Sams' theatrical addition of on stage flashbacks that depict Grimes' violent childhood as he is sold to a terrifying sailor and show a young Ellen's fascination and desire to protect and befriend this battered little boy add new weight to their love story and hints at the dangerous, cyclical effect of physical abuse, which explains (though does not excuse) Grimes' mistreatment of his own apprentice. Although the verdict on whether these less than subtle explorations into the character's psyches helps or hinders the opera is still out.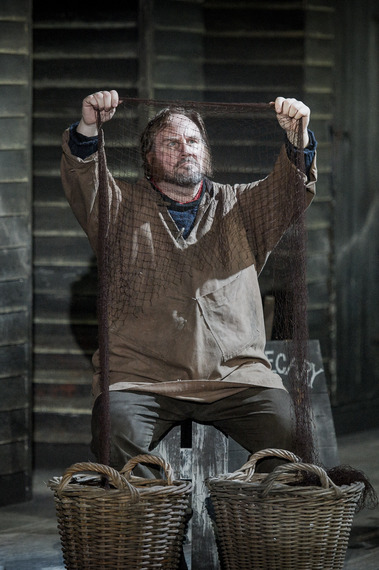 GPO Peter Grimes 2014 Robert Workman
Carl Tanner's Grimes came with a pre-performance disclaimer of severe sinusitis and he eased himself into the role, almost struggling with the higher register so much so that the audience was unprepared for the volume he unleashed in Act III when he declares in a bone-rattling roar that he will marry Ellen despite the mob's opinion of him. Sinusitis or no, there was no holding back that rich tenor for the big notes.
Georgia Jarman's sweet soprano for Ellen was high and pure and stood out alongside Stephen Gadd's vibrant baritone Balstrode and the admirably affable Ned Keen played by Gary Griffiths, who was all mad hatter's hair and lothario's swagger.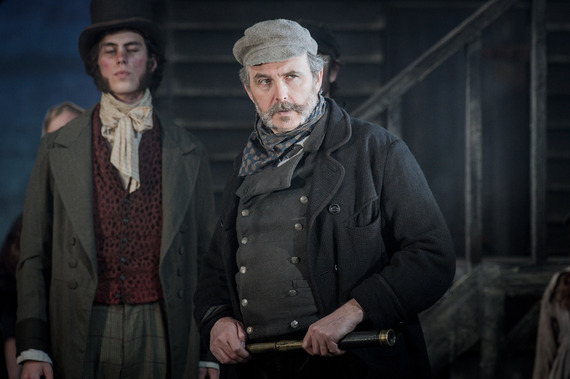 GPO Peter Grimes 2014 Robert Workman
Elsewhere, Clive Bayley made a formidable Swallow and Andrew Rees' Bob Boles was a convincing moral zealot, whipping the villagers into a baying mob thirsty for Peter Grimes' blood in Act II after he witnesses Grimes strike Ellen. Rebecca de Pont Davies, who plays the pill popping Mrs Sedly - a pseudo detective who's convinced that Grimes murdered his apprentice - balances convincingly on the knife edge of shrill hysteria throughout with an expression that's set in a near-permanent state of despairing horror.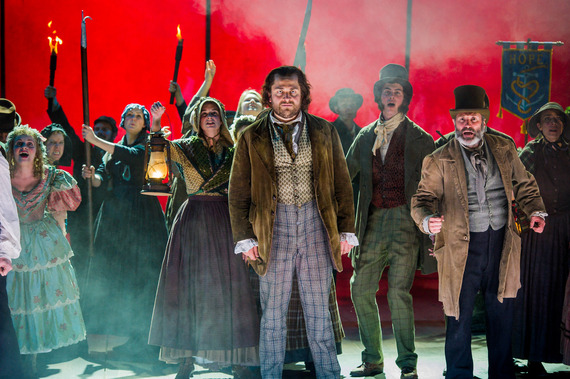 GPO Peter Grimes 2014 Robert Workman
Opera fanatics who yearn for the lyrical gymnastics of Puccini and Verde might lament the lack of pretty arias in Peter Grimes, but there's no place in this unforgiving, elemental world for superlative love songs. The one piece of musical light relief that sees Ellen's soprano intertwine with Auntie's (the local pub landlady) alto and the pretty vocals of her nieces of dubious repute - played Soraya Mafi and Rosie Bell - provided a brief moment of lovely melancholy among the intensity of Britten's nerve-jangling, beautifully discordant score. But while it took off it never quite managed to soar and left the audience yearning for a less transient reprieve.
As Grimes' boat set sail for the a final time into the smoke machine mist and the ensemble gathered for one last choral crescendo, walking back out into the soft Spring evening and the rolling countryside surrounding The Grange seemed almost wrong. Yet somehow, despite the disconnection, this immersive piece of theatre feels oddly at home here in Hampshire and is a suitable opener for the Grange's season. As Peter Grimes declares: I am native, rooted here. / By familiar fields, / Marsh and sand, / Ordinary streets, / Prevailing wind.
Peter Grimes is at The Grange until 21 June, 2014. For performance information and tickets see the Grange Park Opera website.