We've all done it, thought we were being spending savvy and opted for the bargain theatre or concert ticket, only to find ourselves stuck behind a pillar or so far from the stage that you'd probably get a better view watching with binoculars from your living room.
Undaunted, I recently took a punt on a ridiculously cheap ticket to see the now sold out La Donna del Lago at the Royal Opera House, secure in the knowledge that if the sound quality was crap then at least I could easily call the measly £8 I paid out a write-off and not a wasted expense.
The Royal Opera house is enough to send shivers down an opera lover's spine. It's not just the venue, the prestige, the history and the heritage, it's the quality of performers it attracts and the passion it evokes from its audience: you don't get talent show whooping here, you get raw emotion: tears, thunderous applause, cynical booing, foot stamping and affected cries of BRAVA and all.
La Donna del Lago has all the lunacy of traditional opera: a love story with the melodrama and histrionics setting at maximum. Elena, the lady of the lake, is in love with Malcolm (a trouser role played by a mezzo soprano) but betrothed to the rugged clan leader Rodrigo who is fighting the legitimate King, Uberto, who, incidentally, also falls in love with Elena. Cue love squares, deaths and despair, all squeezed into three acts of exquisite singing.
I love a bit of cross dressing at the opera, even if Daniela Barcellona's performance as Elena's brooding lover Malcolm did look disturbingly like a exceptionally talented singing character from Asterix and Obelix with her sideburns, leather and striped top...or at least it did from a lofty viewpoint.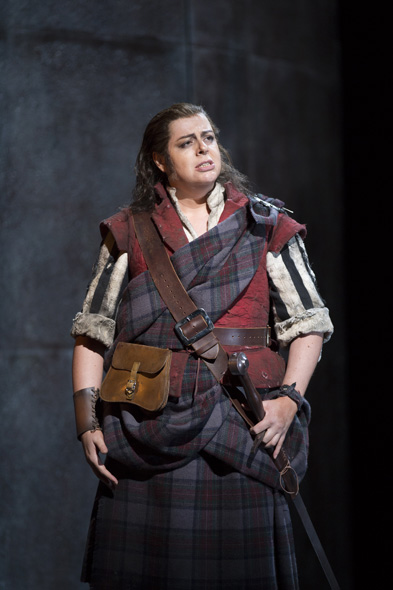 Bill Cooper
Who needs soap operas when you can have real opera, where people fall in love after one meeting and get to belt out lines like this: "Why have you come? / To tell you I love you and will die for your hand."
In opera singers take an entire act to say goodbye and wars are waged and won in the time it takes to change a revolving staircase set. Incidentally, this revolving staircase and the almost caricature Scottish setting was my one gripe of the production. At one point half the cast of Braveheart was running around and gutting a wolf/deer/horse...I'm still not entirely sure which.
I found the staging a bit clumsy and distracting and reminded me of Simon Cowell's X Factor rant when Cher Lloyd performed on that staircase to nowhere. Hopefully that will be the first and last time I compare myself to Cowell.
My seat was way up in the upper slips to the extreme stage right, sandwiched between an elderly German woman who insisted on performing percussion on the railing and a bloke that looked like the professor from Back to the Future, with a mane of uncontrollable white hair and a pair hole-ridden jogging bottoms who promptly took off his boots and laid down, eyes shut, across the bench.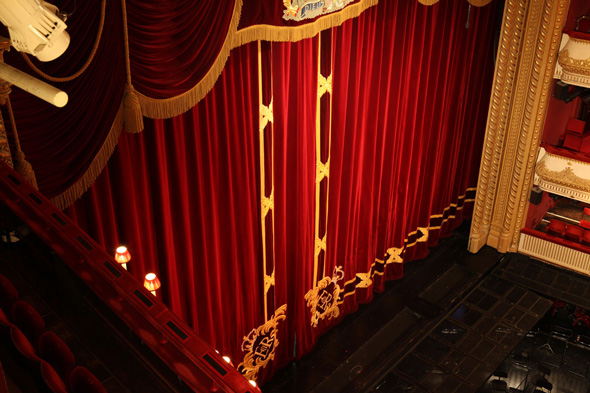 Royal Opera House
After the first act I understood why he opted out of straining for a view point. We are so accustomed to combine the visual with the vocal that it feels almost as if you're only getting half the performance with sound alone. After half the opera spent leaning over the railing and getting frustrated when the performers moved out of sight, taking their voices with them as though the volume button was suddenly being turned down, I followed suit.
With my eyes closed I actually enjoyed Rossini's incredibly complicated, lyrical gymnastics more. There are no big hitting arias in La Donna del Lago, but what you do get is a demonstration of the full capacity of the voice, from Michael Spyres' (Rodrigo) rasping low notes and almost counter-tenor highs to the bel canto of Juan Diego Flórez with his lilting trills as Uberto.
The stand out performance however came from Joyce DiDonato's Elena, whose coloratura soprano would make Mariah Carey quake in her stilettos and whose lyrical dexterity would pummel Beyonce in an Amazing Grace sing-off any day. Don't believe me? Listen to this and imagine keeping that up for two hours straight with no costume changes or dance breaks.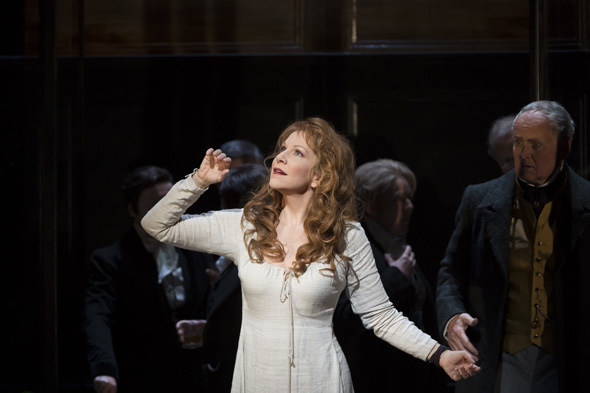 Bill Cooper
Things to note:
- The seats are like the narrow, hard-backed benches you'd expect to find in a public school dining room - bring a cushion if you value your coccyx.
- Not recommended for vertigo sufferers as you're practically touching the vaulted ceiling and the view plummets down straight into the orchestra pit. On the upside, you'd struggle to fall as there are more seats in the Ampitheatre directly below you.
- Neck ache. Be prepared to either strain over the railings or sit back and rely on the vocal not the visual impact.
- There are no binoculars provided so bring your own if you want to see the singer's facial expressions in all their dramatic glory.
- Pack light as there is almost zero leg room so don't think you'll have an easy time wedging your rucksack/laptop/winter coat in anywhere unless you're planning on using the cloakroom.
Is it worth it? Yes. Think that you don't like opera? Maybe, but for £8 there's no excuse not to go and find out properly is there.