We've come a long way in tackling the stigma around mental ill health, but two in every five men in England, Scotland and Wales aged 20-59 do not seek support when they need it, according to new figures.
The research, from Samaritans, suggests men do not seek help because they prefer to solve their own problems. The survey also showed that men often don't want to feel like a burden and don't feel problems will be understood.
To help, the charity is launching a campaign, supported by National Rail, called 'Real People, Real Stories', which sees men share their stories of talking about their mental health struggles, to encourage more to do the same.
Tony Robertson, 38, suffered from undiagnosed depression for most of his life and struggled to cope when he lost his job, his home and partner, and attempted to take his own life.
"I was in my hospital bed the morning after and I saw my mum sat there upset, and something clicked. I started talking to my mum about how I was feeling," he said. "I think having that human connection really does bring that home. I hope by sharing my story as part of the campaign, it will encourage other men to speak up and seek help before getting to the stage that I got to. Talking really can save lives."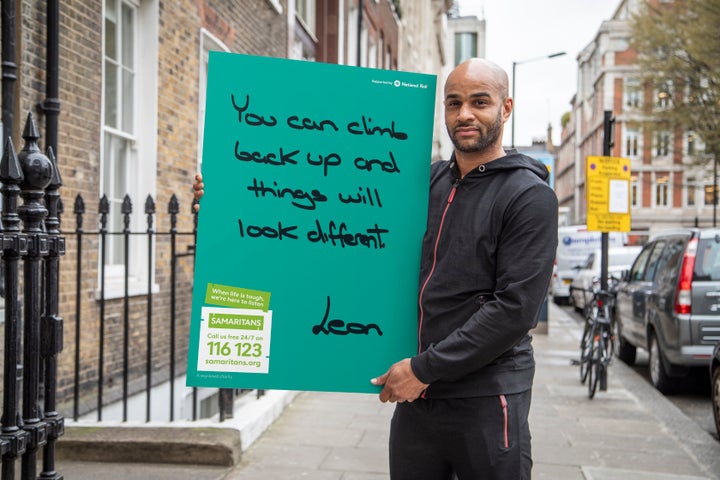 Despite men being hesitant about asking for help, 78% surveyed said it's okay to admit you're not feeling okay.
Some of the main reasons why men find life tough flagged by the research included debt or financial worries (36%), relationship breakdown or family problems (30%), loneliness or isolation (29%) and job loss or job-related problems (25%).
Ollie Mehra, 23, has suffered from anxiety and depression since he was 15. When his relationship ended, he described it as "the straw that broke the camel's back" and began to have suicidal thoughts.
"When I told my friends how I was feeling, four of them said: 'Mate, so have I. I know how you feel,'" he said. "Instantly I thought to myself, right, I'm not the only one. It isn't a weird thing. I should have got help sooner, we all should have talked about it sooner."
A quarter (25%) of men surveyed felt their problems weren't important enough to warrant calling a helpline and almost three in 10 said loneliness and isolation had made them feel low in the past.
Ex-Premier League footballer and professional boxer Leon McKenzie showed his support for the campaign by saying: "I know how tough it gets when you're in that dark place. I've been there, not wanting to exist anymore.
"By sharing my story and supporting the campaign, I hope other men understand that you can climb back up with some help. It's so important to seek help early on and Samaritans are here to listen."
Samaritans is encouraging anyone who needs support to access help by calling the helpline 24/7 free on 116 123 or visiting Samaritans.org. You can find other useful helplines below.
Useful websites and helplines:
Mind, open Monday to Friday, 9am-6pm on 0300 123 3393
Samaritans offers a listening service which is open 24 hours a day, on 116 123 (UK and ROI - this number is FREE to call and will not appear on your phone bill.)
The Mix is a free support service for people under 25. Call 0808 808 4994 or email: help@themix.org.uk
Rethink Mental Illness offers practical help through its advice line which can be reached on 0300 5000 927 (open Monday to Friday 10am-4pm). More info can be found on www.rethink.org