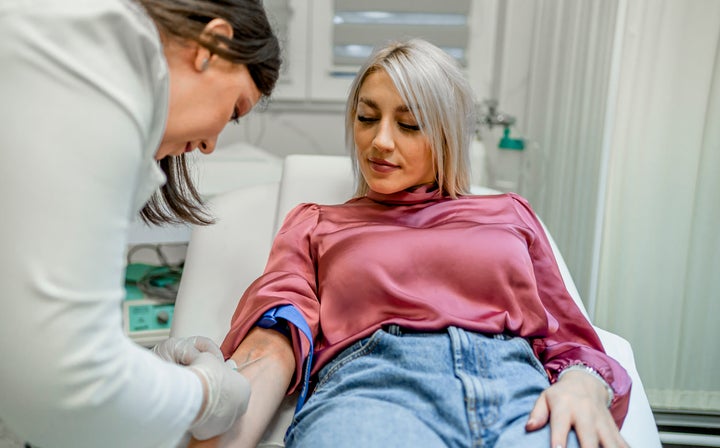 Having your blood taken is seriously common practice in this day and age, however needles are a common phobia, affecting at least 10% of us.
As one of the most common types of medical tests, blood tests have a wide range of uses, from assessing your general state of health to checking the function of your internal organs. Your blood sample will either be examined under a microscope or tested with chemicals.
What are the two methods of collecting blood?
There are two main methods of collecting blood samples. The first is a venous or phlebotomy blood test, where blood is collected from a vein. The second is a finger prick or capillary blood test, which involves pricking the finger with a small, sharp needle and collecting the droplets of blood.
Historically, most blood analysis involved samples collected from a vein. However, home blood tests are becoming increasingly popular as they can be done at home and are therefore much more convenient and efficient. They can also be preferable for people who have a fear of needles.
But what if you need to have blood taken by a nurse or doctor? Well, GP Dr Neel Patel from LloydsPharmacy Online Doctor has shared six must-dos before your next test to make everything go smoother (and faster).
6 tips on preparing for a venous blood test
"If you're nervous about having a blood test, the first thing you should do is make sure whoever is taking your blood knows that you're nervous. Give them details about your experiences in the past, for example, if you have felt faint or nauseous.
"Doctors and nurses encounter anxious patients all the time and will be able to make adjustments such as reclining your chair or having you lie down."
"The healthcare professional who arranges your blood test should inform you if there are any specific ways you need to prepare. For example, if you're having a fasting blood test, you will be told not to eat or drink anything other than water beforehand. Some blood tests also require you to stop taking certain medications."
"Most blood tests don't require fasting, and not eating can also affect the results of a test, so make sure you're well fed. Low blood sugar can contribute to feeling faint, so choose foods that boost your blood sugar levels. A piece of fruit, a glass of fruit juice, or even some sweets are good options."
"Staying hydrated before a blood test is essential. Firstly, water will prevent your blood pressure from dropping. But water also plumps up the veins, making it easier for the technician to find them and ensuring a smoother blood draw."
"Our veins constrict when we're cold. This makes it harder for the technician to know where to insert the needle, meaning the process takes longer. Wear plenty of warm clothing and consider taking a brisk walk before your appointment if you're particularly cold."
"Distraction is often a brilliant tactic for anxious patients. Avoid looking at the needle. Instead, watch a video on your phone or close your eyes and listen to your favourite song. You could also bring a friend or relative who can chat to you throughout the procedure."