"I feel like I'm a burden to my family. The whole thing's absolutely disgusting. It's horrible. I wouldn't wish this upon anybody, I really wouldn't."
In August 2017, Sarah Bookham was rushed into the intensive care unit at Great Western Hospital in Swindon. Bookham, 48, had recently undergone a hernia mesh operation and was recovering at home when her stomach ruptured - even now, she is trying to understand what led to that incident. She spent the next 11 days in intensive care where she had six further life-changing operations.
The mum-of-four now has a large stoma – an opening on her abdomen which allows food waste to pass out of her body. Part of Sarah's bowel hangs outside of her body in a bag, meaning she is unable to leave her home in Oxfordshire, without the help of family and a wheelchair. The ordeal has had an impact on her mental health, to the extent that she's felt suicidal and has been prescribed anti-depressants. "I didn't deserve this. It has impacted my life drastically," she said.
Bookham's situation may sound extreme, but she is not alone. Campaigners have told HuffPost UK they know of "at least 300 people" who have experienced hernia mesh problems. After we wrote about this topic earlier this year, HuffPost UK also heard from 12 people who've experienced complications relating to hernia mesh - two of whom required treatment in intensive care.
But unlike the issues around vaginal mesh that have hit headlines, there are no plans for a Government audit into hernia mesh.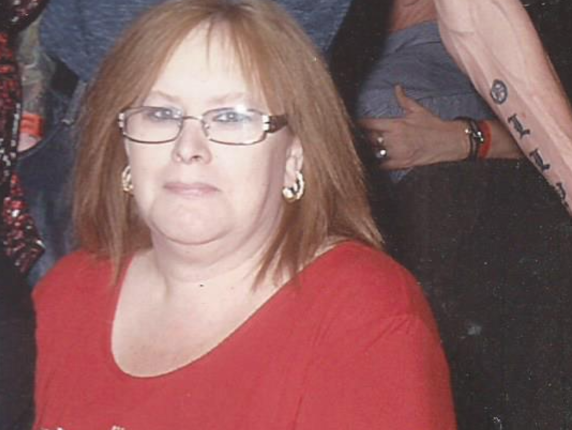 Bookham's health problems began when she developed a hernia above her belly button in 2012. In December of that year, she had her first of two hernia mesh operations.
Hernias occur when an internal part of the body pushes through a weakness in the tissues that hold muscles together. Hernia mesh is a synthetic material similar to nylon that's inserted into the body to "patch" up the weakened area. According to data from NHS digital, more than 97,000 hernia mesh operations are completed in England each year.
More than nine months after her first operation, Bookham was still leaking pus from her bellybutton and having to pack the wound with material to blot the liquid. The leaking did eventually stop in October 2013, but almost four years later, Bookham developed a second hernia in the same area, requiring another operation.
In summer 2017, when she was booked in to have the hernia removed and mesh re-fixed, Bookham claims she specifically asked the surgeon whether there was any risk she would end up with a stoma before going into theatre. "It was one of my worst fears, to be left with a stoma bag," she said.
Bookham claims the surgeon explicitly said she would not end up with a stoma, adding if she had been warned it was a possibility, she would "never have gone through" with the operation. "I would have suffered through the hernia pain," she said.
At first her recovery seemed to be going well, but 10 days after the op, she and her husband noticed a strong smell in their house. "He thought the drains were blocked outside or something, that's how bad it was," she said.
When her husband realised the smell was coming from her, and spotted a black line appearing around her stomach, the pair rushed back to hospital. Bookham's stomach ruptured as she arrived in A&E, and she was taken into intensive care, where she received six operations over the course of 11 days.
"When I came around, I didn't realise [I had a stoma]," she said. "When I did see it, it was just horrifying, absolutely horrifying. I've looked at stomas online and they are diddy, usually on one side, but mine is in the middle and I've got this massive long bit of bowel hanging as well."
Bookham's life has since changed beyond recognition and months later, she is still being visited by district nurses. She has written to the NHS's Patient Advice and Liaison Service (PALS) to complain about the treatment she received and ask "what went wrong" with her two hernia mesh operations.
"The reason why I am not satisfied is because I've been told nothing," she said in the letter, seen by HuffPost UK. Bookham claims the hospital has yet to provide her with a clear explanation addressing what happened to her.
Her MP, Ed Vaizey, confirmed she is one of "a number of constituents who have contacted [him] over problems with mesh following an operation".
"These stories are horrific, and have no place in a modern medical system. Sarah's case is particularly frustrating as she has yet to receive any clear answers from the hospital, despite my office trying several times to contact them since January," he told HuffPost UK.
In a statement given to HuffPost UK, Great Western Hospitals NHS Foundation Trust said: "We take all complaints very seriously and we are sorry that Mrs Bookham is unhappy with the treatment she received. We will be working closely with her as we continue to investigate her concerns."
Like Bookham, Gayle Devlin, was admitted to intensive care following a hernia mesh operation. The 43-year-old, from Falkirk Scotland, underwent mesh surgery in 2009 after developing an umbilical hernia when she was pregnant with her second child. She claims doctors were not clear about the size of the incision and she was "absolutely horrified" when she woke up with 34 clips in her body, which would leave her with a scar from her breast to her pubic bone. "It just didn't feel right from the very beginning," she said.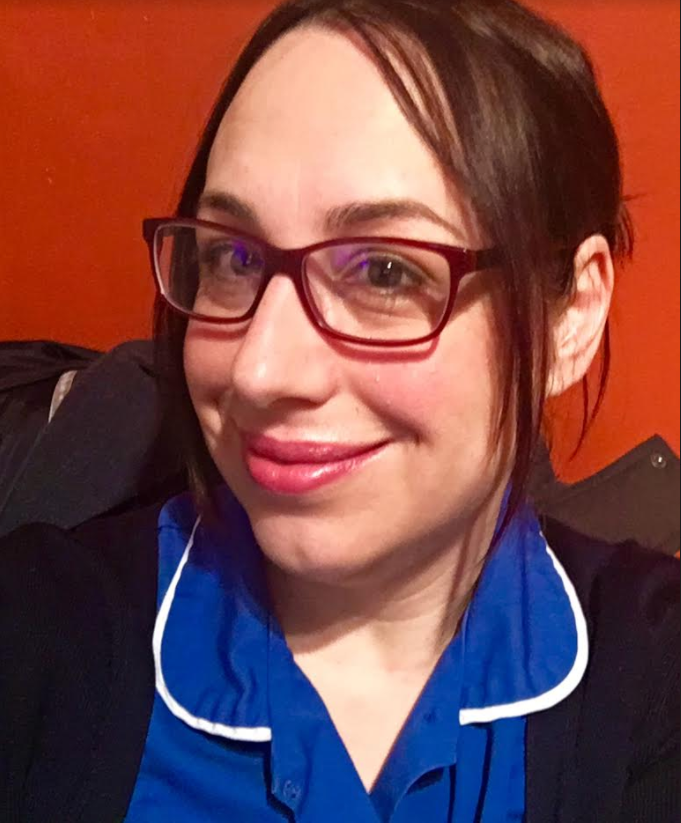 Over the next three years, Devlin, who works as a practice nurse at a GP surgery, was forced to cut down her hours because she continued to experience abdominal pain, sweats, and was struggling to control her type 1 diabetes with her usual insulin. She claims she visited multiple doctors, but no one linked her symptoms to the hernia mesh. Instead, she was told she may be suffering from post traumatic stress disorder (PTSD) as a result of the surgery, or may have developed irritable bowel syndrome (IBS).
But in 2012, after experiencing a burst of intense pain, Devlin's husband rushed her to hospital, where a CT scan revealed the mesh had slipped and cut into her small bowel. "Even when they gave me morphine, I was still screaming in pain," she said.
She was taken into intensive care, where doctors discovered parts of loose bowel in her body had become gangrenous. The mum-of-two developed sepsis and spent the next seven days being treated in the ICU. "My family were sent for because they thought I was going to die. Basically, I'm very lucky to be alive," she said.
Although Devlin is now back at work, the experience has had a long-lasting impact on her mental health. "I feel very angry and distressed and I get anxiety now," she said. "When I get a sore stomach at all now, I feel very anxious that something else is going to happen. It has left me a different person."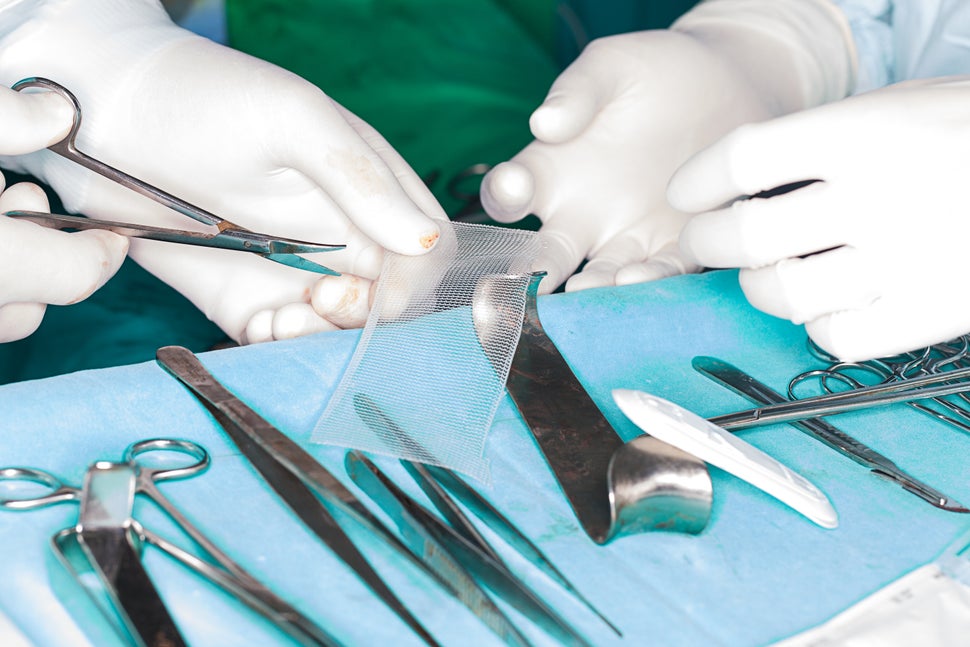 While the vaginal mesh scandal has been reported on a global scale - prompting the Department of Health and Social Care to complete a wide-scale audit into complications, revealing a third of patients had sought "urgent" help for pain - the same cannot be said for hernia mesh.
The National Institute for Health and Care Excellence (NICE) also issued guidelines recommending the suspension of mesh for vaginal wall prolapse until more research has been completed. In an email to HuffPost UK, NICE confirmed it has not issued any guidelines relating to hernia mesh and did not comment further.
Despite this, Kath Sansom, founder of Sling the Mesh, which was originally set up to raise awareness of vaginal mesh complications, told HuffPost UK a "growing number of men and women" have been visiting the site looking for advice on hernia mesh. She says "at least 300" of the campaign group's members have experienced hernia mesh problems.
"The number [nationally] will be way higher though, as the campaign has focused on pelvic mesh for women so the penny won't have dropped for a lot of people that hernia mesh is the same plastic causing the same problems," she said.
"Patient safety is our highest priority and we recognise some patients do develop complications after surgery," a spokesperson said in a statement given to HuffPost UK. "We encourage anyone who suspects they have had a complication after having a medical device implanted, to discuss this with their clinician and report to us via the Yellow Card Scheme regardless of how long ago the implant was inserted."