ABBA always said it was never going to happen, but last night it did. If their millions of fans had one dream, the four Swedish superstars finally made it come true - with a song to sing. ON STAGE. TOGETHER.
The occasion was an event to celebrate the 50th anniversary of when musical partners Bjorn Ulvaeus and Benny Andersson first met, and formed what would become one of the most successful creative partnerships of all time.
The two longtime pals took to the stage in Stockholm with their former bandmates, also ex-wives, Agnetha Faltskog and Anni-Frid Lyngstand.
First, Agnetha and Frida sang for Benny and Bjorn, and by the end of the note, the group had all picked up their mikes to perform the song 'You And I' together, much to the crowd's delight.
"It was absolutely amazing," Anni-Frid told Swedish publication Expressen.
"A lot of emotions. We've made this journey throughout our history, Benny and Björn in particular. It's been very nostalgic."
This is the second reunion this year for the four members of one of the world's most revered pop groups, after a meeting for the Swedish launch of the 'Mamma Mia! Party'. Benny, Bjorn, Frida and Agnetha have been snapped together over the years, however, this is the first record of them singing together since 1986, following their split in 1982.
Fans will be crossing everything this impromptu singalong will inspire the band members to reunite again. They have always fought shy of requests to reunite, explaining their fears that they could risk tarnishing their golden past.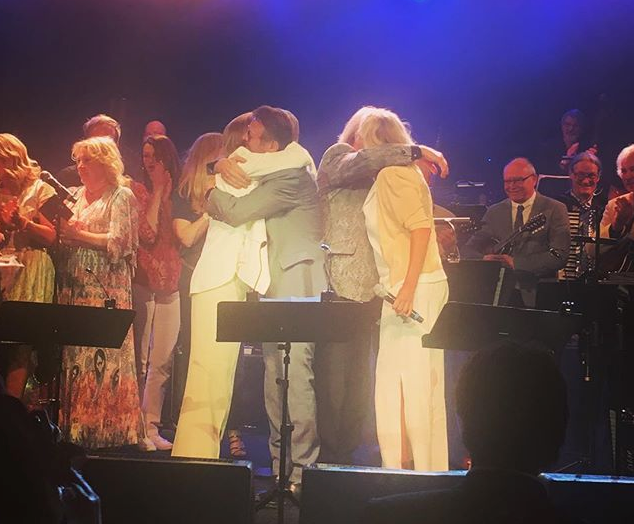 Following Benny and Bjorn's teaming up all those years ago, and then recruiting their female partners to add their voices to the band, ABBA became a phenomenon, following their Eurovision victory in 1974.
They went on to sell more than 380million albums, with their timeless pop hooks and beautifully-crafted lyrics. Despite the band's split all those years ago, the money has continued to pour in, particularly for songwriters Benny and Bjorn, who went on to write the musical 'Chess' as well.
The musical and later film 'Mamma Mia!' hasn't hurt either, grossing more than $2billion from more than 40 international stage adaptations.
One myth goes that the band once turned down a $1billion offer to reform, however, it turned out last night all that was actually required was the right occasion, and a lot of mutual affection.
Tap the first picture below to open the slideshow:

ABBA