Abortion rates are rising among women who are married or in relationships, as well as those who are aged 30 and over, new figures show.
The statistics, released by the Department of Health, show a small increase overall in the number of abortions between 2014 and 2015.
Since 2005, abortion rates for women aged 30-34 have risen by 18%. Meanwhile for women aged 35 or over, the rates have risen by 15%.
Jennie is one of many women aged 30 and over who have had an abortion. She is happily married and has three children.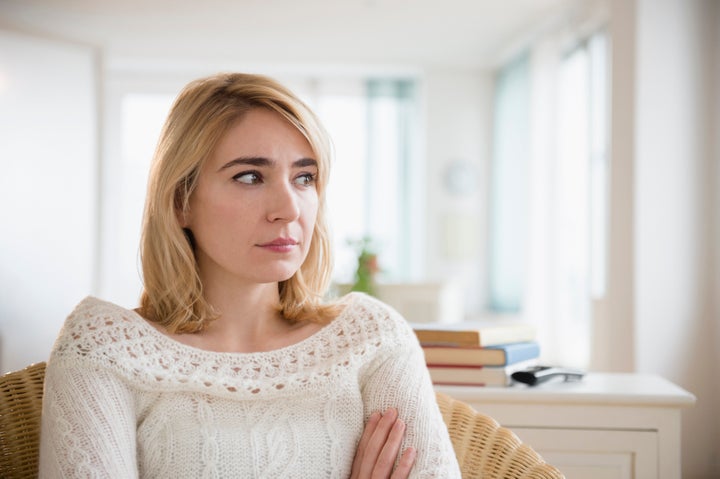 The new report found that most abortions (92%) are carried out at under 13 weeks into pregnancy, while 8% are performed at 13 weeks or later.
Figures for England and Wales show the total number of abortions in 2015 was 185,824, which is 0.7% higher than in 2014 when there were 184,571.
Since 2005, abortion rates for women aged 30-34 have increased from 14.5 per 1,000 women to 17.1 in 2015.
Rates for women aged 35 or over have also gone up from 6.8 per 1,000 women in 2005 to 7.8 in 2015.
Meanwhile abortion rates are dropping among the under-20s.
Jennie, who is now 42, had an abortion in 2007 when she was 39 years old.
"In April 2013, two months before my 40th and a week before my husband was due to have his vasectomy, I missed a period and was shocked to discover I was pregnant again," she said.
"We had been using contraception (condoms) and in all the years we'd been together it had never happened. I thought stupidly it was some kind of 'sign' and was at first positive about it, although at the back of my mind it was niggling away at me that I wasn't happy.
"As time went on I felt myself sinking into depression, there were so many questions rushing through my mind. How could we afford another child? What was going to happen to the free time me and hubby? Did I really want to do the late nights and everything else all over again?"
She continued: "One evening as I was lying in the bath and my hubby came home from work, I told him I really didn't want another baby. He said 'We'll cope' and I replied 'But I don't want to just cope. I want to enjoy our life and enjoy the children we already have'.
"I thought that some things are forced upon us and we have no choice but to cope, but with this I had a choice."
Natika H Halil, chief executive of sexual health charity FPA, told The Huffington Post UK that there are many reasons why a woman might want, or need, an abortion.
"You certainly don't have to be single or unmarried to experience an unplanned or unwanted pregnancy," she added.
"Reasons can include not wanting to continue with a pregnancy due to financial, employment or relationship pressures, or feeling like the family has already been completed.
"Women have a right to choose how many children they want and when they want them, and since no method of contraception is completely effective all of the time, it is inevitable there will be times when they need to access abortion services."
She continued: "We don't know how many of these abortions have been carried out as a result of women not being able to access contraceptive services or not having the knowledge to make informed decisions about their reproductive health.
"With the devastating public health budget cuts we have already seen, contraceptive services may become an easy target for restrictions – particularly for women who are in their 30s and 40s.
"Women have to control their fertility for around three decades and it's vital that whether they are 20 or 40, they have access to a full range of contraceptive choices and are empowered to make decisions that are best for them."
The new report shows that in 2015, more than half (54%) of women undergoing abortions either already had children or had experienced a stillbirth - up from 47% in 2005.
Some 29,358 abortions were for women who were married or in a civil partnership. While 96,564 were for women who were not married but had a partner.
In response to the new statistics, Genevieve Edwards, director of policy at Marie Stopes UK, said it was "encouraging to see a continued increase in the proportion of women coming forward for early procedures".
"Last year, 11 in every 20 terminations were early medical procedures, where pills are taken to safely end a pregnancy up to 10 weeks.
"Ten years ago, only a quarter of abortions were carried out this way.
"Many women choose medical abortion, as they feel it gives them more privacy and greater control over their bodies."
She continued: "Giving women and girls access to a full range of contraception, when and where they want it, is instrumental in bringing down abortion rates.
"Following recent cuts to the public health budget, it is vital that women can continue to access the contraceptive services they need to prevent an unplanned pregnancy."
The report also found that almost four in 10 (38%) of abortions in 2015 were to women who had already had one or more abortions - up from 32% in 2005.
Just over a quarter (26%) of abortions to under 25s were among women who had one or more abortions before, while 46% of abortions to those aged 25 and over were repeat abortions.
Overall, some 3,213 abortions (2%) were carried out where there was a risk the child would be born with a serious disability.
"We are shocked that the abortion rate in this country is climbing and that babies with disabilities are still being targeted and eliminated, in particular," she added.
Related