"Technology is a great unifying force," says Adrian Grenier, sitting on a picnic bench outside the University of Arizona's environmental department. "But only in balance with getting together, eye to eye, breaking bread and sharing oxygen."
The actor is no stranger to encouraging others how to live a more fulfilling lifestyle; he founded SHFT, an online platform promoting sustainable living, and the Lonely Whale Foundation, dedicated to raising awareness of the world's oceans.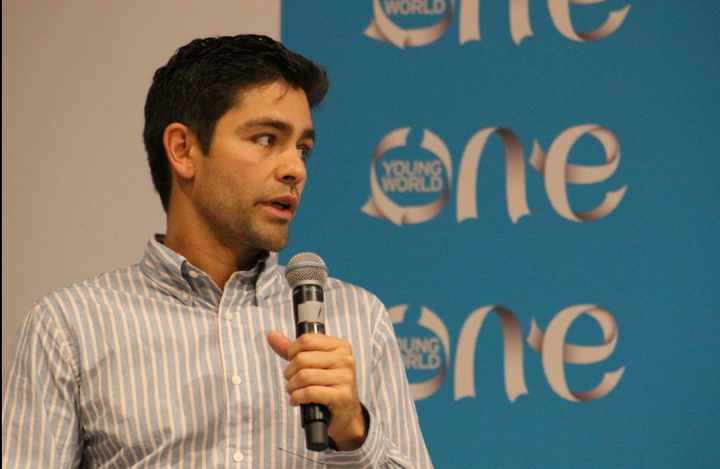 "It's very important that we have an opportunity to come together as a community of people who share the values that we do so we can collaborate and inspire," he says, when I ask what it means to him to be able to speak to so many ambitious young people. "It means we can really start to work towards the change that we want to see.
"Only through uniting will we see this change. [We] can't do it in a vacuum, can't do it in isolation. It's important to get off our phones some time and rub elbows."
But for 39-year-old Grenier, it's not so much about saving the planet, it's about improving your own quality of life.
"Sustainable impulses for me are quite selfish," he admits. "When you have good quality of air to breathe, when you have healthy food to give to your children so they're strong and don't need doctors, that is something that people can relate to.
"The problem is we've been conditioned to think that we should expect high obesity, to be in wheelchairs from a young age, we should expect our children are going to die sooner than us, and that we should work countless, ungodly hours to pay for what?
"This quality of life? No, we need to rethink what is important to us," he says, adamantly.
"Our true values are aligned with family and health.When you look at your mum, brother, you want to connect with them and make sure they're happy and healthy."
The Entourage star is convinced getting individuals to make sustainable changes, no matter how small, will make the biggest impact.
"We live in a society which is one big collaboration," he explains. "You can do a lot, you can vote with your dollar, buy the good stuff. You can splurge a little on your own health.
"And by the way," he confides, "it's a lot cheaper to buy organic and healthy food that it is to pay for doctors bills. I'll tell you that much.
"You can vote with your fork, you can say no to single use plastic - and straws in particular. I've been on a straw campaign," - here he references the essay he wrote for Refinery29 which he says he is "very proud of".
"But you can also vote," he continues. "And that's how it works. You vote the people in power, and who's in charge of either healing or destroying our planet by where you put your money."
"You can share a meal. Order one and share it. Our portions in this country are ludicrous, they're way too big. We don't need those kind of calories to survive. In fact we need less calories to thrive.
"Share a meal, it'll help create an intimacy with the people you love, get a little closer. Maybe look in their eyes and connect on a human level. Get off your phones and be a part of your life."
Grenier isn't afraid to be blunt, and calls out anyone who isn't prepared to pull their weight.
"There's this idea that it is a zero sum game," he muses. "But you don't have to take the weight of the world on your shoulders. Just do a little bit to improve your personal quality of life.
"You don't have to change the overwhelming daunting problems of the world, you just have to change you. Just start with yourself.
"I think people use the overwhelming issues as an excuse not to do anything and that's a problem. There are these massive issues that we need to address, but not doing anything is not acceptable.
"Find something, you have the internet," he implores. "Follow me on instagram, you'll find something there, I'm always doing stuff. Find a friend to do something with. Just do something, once a day, once a week, once a month even. And just know that you're changing your lifestyle.
"And then you, plus everybody else doing the same thing, are going to change the world."
Popular in the Community