Amazon spent more than $14.2 million last year on outside consultants whose job was to convince workers not to unionize, according to new disclosures filed Friday with the Labor Department.
The unusually large expenditures on anti-union consultants show how determined the online retail giant is to prevent collective bargaining within its workforce. The company remained union-free in the U.S. until last year when the upstart Amazon Labor Union (ALU) successfully organized a warehouse in Staten Island, New York.
Amazon has more than 100 warehouses in the U.S. and has managed to keep unions at bay since the ALU's upset victory last April. However, workers rejected union bids at two other warehouses in New York following the Staten Island vote.
Labor consultants have been a key ingredient in the company's counter-campaign, delivering anti-union talking points in what are known as "captive audience" meetings with workers. The company pays firms around $3,000 per day, plus expenses, for each consultant, according to filings.
"Amazon managed to remain union-free in the U.S. until last year, when the upstart Amazon Labor Union organized a warehouse in Staten Island."
Employers and their consultants are obligated to disclose their arrangements with the Labor Department so that workers understand who the company hired and how much it paid to lobby them on unionization. The deadline for employers to inform the government of their 2022 spending was Friday.
It is relatively rare for a company to disclose spending in excess of $1 million on labor consultants in a single year, let alone more than $14 million. Still, Amazon boasts a worldwide workforce of around 1.5 million and had $514 billion in sales last year, according to its most recent annual report. The company has faced union organizing drives in Alabama, New York, California and elsewhere in the U.S.
Amazon spent $4.3 million on anti-union consultants in 2021, HuffPost reported.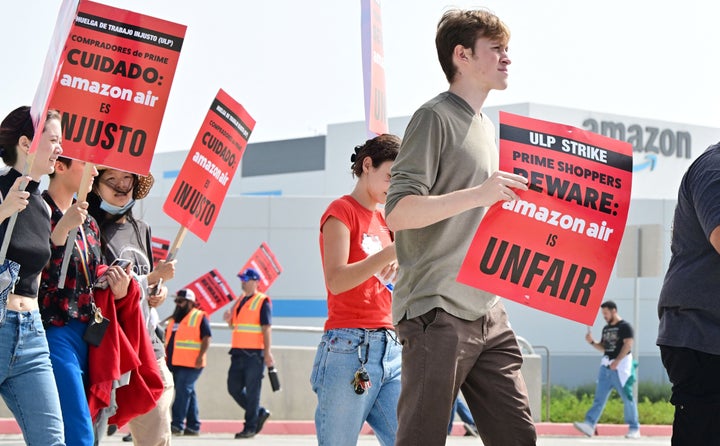 Eileen Hards, an Amazon spokesperson, said in an email that the company works with outside consultants to "ensure our employees are fully informed about their rights."
"We work hard to support our employees and are proud to invest billions of dollars in safety programs, wages, healthcare benefits that start on the first day of the job, free college tuition, and numerous upskilling programs," Hards said. "We also know that there are outside organizations working hard and spending heavily to spread false information about us to our teams."
To put the spending in perspective, Hards noted that Amazon facilities are much larger than typical U.S. workplaces ― the Staten Island warehouse employs around 8,000 workers ― and that the company faced several organizing campaigns last year.
Connor Spence, an Amazon worker in Staten Island and organizer with the ALU, told HuffPost last year that he and other workers researched the anti-union consultants in their warehouse to expose them and their fees to other workers. They also openly challenged the consultants in meetings to undermine their message.
"Their job is to operate in the shadows," Spence said at the time. "When you expose them for what they are, it makes it very difficult for them to do their job."
The ALU is still trying to negotiate a first contract with Amazon for workers at the Staten Island facility, known as JFK8. In addition, Amazon disputed the election results, in which the union won 2,654 to 2,131, accusing organizers and the National Labor Relations Board of illegally tainting the vote.
Amazon's challenge failed, and the union was certified in January. But Amazon has appealed that determination for review by the labor board in Washington. HuffPost reported in January that the company succeeded in wasting time and delaying bargaining ― a characterization that Hards disputed.
She said the company still maintains that the ALU and labor board employees improperly swayed the election in the union's favor.
"Our employees have the choice of whether or not to join a union. They always have," Hards said. "We strongly disagree with the outcome... We don't believe it represents what the majority of our team wants."
This article has been updated with comment from Amazon.