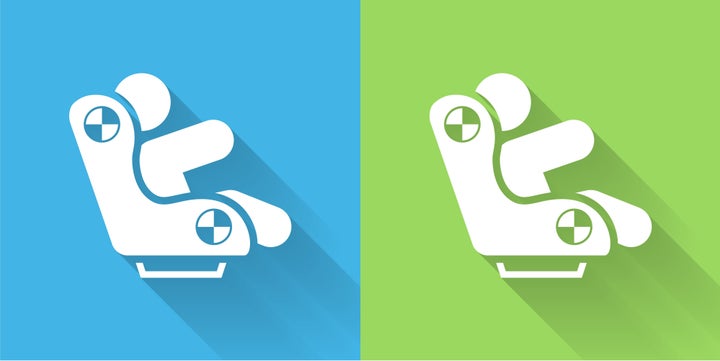 Potentially unsafe car seats have been found for sale on Amazon, a BBC Panorama investigation has found.
In February 2019, a Which? investigation found child car seats that are illegal in the UK were being sold on Amazon and other online retailers. The watchdog said the seats lacked the safety features to properly protect children.
And back in 2014, Surrey County Council trading standards investigation found that illegal seats, which had been imported from China, were being sold on eBay and Amazon. Crash testing found the seats ripped apart on impact at 30mph, catapulting a toddler-sized dummy through the front of the car.
In the most recent case, four "obscure" car seat brands were found, the Panorama investigation revealed. One listing described its product as an "infant safe seat" for just £3.99. It said it was "capable" of preventing injury.
When BBC contacted the four brands in question, only one replied, to deny being the manufacturer. Three of the four car seats were purchased by the journalist investigating, and they lacked safety labels. Trading Standards officers are now investigating these four cases and are yet to publish their results.
In a statement, Amazon UK told the BBC: "Safety is extremely important to us and we regret that these products were available from third-party sellers using our stores.
"After a thorough investigation, we identified the issue and are removing these products, and we're also contacting each customer who purchased one of these products to explain the situation and issue a refund."
"If [a seat] is not fit for purpose, a child can die."
In response to the report, Jan James, chief executive of Good Egg Safety, an independent safety regulator for car seats, told HuffPost UK: "It's completely unacceptable for Amazon to trot out platitudes that 'it regrets' these killer child car seats were for sale when there have been innumerable warnings from Which?, Good Egg Safety and many others for many years.
"We are grateful to the BBC for flagging this urgent issue as the stark message which still isn't being heeded is this: a child car seat is THE single most 'safety critical' piece of equipment we will ever buy for our children and grandchildren. If it's not fit for purpose, a child can die.
"Nothing is more important than recognising this fact and taking action against any who sell untested, unregulated seats."
Amazon: What They Know About Us will be broadcast on BBC One on Monday 16 February at 8.30pm.
So, can you buy any car seat?
For parents to be certain they are buying a safe seat, James recommends the following steps:
:: Only buy from a reputable high street retailer or independent child seat specialist.
:: Check both the child seat manufacturer and car instruction manuals to ensure compatibility.
:: Then, always check the child seat fits your child and any car it will be used in prior to purchase.
1. Your baby's weight, height and age
Many baby car seats are tailored to weight or height, and keeping a baby in a lower group seat is considered better than moving up a seat too soon. "Age is a starting point, but it's not the best way to select a child car seat" is the advice.
2. The vehicle you own
Not all car seats fit in every car, so it's vital to know your car's specification.
3. Whether you'll use the car seat in multiple vehicles
Not all car seats will be compatible with other car designs. Check first.
4. Whether your car has ISOfix connectors
If a car does not have Isofix connectors, this can affect the best seat to buy.
5. Whether your car has underfloor storage
"In some cars, a child car seat using a support leg, can't be used in a seating position with underfloor storage," Good Egg Safety said.