Amazon might have only just made its first commercial drone delivery, but it's been drawing up plans for its flying parcel service for years.
Now a newly unearthed patent filed back in 2014 has revealed the potential scale of the retail giant's airborne ambitions.
The firm has successfully patented a design for a flying warehouse that could dispatch drones from the sky, delivering to otherwise unreachable customers.
Amazon's drones have a range of just 10 miles or 30 minutes, meaning large swathes of city dwellers live too far from distribution centres. But an airborne warehouse would let the firm travel to areas with high demand.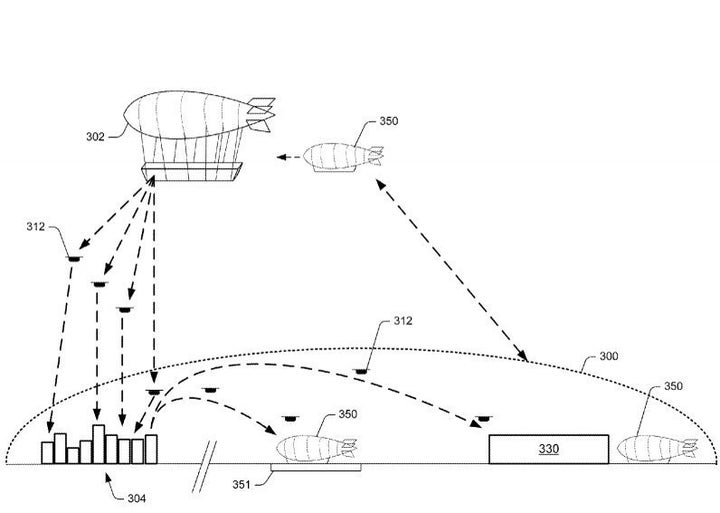 "An AFC [airborne fulfilment centre] may be positioned at an altitude above a metropolitan area and be designed to maintain an inventory of items that may be purchased by a [local] user," the filing says.
The patent suggests the AFC could also be used to meet demand at sporting events and festivals.
Drawings show an airship carrying the manned "fulfilment centre" at altitudes up to 45,000ft (14,000m), but they could drop to 2000ft for local events.
Once released, the drones would glide to their destination using less energy than a normal drone delivery requires, according to the patent.
The document adds: "Shuttles (smaller airships) may be used to replenish the AFC [airborne fulfilment centre] with inventory, UAVs, supplies, fuel, etc. Likewise, the shuttles may be utilized to transport workers to and from the AFC."
It's not clear whether Amazon is planning to develop the plans or is simply exploring a range of different options.
Related